The document you are trying to download is gated.
Log into MyON to proceed.
NCP361: Overvoltage Protection Circuit, USB Positive, with Internal PMOS FET and Overcurrent Protection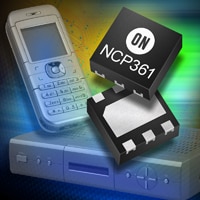 NCP361 is able to disconnect the system from its output pin in case wrong VBUS operating conditions are detected. The system is positive overvoltage protected up to +20 V. Thanks to the integrated PMOS FET, no external device is necessary, reducing the system cost and the PCB area of the application board. NCP361 is able to instantaneously disconnect the output from the input if the input voltage exceeds the overvoltage threshold (OVLO).Thanks to an overcurrent protection, the integrated PMOS is turning off when the charge current exceeds current limit (see options in ordering information). NCP361 provides a negative-going flag (FLAG) output, which alerts the system that a fault has occurred. In addition, the device has ESD protected input (15 kV Air) when bypassed with a 1.0 µF or larger capacitor.
Features
Benefits

Very Fast Protection, Up to 20 V, with 25 µA Current Consumption

When wall adapter or AC-DC overvoltage appears, the internal pass element is turned off very fast in order to protect the downstream system. The current consumption is around 25 µA although the very fast turn off capability.

No external device is necessary.

Overvoltage Lockout (OVLO)

Typical OVLO is set to 5.675 V.

Undervoltage Lockout (UVLO)

Typical UVLO is set to 3.0 V.

Typical OCP is set to 750 mA.

The microcontroller can take into account Flag status and controls thanks to EN pin the pass element state.

The OVP device can be forced to off state thanks to this pin.

When internal junction temperature is exceeded, the pass element is turned off.

6-Lead UDFN 2 x 2 mm Package

Very small package, small thickness.

These are Pb-Free Devices
Applications
Personal Digital Applications
Mobile Phones
MP3 Players
Computing
USB Devices
Set Top Boxes
Peripherals
Technical Documentation & Design Resources
Case Outline
NCP361MUTBG
Active
Overvoltage Protection Circuit, USB Positive, with Internal PMOS FET and Overcurrent Protection, OVLO 5.675 V, OCP 750 mA
UDFN-6
517AB
1
260
Tape and Reel
3000
$0.3333
NCP361SNT1G
Active
Overvoltage Protection Circuit, USB Positive, with Internal PMOS FET and Overcurrent Protection, OVLO 5.675 V, OCP 750 mA
TSOP-5 / SOT-23-5
483
1
260
Tape and Reel
3000
$0.24
NCV361SNT1G
Active

AEC Qualified
PPAP Capable
Pb-free
Halide free

Overvoltage Protection Circuit, USB Positive, with Internal PMOS FET and Overcurrent Protection, OVLO 5.675V, OCP 750 mA, Auto qualified
TSOP-5 / SOT-23-5
483
1
260
Tape and Reel
3000
$0.2933
| | | |
| --- | --- | --- |
| Market Leadtime (weeks) | : | 8 to 12 |
| PandS (2020-07-09 00:00) | : | >10K |
| | | |
| --- | --- | --- |
| Market Leadtime (weeks) | : | 4 to 8 |
| FutureElectronics (2020-07-09 00:00) | : | <100 |
| | | |
| --- | --- | --- |
| Market Leadtime (weeks) | : | 2 to 4 |
| ON Semiconductor (2020-07-08 00:00) | : | 9,000 |
Product
Description
Pricing ($/Unit)
Compliance
Status
VCC Min (V)
VCC Max (V)
P(AV) Max (W)
VIT+ Typ (V)
VIT Typ (V)
IDDH Max (µA)
TA Min (°C)
TA Max (°C)
Package Type
NCP361MUTBG
$0.3333
Active
NCV361SNT1G
$0.2933
Active