The document you are trying to download is gated.
Log into MyON to proceed.
NB7L216: Multi Level Clock/Data Input to RSECL High Gain Receiver/Buffer/ Translator with Internal Termination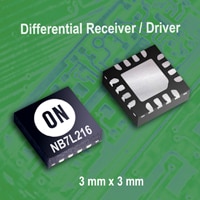 The NB7L216 is a differential receiver/driver with high gain output targeted for high frequency applications. The device is functionally equivalent to the NBSG16 but with much higher gain output. This highly versatile device provides 35 dB of gain up to 7 GHz.
Inputs incorporate internal 50 Ω termination resistors and accept NECL (Negative ECL), PECL (Positive ECL), HSTL, LVTTL, LVCMOS, CML, or LVDS. Outputs are RSECL (Reduced Swing ECL), 400 mV.
The VBB pin is internally generated voltage supply available to this device only. The VBB is used as a reference voltage for single-ended NECL or PECL inputs. For all single-ended input conditions, the unused complementary differential input is connected to VBB as a switching reference voltage. VBB may also re bias AC coupled inputs. When used, decouple VBB via a 0.01 µF capacitor and limit current sourcing or sinking to 0.5 mA. When not used, VBB output should be left open.

Features

High Gain of 35 dB from DC to 7 GHz

20 mV Minimum Input Voltage Swing

Maximum Input Clock Frequency > 8.5 GHz Typical

Maximum Input Data Rate > 12 Gb/s

120 ps Typical Propagation Delay

30 ps Typical Rise and Fall Times

RSECL Output Level (400 mV Peak-to-Peak Output),Differential Output Only

50 ohms Internal Input Termination Resistors (temp-coefficient of < 6 m/C)

Functionally Compatible with Existing 2.5 V / 3.3 V LVEL, LVEP, EP, and SG Devices

VBB ECL Reference Voltage Output

Test Equipment First Stage Amplifier

Datacommunications Post Amplifier
Applications
OC-192 Data Buffer
High Speed Post Amplifier
Test Equipment Front-end Amplifier
Technical Documentation & Design Resources
Evaluation/Development Tool Information
| Product | Status | Compliance | Short Description | Action |
| --- | --- | --- | --- | --- |
| NB7L216MNEVB | Active | | Multilevel Clock/Data Input Evaluation Board | |
Case Outline
NB7L216MNG
Lifetime
Multi Level Clock/Data Input to RSECL High Gain Receiver/Buffer/ Translator with Internal Termination
QFN-16
485G-01
1
260
Tube
123
NB7L216MNR2G
Lifetime
Multi Level Clock/Data Input to RSECL High Gain Receiver/Buffer/ Translator with Internal Termination
QFN-16
485G-01
1
260
Tape and Reel
3000
| | | |
| --- | --- | --- |
| Market Leadtime (weeks) | : | Contact Factory |
| ON Semiconductor (2020-07-04 00:00) | : | 7,134 |
| PandS (2020-07-06 00:00) | : | <100 |
| | | |
| --- | --- | --- |
| Market Leadtime (weeks) | : | Contact Factory |