The document you are trying to download is gated.
Log into MyON to proceed.
NCP1910: High Performance Combo Controller for ATX Power Supplies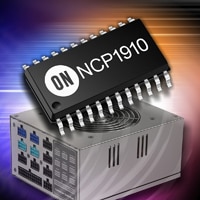 Housed in a SO-24WB package, the NCP1910 combines a state-of-the-art circuitry aimed to powering next generation of ATX or flat TVs converters. With a 65 kHz Continuous Conduction Mode Power Factor Controller and a LLC controller hosting a high-voltage driver, the NCP1910 is ready to power 85+ types of offline power supplies. To satisfy stringent efficiency considerations, the PFC circuit implements an adjustable frequency fold back to reduce switching losses as the load is going light. To cope with all the signal sequencing required by the ATX and flat TVs specifications, the controller includes several dedicated pins enabling handshake between the secondary and the primary sides. These signals include a power-good line but also a control pin which turns the controller on and off via an opto coupler. Safety-wise, a second OVP input offers the necessary redundancy in case the main feedback network would drift away. Finally, a fast fault input immediately reacts in presence of an over current condition by triggering an auto-recovery soft-start sequence.
Features
Benefits

Improves light load efficiency

Improves light load efficiency

Dynamic Response enhancers

Adjustable Line Brown-Out Protection

Rugged Design, Reduce surrounding part count

On/off and power Good Management Signam

Reduce Surrounding Part Count

Redundant Vbulk Over Voltage Protection
Applications
End Products

Flat panel display powr converters
High power ac-dc adpaters for notebooks
Computing power supplies

ATX or Server power supplies
LCD or Plasma TVs
Technical Documentation & Design Resources
Case Outline
NCP1910A100DWR2G
Active
High Performance Combo Controller for ATX Power Supplies
SOIC-24
752AB
3
260
Tape and Reel
1000
$1.0
NCP1910A65DWR2G
Active
High Performance Combo Controller for ATX Power Supplies
SOIC-24
752AB
3
260
Tape and Reel
1000
$1.0
NCP1910B100DWR2G
Active
High Performance Combo Controller for ATX Power Supplies
SOIC-24
752AB
3
260
Tape and Reel
1000
$1.0
NCP1910B65DWR2G
Active
High Performance Combo Controller for ATX Power Supplies
SOIC-24
752AB
3
260
Tape and Reel
1000
$1.0
| | | |
| --- | --- | --- |
| Market Leadtime (weeks) | : | 17 to 20 |
| | | |
| --- | --- | --- |
| Market Leadtime (weeks) | : | 17 to 20 |
| PandS (2020-07-09) | : | >1K |
| | | |
| --- | --- | --- |
| Market Leadtime (weeks) | : | 17 to 20 |
| | | |
| --- | --- | --- |
| Market Leadtime (weeks) | : | 8 to 12 |
| PandS (2020-07-09) | : | <1K |
Product
Description
Pricing ($/Unit)
Compliance
Status
Topology
Control Mode
fsw Typ (kHz)
Stand-by Mode
UVLO (V)
Short Circuit Protection
Latch
Soft Start
VCC Max (V)
Drive Cap. (mA)
Package Type
Case Outlines
752AB
Packages