NCP51820: High Performance, 650 V Half Bridge Gate Driver for GaN Power Switches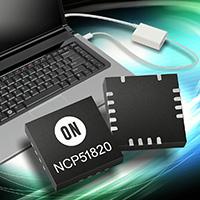 The NCP51820 high-speed gate driver is designed to meet the stringent requirements of driving enhancement mode (e−mode) and gate injection transistor (GIT) GaN HEMT power switches in offline, half-bridge power topologies. The NCP51820 offers short and matched propagation delays as well as −3.5 V to +650 V (typical) common mode voltage range for the high−side drive. To fully protect the gate of the GaN power transistor against excessive voltage stress, both drive stages employ a dedicated voltage regulator to accurately maintain the gate-source drive signal amplitude. The NCP51820 offers important protection functions such as independent under−voltage lockout (UVLO) and IC thermal shutdown.
Features
Benefits

650 V, high side and low side gate driver

Design margin for AC/DC design

Fast propagation delay of 50 ns max

Suitable for high frequency operation

Matched propagation delay of 5 ns max

Increased efficiency and allow paralleling

200 V/ns dV/dt Rating for all SW and PGND Referenced Circuitry

Robust design for high switching frequency application

Separate source and sink output pin

Allow control of rise and fall time for EMI tuning

Regulated 5.2 V gate driver with independent UVLO for high side and low side output stages

Optimum driving of GaN power switches and simplify design

QFN 4 mm x 4 mm 15 pin packaging and optimized pin out

Small PCB foot print, reduced parasitic, suitable for high frequency operation
Applications
End Products

Resonant converters
Half bridge and full bridge converters
Active clamp flyback converters
Totem pole bridgeless PFC

Power supply for OLED TV
High power gaming adapter
USD PD cellphone and notebook travel adapter
Server / Cloud Data-center Offline power
Industrial inverter and motor drive
Technical Documentation & Design Resources
Evaluation/Development Tool Information
| Product | Status | Compliance | Short Description | Action |
| --- | --- | --- | --- | --- |
| NCP51820GAN1GEVB | Active | | NCP51820 GaN driver evaluation board for 650 V, 50 mOhm E-mode GaN HEMT | |
Case Outline
NCP51820AMNTWG
Active
NCP51820, 650 V Half Bridge Gate Driver for GaN Power Switches
QFN-15
485FN
1
260
Tape and Reel
4000
$1.1464
| | | |
| --- | --- | --- |
| Market Leadtime (weeks) | : | Contact Factory |
Product
Description
Pricing ($/Unit)
Compliance
Status
Power Switch
Number of Outputs
Topology
Isolation Type
Vin Max (V)
VCC Max (V)
Drive Source/Sink Typ (mA)
Rise Time (ns)
Fall Time (ns)
tp Max (ns)
Package Type
NCP51820AMNTWG
$1.1464
Active
Your request has been submitted for approval.
Please allow 2-5 business days for a response.
You will receive an email when your request is approved.
Request for this document already exists and is waiting for approval.