The document you are trying to download is gated.
Log into MyON to proceed.
NCS199A2R: Current-Shunt Monitors, 26V, Voltage Output, Bidirectional, Zero-Drift, Low- or High- Side Current Sensing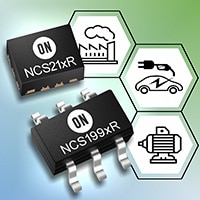 The NCS199A2R is a voltage output current shunt monitor (also called current sense amplifier) which can measure voltage across shunts at common-mode voltages from -0.3 to 26V, independent of supply voltage. The low offset of the zero-drift architecture enables current sensing across the shunt with maximum voltage drop as low as 10 mV full-scale. These devices can operate from a single +2.2 V to +26V power supply, drawing a maximum of 80µA of supply current, and are specified over the extended operating temperature range (-40°C to +125°C). Available in the SC70-6 package.


Features
Benefits

Wide common mode input range -0.3 V to 26 V

High-Side Current Sensing for High Voltage Systems

Low offset voltage ± 150 µV Max

Low Ohm value Current Sense Resistors

Low Offset Drift: 0.5 µV/°C

High accuracy over temperature leading to better power efficiency

Supply voltage range from 2.2 V to 26 V

Wide supply voltage range provides system flexibility
Applications
End Products

Current Sensing (High-Side/Low-Side)
Power Monitoring
Power Adapters
Feedback Control Loops

Fast Chargers - Smartphones
Telecom DC-DC Modules
E-Cigarettes
High End Computing/Servers
Wireless Charging
Technical Documentation & Design Resources
Evaluation/Development Tool Information
| Product | Status | Compliance | Short Description | Action |
| --- | --- | --- | --- | --- |
| NCS199A2RSQT2GEVB | Active | | Current sense amplifier | |
Case Outline
NCS199A2RSQT2G
Active
Current-Shunt Monitors, 26V, Voltage Output, Bidirectional, Zero-Drift, Low- or High- Side Current Sensing, Gain 100, 26V Current Sense Amplifier
SC-88-6 / SC-70-6 / SOT-363-6
419B-02
1
260
Tape and Reel
3000
$0.148
| | | |
| --- | --- | --- |
| Market Leadtime (weeks) | : | 2 to 4 |
| ON Semiconductor (2020-07-08 00:00) | : | 27,000 |
Product
Description
Pricing ($/Unit)
Compliance
Status
Channels
Gain (V/V)
Gain Error Max (%)
Vs Min (V)
Vs Max (V)
VCM (V)
Iq Typ (mA)
Bandwidth Typ (-3dB)
Vos Max (mV)
Vos Drift Max (µV/°C)
Operating Temperature Range (°C)
CMRR Typ (dB)
Package Type
NCS199A2RSQT2G
$0.148
Active
SC-88-6 / SC-70-6 / SOT-363-6