USB-C Audio: The New Universal Listening Experience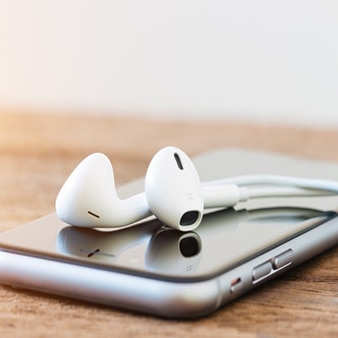 by
Julie Tyler
- 10-28-2019


Rarely does a day go by without encountering someone with their ears plugged with audio earbuds or headphones. Audio is no longer isolated to home stereo systems, car radios and Walkman®'s. Audio is now a staple that's readily available on most personal electronic devices. While there is a trend towards wireless, Bluetooth® headsets, some argue that the audio quality of wired headsets is still superior. Additionally, passive wired headsets can be used without the concern of a dying battery. With the introduction of USB-C (known as Type-C) and the trend towards a single common connector, wired audio must also adapt. ON Semiconductor provides products to help system designers integrate audio into USB-C while maintaining true High Fidelity.
Many are concerned that with the loss of the 3.5mm jack, the audio quality through a connector may suffer. Most associate USB legacy connectors and USB-C with strictly digital data. The common belief is that audio over USB-C must be digital. In an attempt to make USB-C versatile and inclusive, the USB-C specification allows for both analog audio and digital audio. There is a clause in the USB-C spec that if analog audio is used, digital audio must also be supported in the system. The USB-C cable has dedicated D+/D- pins that support the analog audio R and L signals in addition to digital data. The SBU pins can be used for Mic and Ground signals. While some headset manufacturers are developing headsets with USB-C connectors, many are developing conversion dongles. Dongles are small adapters with a 3.5mm port on one end and USB-C on the other allowing for the consumer to continue to use their favorite 3.5mm headsets. The primary issue with dongles is the added complexity. Audio enthusiasts are now at the mercy of whatever DAC has been integrated into the dongle along with another analog amplifier. One thing audiophiles around the world over have always pursued is minimizing opportunities to do harm to the signal. Consumers don't really know how good the additional circuitry in the dongle may be. Each stage in a signal chain adds distortion and artifacts that degrade the signal you are intended to enjoy. While sound quality may suffer due to the presence of a dongle, many consumers are opting for this cheap option instead of immediately replacing their beloved headsets.
With the emergence of analog audio over USB-C, designers face a challenge of preserving the sounds quality. Higher sound quality is achieved by introducing the fewest number of disruptions and distortions and is typically quantified through measuring the total harmonic distortion plus noise (THD+N) of a component. This parameter is typically found on datasheets for audio products. The lower the THD+N value, the more the audio will be preserved through the device and the better the sounds quality. ON Semiconductor's audio switches have industry leading THD+N performance.
ON Semiconductor provides integrated solutions that ease the integration of USB-C analog audio while maintaining signal integrity and audio quality. ON Semiconductor provides solutions that include switches for USB-C CC isolation, multiplexers for audio and legacy USB signalling. There are also sense switches for signal ground, microphone and SBU cross point. Each switch was specifically optimized for the best possible signal integrity for its respective protocol. Designers may argue that discrete components could be used to realize these circuits. But it is not possible to achieve the same level of performance and device matching due to the wide tolerances of traditional commodity components. Discrete implementations consume far more PCB area and power consumption for most advanced designs.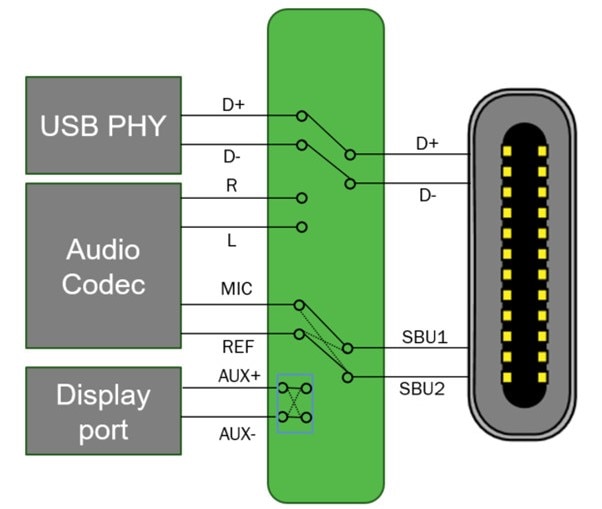 USB-C Audio Application Diagram
The FSA4476, analog audio switch with protection function for USB-C, was the first product designed specifically for this application space. With THD+N of -110dB, high fidelity audio can be preserved. USB 2.0 signals can be passed with little attenuation through a 1GHz bandwidth switch instilling confidence of passing the high speed eye diagram. To preserve battery life for ultra-portable systems, the FSA4476 has minimal power draw of only 25µA when active and 5µA when disabled. The FSA4480 was the successor to the FSA4476. The FSA4480 includes additional functionality such as OMTP/CTIA detection and pop and click noise reduction. It also includes the dedicated ground sense switch which will result in better cross talk performance in the end system.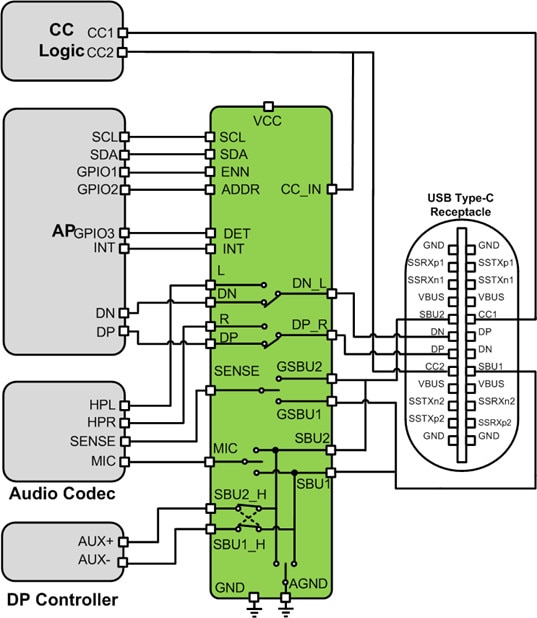 FSA4480 Block Diagram
The ON Semiconductor USB-C analog audio switches have been integrated in the most advanced packaging technologies yielding the smallest possible PCB footprint. Power consumption is an order of magnitude lower than comparable discrete designs. These devices will make your design small, more efficient and most importantly the audio performance is truly best in class and far exceeds any other implementation.
Learn more about our USB-C analog audio product offerings using the FSA4476 or FSA4480.