IoT - Providing an Embedded Software Foundation with the RSL10 SDK 3.0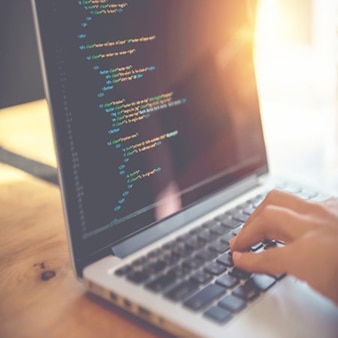 by
Ben Widsten
- 08-19-2019

Can you skip some of the testings? Did you fix the last bug yet? You need to bring in the schedule. It's not like you're developing hardware - it's 'just' software...
It takes time to develop good software. Like baking a cake, many ingredients must come together at the right time. Coding standards, code reviews, continuous integration, test-driven development and static analysis are only a few examples. But what about timing?
Today's embedded software developers are pushed harder than ever before to develop more in less time to keep up with the ever-expanding world of the Internet of Things.
The term IoT can be applied to essentially any industry today that has connectivity, sensing/actuating or some form of remote data processing. It describes almost every embedded systems application today. The explosion of growth for IoT has put immense pressure on embedded software developers to deliver high-quality functional code in less time.
It would be impossible to start an embedded software development project from scratch today and still meet the deadline. The project's entire development cycle could easily be spent reading datasheets and developing drivers, leaving little or no time to work on the product.
Today's embedded developers must rely on semiconductor vendors to provide the software foundation so they can focus on the end application. In addition to standalone drivers, this foundation must also include sample applications demonstrating the sometimes intricate use of drivers or combinations of drivers and higher-level application examples demonstrating how to get the maximum value out of the hardware.
To help developers deliver their software projects for their Bluetooth Low Energy applications on time, ON Semiconductor has released the RSL10 Software Development Kit (SDK) 3.0 supporting the RSL10 radio System-on-Chip (SoC). The RSL10 is the industry's lowest power Bluetooth® Low Energy radio but this hardware is only half the solution.
The RSL10 SDK 3.0 uses the latest CMSIS-Pack standard by Arm® to distribute firmware and provides embedded software developers the foundation and the tools to rapidly develop software specific to their end application.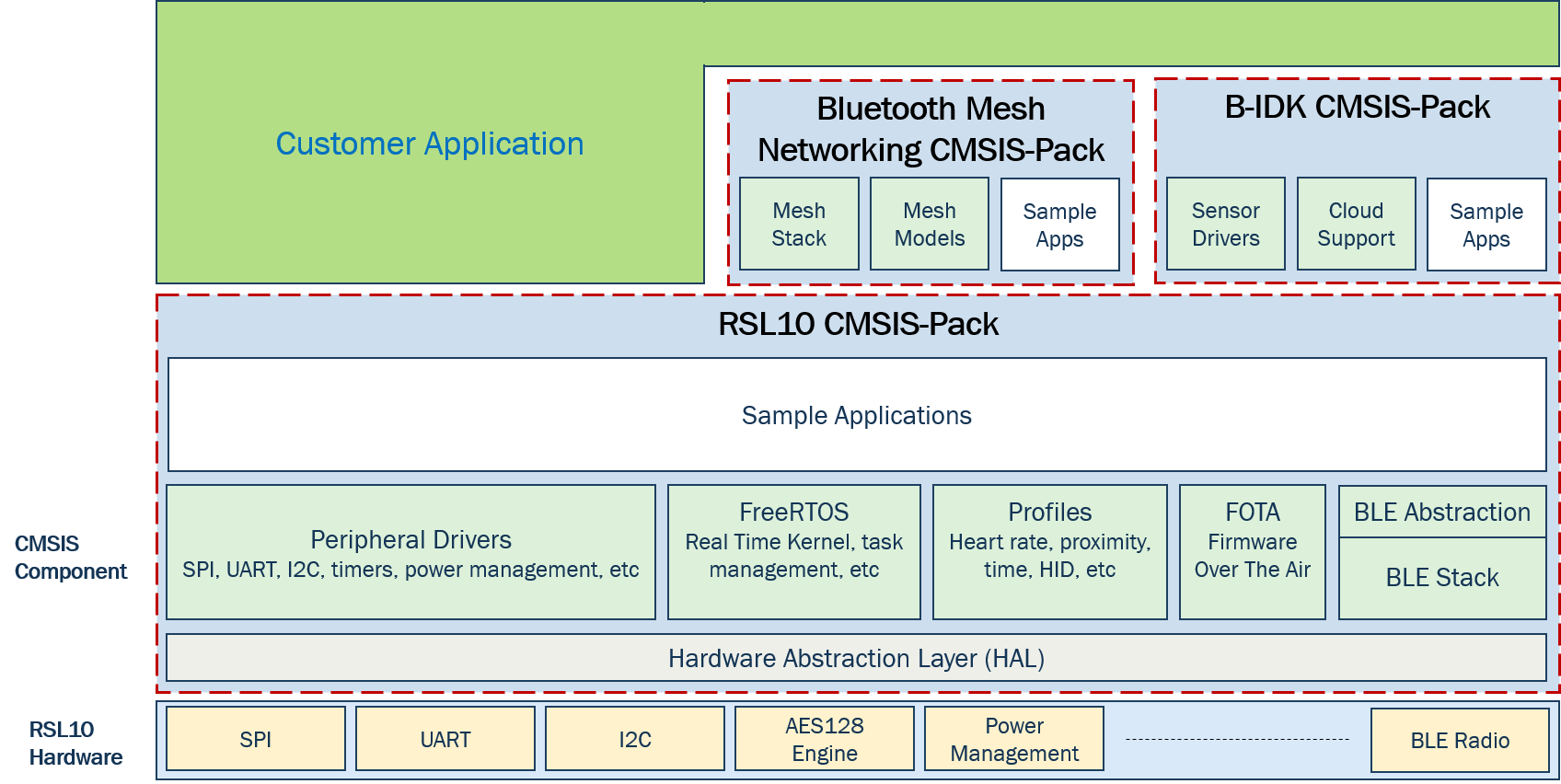 RSL10 SDK 3.0 CMSIS-Pack Software Stack-up
This diagram shows the RSL10 SDK 3.0 CMSIS-Pack software stack-up. There are three distinct CMSIS-Packs offering different functionalities. The RSL10 CMSIS-Pack contains the CMSIS-compliant drivers, FreeRTOS, Bluetooth Low Energy stack and HAL - the foundation. Sample applications are also provided to easily test-drive each component individually or in combination, easily integrating one component at a time. For mesh networking, simply download and install the RSL10 Bluetooth Mesh Package and get started with the various sample applications. Our mobile app is also available through the Google Play store.
For those looking for a complete node-to-cloud platform, the Bluetooth IoT Development Kit CMSIS-Pack contains specific sensor drivers, cloud support and higher-level application examples.
The Eclipse-based ON Semiconductor IDE is available for download free of charge along with support for ARM® Keil® µVision® and IAR Embedded Workbench® environments.
It takes time to develop good software. ON Semiconductor provides that foundation so you can focus on developing good software and getting the most out of your IoT application.
Log into your MyON account to download the latest RSL10 IDE Installer and RSL10 Bluetooth Mesh Package today!

reaction successful
Comment
Anastasios
2019-09-15 17:29

Comment rating:

0
It is true that marketing and sales pushes software and hardware engineers to generate most in less time. And you need to increase safety to that, by providing software tools and debugged libraries and routines. This exact time, you help marketing people to have an excuse "find the right library and do it yesterday" pushing engineers to adopt these tools and codes faster than the normal process. As you see, you are a link in the accelerating chain. As a hardware and software engineer, i have to thank you for these tools but i kindly ask you to "protect" more the engineers from the marketing hungry monster. The great part is that you help omit complexity as Sergio commented.
Carlos
2019-09-10 05:29

Comment rating:

0
Need learning more iot
David
2019-08-22 22:46

Comment rating:

0
Great work team!!
Sergio
2019-08-21 07:25

Comment rating:

0
I'm proud to be part of this. Besides the vast number of sample code, firmware libraries and software tools we provide, our customers can now easily reuse generic CMSIS-Pack software components from other vendors. This opens up a world of possibilities while removing the complexity of developing and maintaining device-specific firmware.
steven
2019-08-20 08:22

Comment rating:

0
That's awesome Ben. "Software is a Product"