IoT Device Management using Bosch IoT Suite and ON Semiconductor Platform Solutions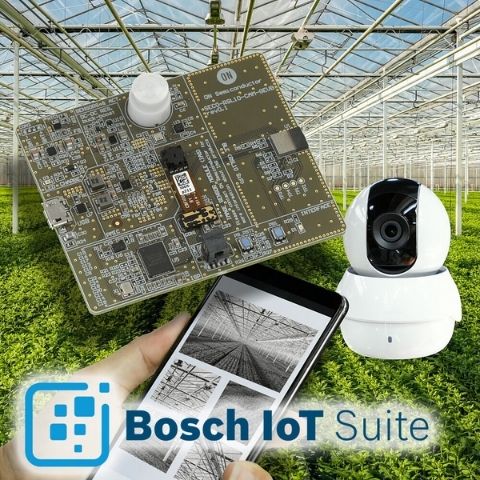 by
Kai Hackbarth
- 04-07-2021


IoT Device Management using Bosch IoT Suite and ON Semiconductor Platform Solutions
Reliability is critical when it comes to managing and updating the millions of connected devices today. Bosch.IO has infrastructure you can count on for precisely these tasks – the Bosch® IoT Suite.
We were delighted when ON Semiconductor decided to integrate its devices – the RSL10 Sensor Development Kit and the RSL10 Smart Shot Camera – within our Bosch IoT Suite. Now it can serve to execute over-the-air updates, manage and visualize data and other use cases. In fact, this pre-integration enables developers who work with ON Semiconductor components to realize various device management use cases with minimal additional integration efforts.
What is the Bosch IoT Suite?
The Bosch IoT Suite is a set of cloud services and software packages for developing IoT applications. This platform-as-a-service (PaaS) offering facilitates developers' efforts to build and roll out cloud-based, highly scalable IoT applications. We also offer end-to-end Bosch.IO solutions for the energy, construction, retail and other sectors.
Developed to support all Bosch IoT use cases, the Bosch IoT Suite is the strategic IoT backbone for the Bosch Group. Today, it connects more than 15 million devices and supports over 28 protocols.
This platform is based on open-source software developed jointly by experts from Bosch and other companies in the Eclipse® IoT working group. That makes it exceptionally versatile.
Bosch IoT Suite for Device Management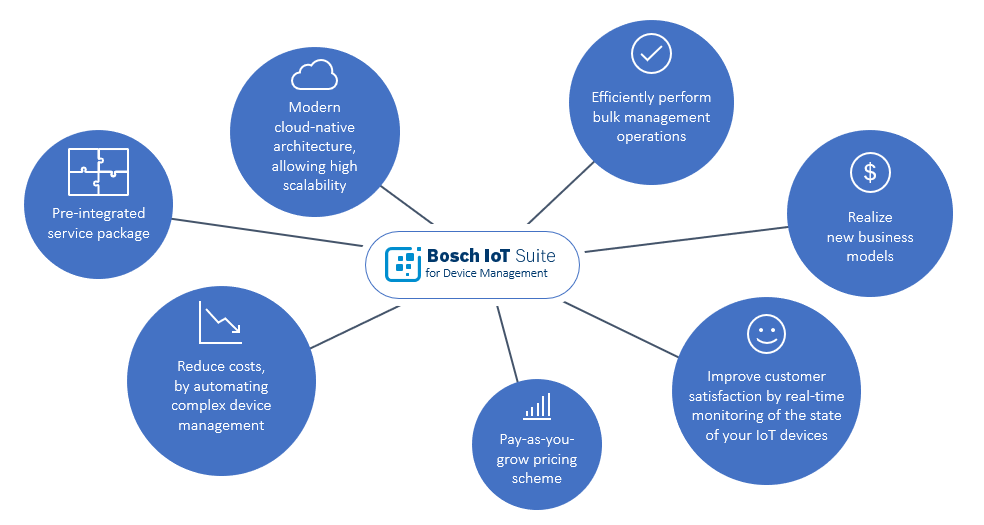 As the name suggests, the Bosch IoT Suite for Device Management is a flexible and feature-rich integrated solution for managing devices and software updates throughout their life cycles.
This package provides out-of-the-box support for multiple communication protocols and comes with the tools to connect various classes of gateways and devices. It enables device manufacturers and administrators to address a wide range of use cases and provides sophisticated functions for managing and deploying software updates.
Many devices require compatible software updates. Take, for example, the automotive industry: customization options are so diverse that practically no two vehicles are identical. Even two of the same models can have markedly different features. The Bosch IoT Suite already enables automakers' to make firmware updates over the air. Several million vehicle owners have had new versions of software for their cars delivered conveniently and securely via the cellular network. That means no more trips to the dealers for infotainment and other software updates. The Bosch IoT Suite is the communication hub for vehicles on the receiving end of wireless updates.
With a usage-based pricing structure for the Bosch IoT Suite for Device Management, both smaller companies with fewer devices to connect and larger companies with millions of devices will be serviced appropriately. Whether you decide to update your company's software four times a year or once, you're only charged for the months that updates are made.
Bosch IoT Suite for Data Management
Continuously improving your product and service quality and aligning them to your customers' actual requirements, is much easier and effective if you can analyze IoT data on the fly.
As a fully managed cloud service, Bosch IoT Insights collects, processes and stores your IoT data for further analysis. With features to visualize field data in real-time, this IoT data management tool takes the guesswork out of optimizing devices and functions and developing new services and solutions.
ON Semiconductor devices integrated with the Bosch IoT Suite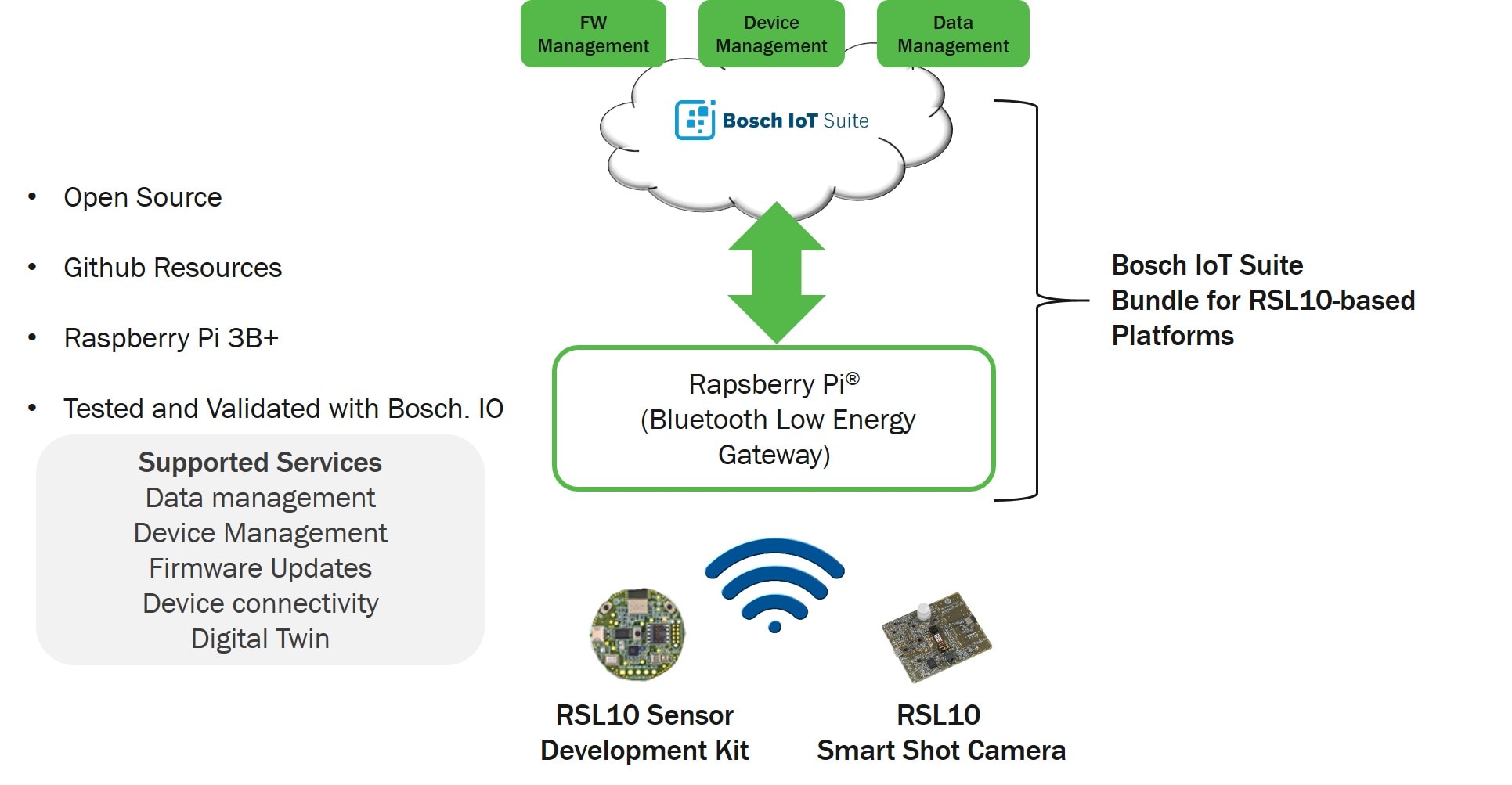 No more fussing with modifications –life just got easier for developers now that ON Semiconductor has pre-integrated IoT platforms within the Bosch IoT Suite. Watch below to learn about this integration, and the new capabilities offered.
Bosch IO Ecosystem Integration of ON Semiconductor IoT Sensor Nodes
The RSL10 Smart Shot Camera demonstrates how readily it connects with the Bosch IoT Suite via Bosch IoT Edge, enabling over-the-air updates, data visualization and management, amongst other use cases.
The RSL10 Smart Shot Camera and the RSL10 Sensor Development Kit are now available within the Bosch IoT Suite IoT device catalog. You can even start connecting devices by subscribing to Bosch's free plan.
Learn more about ON Semiconductor's platforms and the many new features available as part of the Bosch IoT Suite, or check out more featured resources below.
Resources
• Bosch.IO Device Management Whitepaper
• Over the Air (OTA) Whitepaper
Be sure to subscribe to our blog and follow us on social media to receive the latest updates on our technologies, solutions and company news!
Twitter | Facebook | LinkedIn | Instagram | YouTube

reaction successful
Comment
jorge gil
2021-04-07 00:00

Comment rating:

0
cuanto cuesta esta plataforma para uso industrial y smart city