STEM Research - Simple Connections Lead to Magnificent Things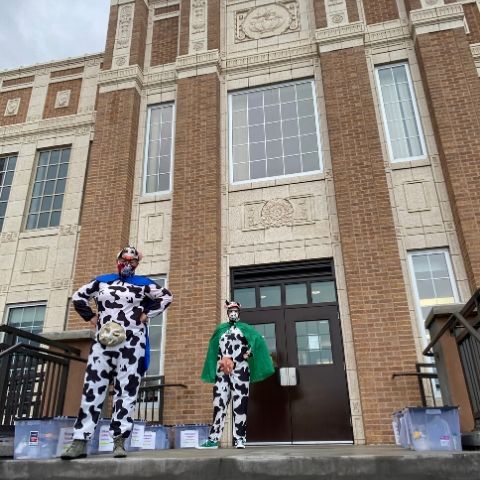 The digital integrated circuits (ICs) I design have millions of transistors and wire interconnects. Copper routes traverse up and down across nine levels of metal creating an intricate circuit highway. Routes are connected from one level to the next with a via.
Vias are a minuscule component in the design and assembly of ICs, but these simple connections allow magnificent things to happen across a chip. That's like me in this story – a via. A simple connection.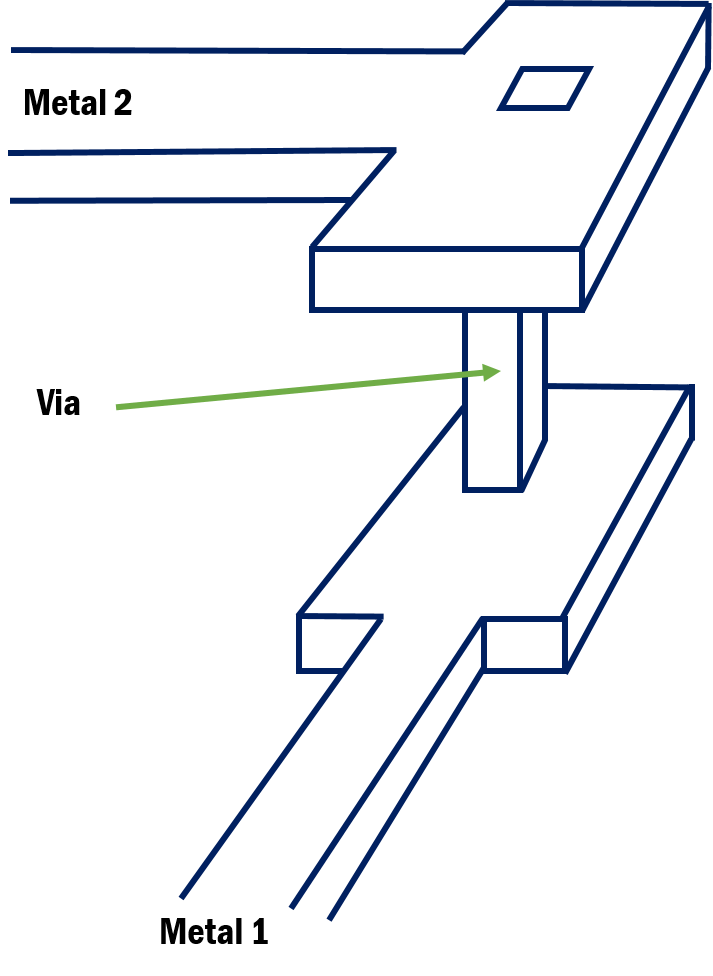 A via connection show between wires of an IC
Last year, ON Semiconductor, sponsored the 2019 TEDxIdahoFalls event in southeastern Idaho. I was among the 12 speakers, and I gave a talk titled "My Udderly Serious Life, Uncovering Courage in a Cow Suit." I detail some of my countless adventures in a cow suit and what I've learned along the way. My friend Lisa Delonas, who is currently the principal of my old high school, attended the event to offer moral support to the audience.
One of the other talks by Dr. Todd Kelson was titled, "Unearthing Scientific Discovery in Your Own Backyard." Todd discussed the Small World Initiative, whose mission outlined on their website is twofold:
"First, it seeks to encourage students to pursue careers in science and increase scientific literacy through real-world applicable laboratory and field research in introductory courses. Second, it aims to address a worldwide health threat – the diminishing supply of effective antibiotics – by tapping into the collective power of many student researchers concurrently tackling the same challenge, living up to its motto "crowdsourcing antibiotic discovery."®
A dine-around followed all of our talks where attendees were encouraged to mingle, meet the speakers and continue the conversations. After Lisa offered cheers and congratulations, she told me how intrigued she was by Dr. Kelson's talk, and she considered incorporating it into her school's curriculum. That night, I connected Lisa to Todd.
After their visit, Lisa continued to research the Small World Initiative, and she became even more inspired to bring it to Pocatello High School. Over texts and lunches, we talked about various barriers and how to overcome them. Funding was going to be a hurdle. I connected Lisa to ON Semiconductor's Global Giving Program and application process.
Cool enough, Pocatello High School was awarded a grant from ON Semiconductor and a few months ago students began conducting research on antibiotic resistance in their new lab on campus. Read more about the nature of their research, exactly how grant funds were spent and the impact the program is having on students here.
One of my favorite cow suit characters is an educational outreach superhero called, "The Cowculator: solver of problems and lover of science and math" (sounds a lot like an engineer, doesn't it?) In response to the COVID-19 global pandemic, educators are working to solve the problem of teaching students virtually, outside the walls of the school.
Science teacher Maygan Layson has assembled kits which include all of the supplies students need to continue their research at home, and just like their teacher, they are learning to become the type of problem-solvers this world needs.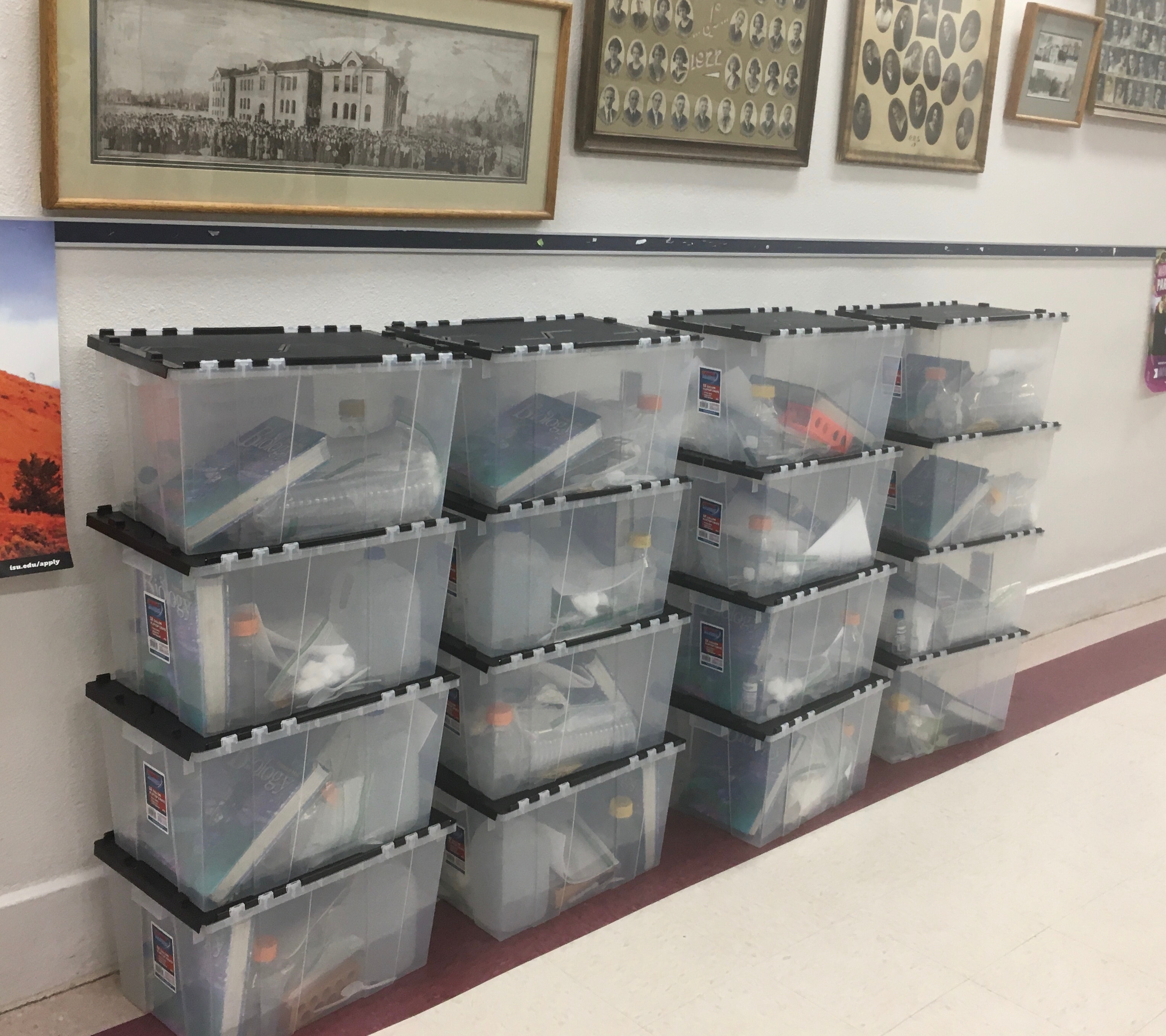 Bins containing supplies students need to continue there work including their textbooks, beakers, Petri dishes, measuring utensils, instructions, distilled water, safety gear and more
I went to Pocatello High School to help Lisa distribute the supplies to students, and she was more than happy to be a Cowculator right along with me.
Lisa and I outside of Pocatello High School prepared to hand out the research kits.
Ms. Layson's ongoing efforts to stay connected with her students will ensure they get all they possibly can out of this program. Lisa's willingness to don a cow suit and be silly helped her connect with students as they arrived to get their materials. As we've seen from the beginning, just like a via, these simple connections will lead to magnificent things.
Be sure to subscribe to our blog and follow us on social media to receive the latest updates on our technologies, solutions and company news!
Twitter | Facebook | LinkedIn | Instagram | YouTube