Industry 4.0 - Robotics and Emerging 48V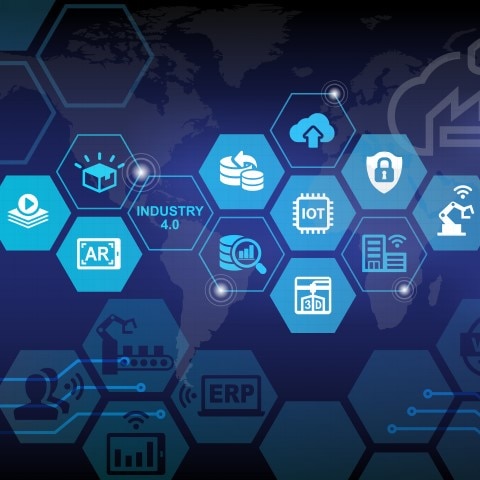 by
Ali Husain
- 2020-01-07


Industrial robots are an important element of 'Industry 4.0'. In 2018, the International Federation of Robotics reported a 32% increase in the service robot industry currently valued at $9.2 billion according to Robotic Business Review. Included in this industry are robots for both professional and domestic use, such as autonomous guided vehicles (AGVs), maintenance robots and robot appliances (vacuum cleaners, lawn equipment, etc.).
The industrial, automotive and electrical/electronic sectors represent over half of total deployments with metal and machinery, plastics and chemical and food and beverage being significant users as well. Asia remains the world's largest market for industrial robot but on the consumer side, North America is 40% of the worldwide consumer robotics market and is estimated to grow at a CAGR of 16% from 2018-2020.
The 48V power bus has become popular in various applications because it is the highest safe voltage in common use. This allows engineers to reduce the system protections, thus reducing weight, cost and power losses. In robotic applications, motors powered by 48V are also generally smaller and this allows for smaller and lighter joints, thereby increasing machine efficiency, dexterity and reliability while reducing weight and cost. This creates more potential opportunities for robot use to improve automation of processes in all industries.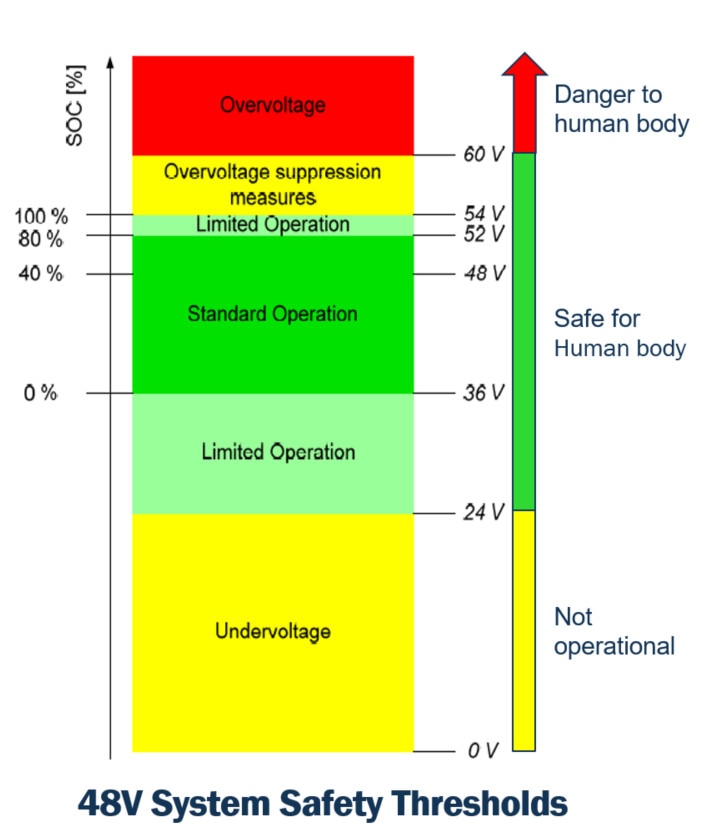 Robot designs comprise a number of functional elements including connectivity, image sensing, power conversion, and motor control, depending on the application. There are also a number of different power sub-systems such as AC/DC conversion, DC/DC conversion, battery management, multiphase converters, point-of-load (PoL) conversion, linear regulation and motor drivers.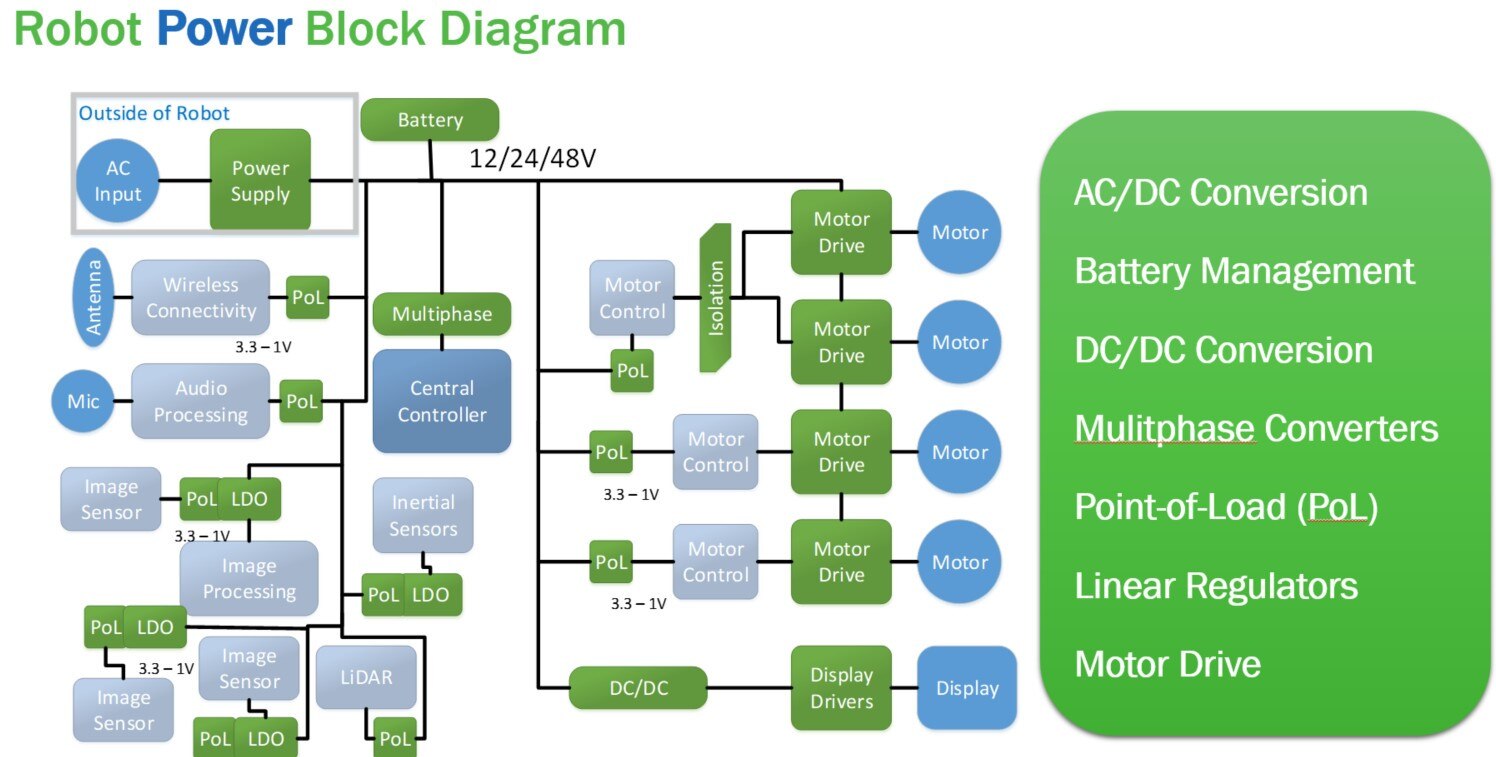 Many modern robotic applications utilize a 48V bus to transport power around the system. This offers 1/16 of the losses or allows thinner and lighter cables to be used compared with a typical 12V bus. In fixed robot installations, the 48V will be generated by a mains-fed power supply that will incorporate a power factor corrected (PFC) front end.
Generally, the sensing, imaging and computing functions require voltages of 5V down to the sub-volt level. The non-isolated PoL converter plays an important role here converting the higher 48V rail to the voltage required by the ICs. In some cases, an intermediate bus voltage (typically 12V) is generated by using an intermediate bus converter (IBC) that is loosely regulated, with the PoL converting the 12V to the supply voltage for the IC. Increasingly, single-stage conversion is preferred and many PoL converters are now available to convert directly from the 48V rail to the IC supply voltage.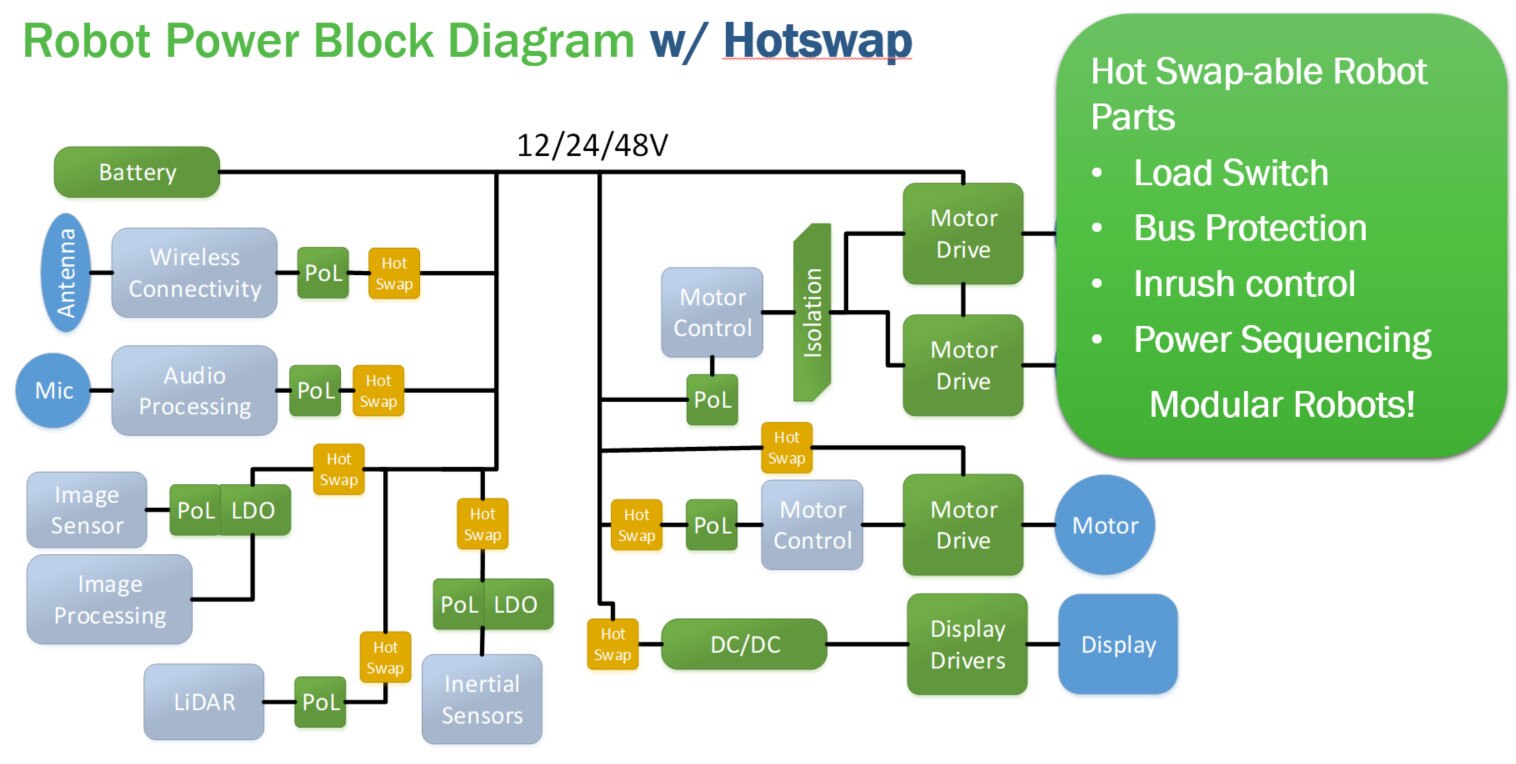 The power architecture for a robotic application is required to be efficient and reliable, as well as offering high levels of power density so that the robot can be small and fast enough to perform its function(s) well. Selecting the right semiconductors is key to form the various power functions within the robot.
ON Semiconductor is an example of a company that has applied expertise and invested to offer a wide range of devices and power products that offer designers the ability to design high-performance power solutions for robotic applications. We offer industry-leading products to drive the latest technology trends in robotics. As the second-largest MOSFET supplier in the world, we have a leadership position in the medium voltage market by offering the lowest RDS(on) from 30V to 150V. Our extensive range includes 'super junction' (SJ) MOSFETs with multiple 'flavors' optimized for different switching types and applications. The 'FAST' devices offer high efficiency in hard switching topologies, while the 'Easy Drive' devices are suitable for both hard and soft switching applications by ensuring low EMI and reduced voltage spikes.
We also offer a wide range of high voltage gate drivers that allow a microcontroller or other logic circuit to control MOSFETs directly. Depending upon the circuit configuration, a simple isolated driver such as the NCD570x series may be suited.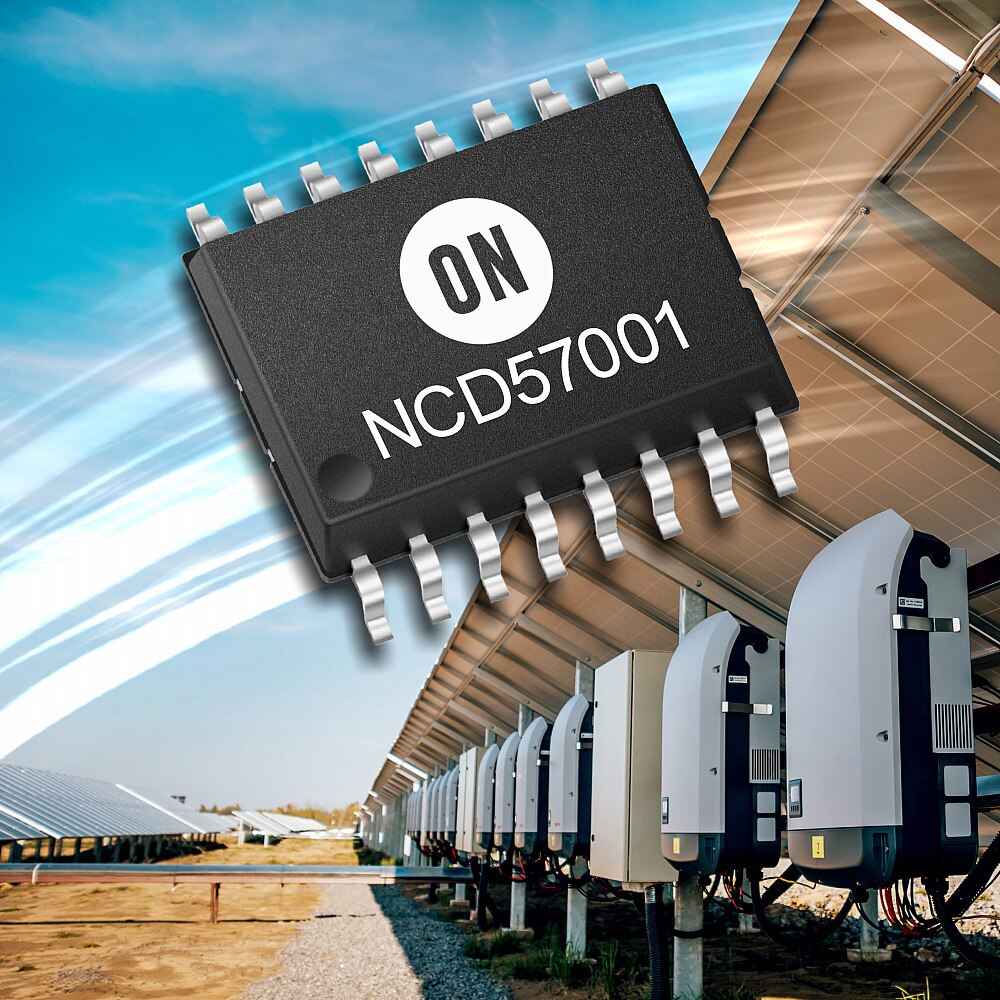 Highly integrated solutions such as Intelligent Power Modules (IPMs) bring a number of benefits. Typically, these will integrate multiple IGBTs or MOSFETs for three-phase motor driving. Compared to discrete solutions these modules offer better thermal performance as all devices are mounted on the same substrate. They are also able to handle higher current levels while improving EMI and providing a solution that is smaller and lighter than a discrete solution.
Alongside these solutions, ON Semiconductor offers a complete portfolio for robotic power applications including eFuses, PFC ICs, rectifiers, current sensors and switching devices for providing auxiliary power rails. Current sensing Op-Amps offer a low-cost solution for feedback holding precise readings over increasing ambient temp with our Zero-Drift technology. The high PSRR LDO portfolio filters out noise from the power supply maintaining signal integrity fort proper motor function. Additionally, the EEPROM has the highest ratings in terms of reliability and robustness, ideal for industrial applications.
Learn more about our Industrial Power & Motion solutions today and how you can implement them in your designs!