The Cordless Power Tool Ecosystem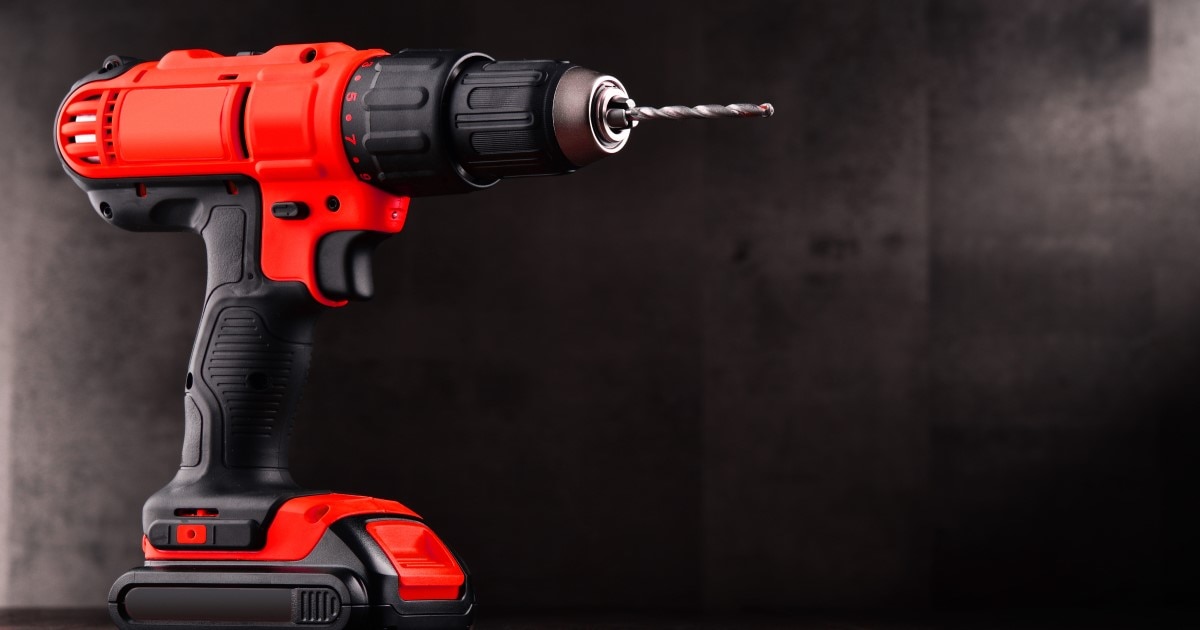 by
Bob Card
- 2021-05-11

Living in southern Maine, I have a lot of continuous yard work and improvement projects, which can easily be done with the assistance of cordless power tools. I recently purchased an 18" cordless chainsaw for my home use and I love it. I can cut down trees up to 12" in diameter and never worry about it not starting or pulling a starter cord – making it well worth the purchase. My cordless chainsaw is powered by a 40V / 5Ah Li-ion battery, or 200Wh, effectively providing ~200W for 1 hour. Or, depending on the motor, ~400W for ~30minutes.
Power tools, specifically cordless power tools, made their debut in 1961 when Black and Decker created the first cordless electric drill, largely marketed to industrial and commercial companies. In 1969 Makita released the 6500D, the first rechargeable cordless power drill marketed to the general public.
Today's power tool suppliers are experiencing explosive growth due to the increase of individuals spending time at home, with many individuals making improvements themselves. Others who spent heightened time at home are hiring contractors to make improvements or upgrades for a change of scenery. In addition, Industry 4.0's growth has caused recent technological innovations in Brushless DC (BLDC) motors and Li-ion. Power tool customers benefit from practical, buyer-friendly, ease of use, cordless power tool ecosystems that contain hundreds of tool types, powered by two to four battery systems.
For example, Table 1 illustrates the ecosystem of a singular company's several hundred tool offerings that are powered by three different Li-ion battery systems; M12, M18 and MX Fuel, naturally scaled to the power required to do the job. From simple drills to jackhammers, job site lighting, chainsaws, nail guns, sanders, heavy-duty sawing, caulking and even heated apparel, this power tool company can supply all the tools necessary, regardless of the job or project.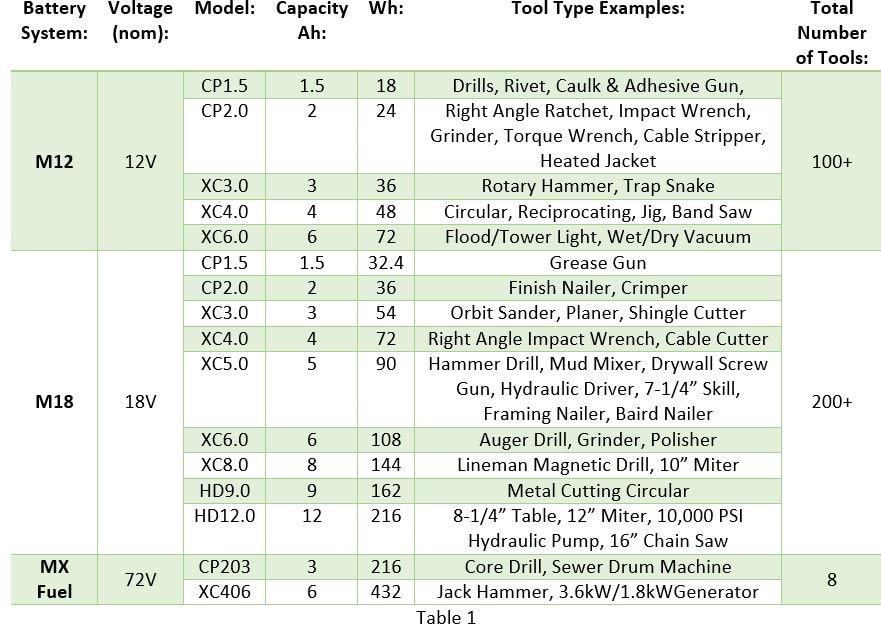 Industry 4.0
Cordless power tools are also gaining market share with various industries such as auto workers, aerospace, white goods and agriculture equipment manufacturers, as well as Industry 4.0. This is due to an increase in mobility, safety, higher torque, greater accuracy and data gathering capabilities. Advancements in Li-ion technology enables freedom of movement, by reducing cables and trip hazards, enabling workers to move about freely in tight confines and removes concerns of an accidental slicing of power cables.
Product quality, reliability and longevity can be directly attributed to maintaining precise calibrated torque and RPM (revolutions per minute) control metrics during factory manufacturing and assembly. Recent innovations in BLDC motor control enable very tight control and precision of torque and RPM. Some cordless power tools include Wi-fi or Bluetooth low energy (BLE) so that a centralized controller can ensure all equipment is assembled accurately and consistently. For example, five factory workers could install fasteners on five assembly lines, across three different shifts. Wireless connectivity enables 24/7 user-certified accuracy and repeatability of RPM/torque control across all five assembly lines, not to mention automated real-time data logging for meeting quality manufacturing compliance metrics, and historic procedure tracing.
Mobility
Power tool mobility can take on various meanings. A tractor-trailer driver benefits greatly from having a cordless Li-ion power drill packed away in their cabin in case of a breakdown. Agricultural workers can perform minor equipment repair without having to return to their barns. Wind and solar installation technicians benefit because running power cables >100 feet is impractical. The same can be said for inspections, preventive maintenance and on-site repair services of residential/commercial equipment like oil/gas furnaces, HVAC, electrical updates and plumbing. And, for new construction worksites, where main power is not yet available, traditional generator power can stress corded power tool motors due to fluctuations inline power, especially with many power tools operating in parallel. Or, motor damage can occur if the generator's fuel unexpectedly runs out during use. Many new construction sites now use a generator to charge multiple batteries, buffering the power tool motor from fluctuations in AC power. Li-ion provides a very clean DC voltage to the motor, maximizing motor life. Wherever worker access is a challenge, cordless tools can help.
Li-ion Batteries
Most cordless power tools use cylindrical Li-ion batteries in the 18650 form factor. Eighteen denotes 18mm diameter, and 650 denotes 65.0mm length. A 18650's nominal voltage ranges from 3.3V to 3.7V, depending on its cathode chemistry. Sometimes called "jelly roll cells" (the internal anode, cathode and separator, along with the electrolyte, is rolled around a center spindle), 18650's can be stacked in series to increase voltage, or connected in parallel, to increase capacity, or both. For example, five 3.6V (nominal) 3Ah cells stacked in series = 18V (5 x 3.6V), or 54Wh (3Ah x 18V).
Cordless power tool vendors work very closely with Li-ion cell suppliers to optimize the "maximum continuous discharge" (MCD) performance vs. cost, weight, charge rate, cycle life, capacity and ruggedness (shock, vibration and temperature tolerance). Table 2 depicts just a few examples of the 18650 Li-ion cells found in today's cordless power tools.

One cycle is defined as a full charge, plus a full discharge. Samsung's 25R specifies cycle life as, "retaining at least 60% of the original faceplate capacity, after 250 cycles of standard charge and 20A MCD." LG's HG2 specifies cycle life as, "retaining at least 70% of original faceplate capacity, after 200 cycles of standard charge and at 20A MCD."
Brushless DC Motors (BLDC)
BLDC motors offer many advantages over brushed permanent magnet DC (PMDC) motors, specifically higher reliability, little to no maintenance, lower electrical and acoustic noise, better thermal performance, higher speed range and power density. A typical cordless power tool BLDC motor uses permanent magnets on the rotor, and three armature windings (U, V, W) on the stator. A microcontroller (MCU) implements one of a variety of control and modulation schemes (trapezoidal, sinusoidal, FOC with SVM, DTC, etc.) to strategically energize the motor windings. This creates electromagnetic fields, causing an interactive force between the rotor magnets and the stator windings. When done properly, this interaction allows for precise control of the motor's speed, torque, or power in the desired direction.
Figure 1 illustrates a typical block diagram of a cordless power tool based on a 3-phase BLDC motor. The MCU executes the control and modulation scheme firmware, where it commands its PWM peripherals to output six coordinated duty cycles to three NCP81080 (2mm x 2mm) half-bridge gate drivers. These three drivers act as power steering for the six power MOSFETs in the output bridge, energizing the low-side (LS) and high-side (HS) U, V, and W MOSFETs.
These are typically N-Channel MOSFETS rated for 1.5~2.0x the battery voltage, illustrated in Table 3. Drain-to-Source (VDSS) Voltage is a 1st order approximation parameter for MOSFET selection. There are many other considerations for the MOSFET selection, including BLDC power, as well as cost, RDS(on), QG, packaging etc.

The MCU can measure the current through each winding via the NCS2007x (3MHz typical BW), and optionally, can assess the rotor's angular position with hall effect sensor feedback. Alternatively, a sensor-less architecture can be implemented with more processing overhead. The RSL10 BLE can be used for battery/tool asset tracking, Firmware Over the Air Updates (FOTA), feature selection/tuning, and telemetry data gathering.
Learn more about our products that we have discussed in the blog:
• RSL 10
• Integrated DC-DC Converter –NCP1032
• MOSFETs - NTMFS4C302N, NTMFS5C410N, NTMFS5C604, NTMFS6H800, FDMS4D0N12C
Be sure to subscribe to our blog and follow us on social media to receive the latest updates on our technologies, solutions and company news!