Selected Vehicle Electrification Solution
Return to Vehicle Electrification solution
On Board Charger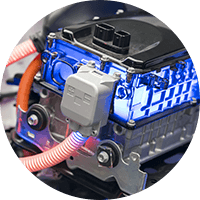 Best in class automotive power semiconductors including Silicon Carbide (SiC) MOSFETs, SiC diodes, silicon Super-Junction (SJ) MOSFETs, hybrid IGBTs, and Automotive Power Modules (APMs), enable customers to maximize power density, efficiency and reliability for their On Board Charger (OBC) designs. Customers can design OBC power stages that address 3.3 kW up to 22 kW and battery voltages up to 800 V using ON Semiconductor solutions.
Plugin Hybrid Electric Vehicles (PHEV), Battery Electric Vehicles (BEV), and Fuel Cell Electric Vehicles (FCEV) use OBC modules to charge the high voltage battery pack. The term 'New Energy Vehicle (NEV)' encompasses all 3 types mentioned above (PHEV, BEV, FCEV). The high-level function of the OBC is to convert an AC voltage input to a DC voltage output with the appropriate output current and voltage level for the battery pack to charge. While many OBC implementations are unidirectional (grid-to-vehicle), there is a movement to provide bidirectional capability allowing grid-to-vehicle and vehicle-to-grid charging with BEVs.
These "On Board" Charger modules, located on the vehicle as the name suggests, have air or liquid cooling to help with thermal management due to the power levels. Depending on the architecture, the OBC output may need to operate down to less than 250 VDC and operate at 800 VDC or higher when charging the main vehicle battery pack.
Whether it is Power Factor Correction (PFC), primary side DCDC, or secondary rectification, ON Semiconductor provides the best solution to address your system requirements. Our premier automotive product portfolio for OBC covers SiC MOSFETs, SiC diodes, APMs, MOSFETs, IGBTs, gate drivers, In-Vehicle Networking (LIN, CAN, CAN-FD), analog signal chain (OpAmps, current shunt amplifiers, comparators), power supply ICs, System Basis Chips (SBCs) and silicon diodes.