Efficient Traction Inverters Boost Electric Vehicle Range to Increase Adoption Rates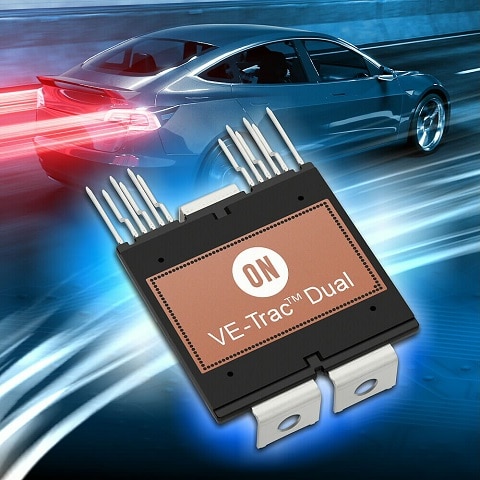 by
Jonathan Liao
- 12-16-2019


The adoption rate of battery electric vehicles (BEVs) is steadily increasing, although slower than earlier forecasts. There are two primary reasons for this: firstly, the cost of BEVs and plug-in hybrid electric vehicles (PHEVs) remains higher compared to equivalent internal combustion engine (ICE) vehicles. However, predictions do suggest that the cost of ownership of BEVs and ICE vehicles will reach parity as soon as 2022 due to advancing technology and reductions in battery costs. The second major stumbling block is often referred to as 'range anxiety' – the concern that the BEV will run out of power before the journey is completed, leaving the driver and passengers stranded. Much of this is focused on the capacity of the battery itself, but the availability of suitable charging points and time taken to charge also come into play here.
While increasing battery size (and therefore capacity) is one option to extend the vehicle range, this comes at the expense of vehicle cost and weight (the heavier the vehicle, the more energy required).
This highlights the critical importance of efficiency in BEVs, especially in the powertrain where the majority of electrical power is used. Small increases in efficiency here can result in reducing losses by kilowatts, allowing the vehicle to travel further on the available energy.
One of the challenges with designing the powertrain for a BEV is that the battery provides DC, while the traction motors require AC. Therefore, a traction inverter is an absolutely critical part of the powertrain. Poor component selection or weak design can result in an inverter that is either inefficient or large (or both), which will have a negative impact on the range of the vehicle.
Traction inverters handle significant amounts of power, typically around 150kW at 450V or so, with currents in the hundreds of Amperes. To assist designers of these challenging power systems, ON Semiconductor recently announced its new VE-Trac™ power integrated modules (PIMs) that bring best-in-class electrical and thermal performance, enabling two traction inverter design platforms: VE-Trac Dualand VE-Trac Direct.
VE-Trac Dual comprises dual side cool (DSC) half bridge modules that are stackable and scalable within a compact footprint, providing a platform solution for applications ranging from 80kW to 250kW in a small space. The first released device (NVG800A75L4DSC) is rated to 750V at 800A making it double the capacity of other devices on the market. The highly-effective dual-sided cooling ensures market-leading thermal performance while the absence of any wire bonds in the module doubles its rated lifetime. The NVG800A75L4DSC is an AQG-324 qualified module with embedded smart IGBT that provides a rapid reaction time for the integrated over-current and over-temperature protection features, thereby delivering a highly robust solution.
The VE-Trac Direct platform also offers best-in-class performance, including direct cooling for excellent thermal performance. The AQG-324 qualified NVH820S75L4SPB is housed in a six-pack configuration that is widely adopted by automotive OEMs and systems providers, allowing multi-sourcing with minimal layout changes. Available in multiple power classes, the VE-Trac Direct platform will allow simple and rapid power scaling for multiple vehicle platforms and applications.
Both VE-Trac Direct and VE-Trac Dual platforms are able to operate continuously at junction temperatures up to 175ºC, allowing more power to be delivered within the compact footprint of the modular solution.
Browse our new VE-Trac family of power modules to be used in your designs!
For easy access, check out the datasheets referenced in this blog:
Be sure to subscribe to our blog and follow us on social media to receive the latest updates on our technologies, solutions and company news!

reaction successful
Comment
Patrick B Rasmusson
2021-01-27 00:00

Comment rating:

0
Good job!
Dan R. Younger
2021-01-27 00:00

Comment rating:

0
I like, keep doing, I'm looking to purchase your stock! do not know ticker...yet! I'll find it.
Ronald Sommers
2020-08-02 00:00

Comment rating:

0
where do u think all this electric power is coming from da. oh waite maybe its fossil fuels, i can it how hundreds of charging stations with no electric because we did away with fossel fuels. dont use the heater in these cars because u can watch the battery die in front of u it will be great on a winter morning