Strata Developer Studio™ Wins IoT World Best in Show Award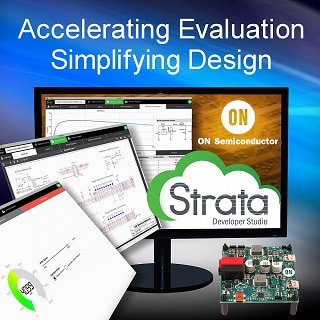 by
ON Semiconductor
- 05-30-2019


At last week's IoT World Conference and Expo, ON Semiconductor's Strata Developer Studio™ was announced as one of eight products honored with Embedded Computing Design's Best in Show Award. Strata was recognized within the "Development Tools and Operating Systems category for its "ability to provide designers with a wealth of product information in a format that's easy to digest. Hence, searching for product info is a thing of the past."
Since its launch in January of this year, the cloud-connected has redefined how engineers access data, evaluate new technology and develop new products, while reducing time-to-market. Strata Developer Studio is a development tool that uses the power of cloud connectivity to give engineers transparent access to the very latest design information, simply by connecting an evaluation board to their PC. The product is free to use and involves nothing more than downloading and installing an application on a host computer.
The application automatically identifies the evaluation board as soon as it is connected, making it a truly seamless experience. Once Strata identifies the evaluation hardware, it autonomously retrieves any available data sheets, application notes and other design collateral from ON Semiconductor's secure cloud server.
The simplicity of Strata Developer Studio means it can help engineers be more productive without forcing them to change the way they work. The transparency of Strata makes it unlike any other development tool currently available.
The real value in Strata, however, comes from the information it provides. Every document is guaranteed to be relevant and current. Engineers will no longer need to search the web for information that could well be erroneous or out of date.
We are thrilled that the Strata Developer Studio has been recognized for this prestigious award!
To learn more about recent enhancements to the software, read our blog, "Access the Strata Developer Studio", or try it first-hand by downloading Strata today.