Electric Vehicles Powered by Power Modules VE-Trac Direct and VE-Trac Dual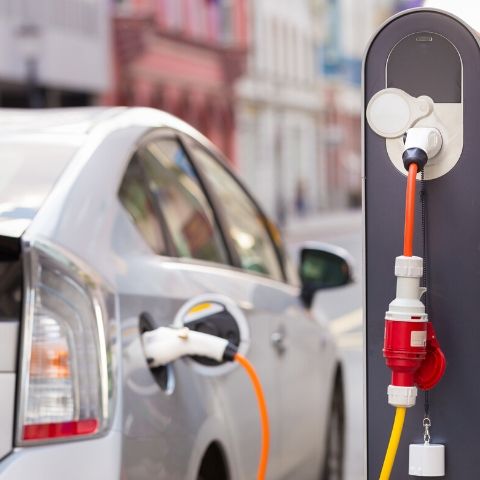 by
Jonathan Liao
- 04-29-2020


Interview with Jonathan Liao one of our product line managers responsible for the VE-Trac direct and dual product family.
What is your favorite thing about working with ON Semiconductor?
The amount of talent at the company as well as the sheer vastness of the company's global presence with 150+ sites and roughly 34,000 employees worldwide. Working with a global team comes with its own set of challenges like time differences, but it also provides a sense of satisfaction knowing that you can work with anyone anywhere. For my role specifically, I'm energized and excited to be on the cutting-edge of a relatively new market working with my team to develop best-in-class technologies and then working with our sales team on deploying it to customers. I'm a car guy. I have always been a car guy as I am passionate about cars and love them, which shows in both my personal life and professional career. In the spring I enjoy racing cars and find it fun to drive electric cars. For me, I want to continue working on EVs and pursue their development. This is the job I've wanted since graduate school.
Layman's Terms: The function of VE-Trac Direct™ and VE-Trac Dual™
Power Modules VE-Trac Direct™ and VE-Trac Dual™ are the components that convert direct current (DC) battery power in electric vehicles (EVs) or hybrid electric vehicles (HEV). EVs and HEVs have a lithium-ion battery which is now the leading e-battery technology that stores the energy in DC cells, our product then extracts that energy and converts it into alternating current to drive the electric motor. This power source is what creates propulsion for the car. The technology encompasses everything from range and performance, battery life and how the car feels when you are behind the wheel. It is an essential piece in all EVs.
The progression of Power Modules VE-Trac Direct™ and VE-Trac Dual™ at ON Semiconductor
ON Semiconductor acquired Fairchild Semiconductor in 2016 bringing with it the missing high voltage expertise in insulated gate bipolar transistors (IGBT's) and super-junction MOSFETs. Thus helping the company to add value in the high voltage market segment. The adoption rate coupled with the increased popularity over the last few years of EVs has created greater demand in this market segment for ON Semiconductor. In addition, we have seen a significant increase in demand from China and Europe for electrification solutions and technology, which is expected to continue growing, especially in the next five years. In the coming year's experts in this field, like myself, at ON Semiconductor, predict that automotive megatrends will fundamentally change the landscape of transportation and how people drive.
What will the increase of EVs on the road mean?
I think we can all agree that we want cleaner air, less pollution and less noise. All of these things can be accomplished with the growth and implementation of vehicle electrification. With fewer CO2 emitters, we will be breathing cleaner air. EVs traditionally produce less noise in both rural and urban areas and to top it off, they are incredibly fun to drive. An EV with an 85kWh battery has the same performance as a super-sedan in a traditional internal combustion engine (ICE). With a price tag starting around $250,000 for an electric roadster that produces a 0-60 sprint in 1.9 seconds certainly sounds like a lot of money, an equivalent gas vehicle with the same performance would cost an estimated three million USD, revealing the true cost-savings of this new technology.
Building VE-Trac Direct™ and VE-Trac Dual™: Encountering roadblocks and challenges
If you look at EVs, specifically long-range EVs, the industry is still in its infancy stage starting barely ten years ago. To date, there have been an estimated 2 million EVs produced globally, which is only a mere percentage of total cars produced worldwide. This is due to how new the industry is and the need for additional technological advancements to be brought to market. Hence the importance of the work that my team and I are working and developing at ON Semiconductor. With such a young industry compared to ICE, the modules for vehicle electrification are still being developed. As a team, one of the biggest challenges we faced was how to get our products to market quickly and effectively. Product development can take years and even longer to see revenue. However, our team of experts rose to the challenge. Our first roadblock was determining how to get our product to market quickly. Second, since it is a newer space, we had to figure out how to speed up the development phase. When converting high amounts of energy from DC to AC, there is an issue of heat, current-carrying ability, and efficiency. However, our team formulated an effective solution, allowing us to bring our products to market quickly and in turn, enable our customers to bring their products to the marketplace as well.
Handling Roadblocks: How I overcome an obstacle
We have a very capable team with a lot of expertise here at ON Semiconductor. I definitely don't overcome all of our challenges alone. Instead, I rely on the expertise of the talents around me. I find it most beneficial to talk to our customers, getting their direct feedback revealing what is important to them. At ON Semiconductor, we strive to be known as flexible to our customers because we are able to tweak and fine-tune our products to better suit their needs. We have the opportunity to be somewhat elastic in our customer service and pricing, as well as have a reputable supply chain. The parts that my team and I develop are integral pieces that if not executed with precision, simply stated, you don't have a car. Therefore, it's imperative that we work in conjunction with our customers and their needs, making a successful partnership with our company and our customers.
Other application usages of VE-Trac Direct™ and VE-Trac Dual™
Power Modules VE-Trac Direct™ and Dual™ are used for various applications, but the primary use case is in EVs main traction inverters to drive the electric motor. Other high power applications such as electric trains, solar inverters and uninterruptable power supplies are some other high power applications but not yet in our target application space.
How will VE-Trac Direct™ and VE-Trac Dual™ influence future technology albeit in automotive or other areas?
Original equipment manufacturers and automakers have announced that the speed of deployment for EVs is quicker today than a couple of years ago. Most major automotive producers have announced their future plans to continue increasing production of EVs, creating greater demand and increased opportunities for ON Semiconductor. Our footprint in the EV market has influenced our Silicone Carbide team, which creates alternative high power semiconductor components, pushing them to provide additional solutions with more advanced technology. Thus enabling our team to develop and deploy technology faster.
We've designed two packages one with our current IGBT silicon. Our Silicon Carbide products are using similar packages. Offering two unique platforms provide our customers the opportunity to immediately have a path of transition to adopt Silicone Carbide based technologies in their future designs. Our readiness and forethought in planning mean our supply chain won't see a blockage, nor will our customers have long wait times. Our customers will avoid the time gap that otherwise may require a redesign, mechanically or electrically, before they can deploy a car with the latest technology.
What advice would you give to others?
Drive electric cars! Having clean air is important as it provides a healthier environment and ecosystem. This is a long-term solution to lessen pollution levels and help people live healthier and longer lives. The work we are doing is important and I've enjoyed watching the availability and affordability of EV's reach the average consumer. Besides the acquisition cost, the cost of ownership is getting much lower also. For example, commuting in a traditional car costs between $.10-$.12/mile versus an EV that costs $.02/mile.
For more insight on EV and similar technology, be sure to subscribe to our blog and follow us on social media to receive the latest updates on our technologies, solutions and company news!
Twitter | Facebook | LinkedIn | Instagram | YouTube