Connected Lighting Enabling Intelligent Buildings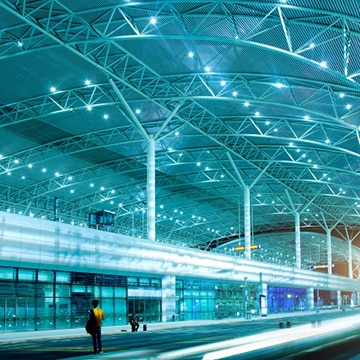 by
Bruno Damien
- 03-09-2020


If there is one area within the Internet of Things (IoT) with the greatest potential for impact, it's connected lighting. Lighting and heating currently account for approximately 40% of energy consumption within industrial buildings. As energy costs and concerns about environmental impact continue to rise, finding ways to apply technology and innovation to optimize lighting functionalities and reduce its power demands are becoming more important. Lighting also acts as a foundational network for smart sensors, allowing industrial manufacturers to collect and store insights about the building's environment (temperature, humidity levels, occupancy, etc.).
While efficiency (and therefore cost management) is the primary driver for most connected lighting control, there are a number of other aspects that come into play when developing lighting applications within residential and industrial markets. Modularity is important, allowing lighting systems to be extended and segmented while the ability to control lighting with mobile devices permits sophisticated interfaces to be deployed without the expense of a dedicated screen. With the enhanced levels of control available, new applications for lighting including uses in areas such as medical therapy and agriculture are emerging.
Basic lighting control starts with the ability to turn lighting on and off and extends to dimming and color control of LEDs. More complex systems support the full automation of lighting, energy management, intensity control and sensing and downlink connectivity.
Connectivity is a key technology for controlled lighting systems, although there are multiple aspects of connectivity in this context. There is the connectivity between the lighting and the building management system (BMS) that provides the overall control, connectivity between the elements of the system and the connectivity used during the setup and commissioning of the system. Once the connectivity element has been implemented, a developer can add various sensors (temperature, moisture, lighting levels). These local or cloud-based sensors add tremendous value to industrial applications as they can be used to report information to maintain or optimize systems.
Connectivity Options for LED Lighting

The primary protocols in use include Bluetooth® Low Energy, Zigbee™ Green Power and Power over Ethernet (PoE). Near-field communication (NFC) is also used, but typically only for setup and commissioning.
As with many other areas in the IoT, Bluetooth Low Energy is a popular option for its ease of implementation and interoperability with mobile devices. Mesh networking has extended its coverage to large-scale networking situations by enabling secure, point-to-point communication between a mesh of up to 32,000 devices.
Another wireless protocol with inherent energy efficiency is Zigbee GreenPower. Built upon IEEE 802.15.4 MAC and PHY, Zigbee is easy to deploy in larger industrial buildings with its long-range connectivity, and compatibility with standard lighting products and new building trends.
With ease of implementation and costs being primary concerns for connected lighting, Power over Ethernet (PoE) is a reliable and cost-effective option for wired connectivity. Ethernet connections are readily available in most commercial buildings and can be used to deliver both power and connectivity through a single cabling mechanism. Additionally, the new IEEE 802.3bt now supports the delivery of up to ninety watts of power which supports even the most demanding LED lighting applications.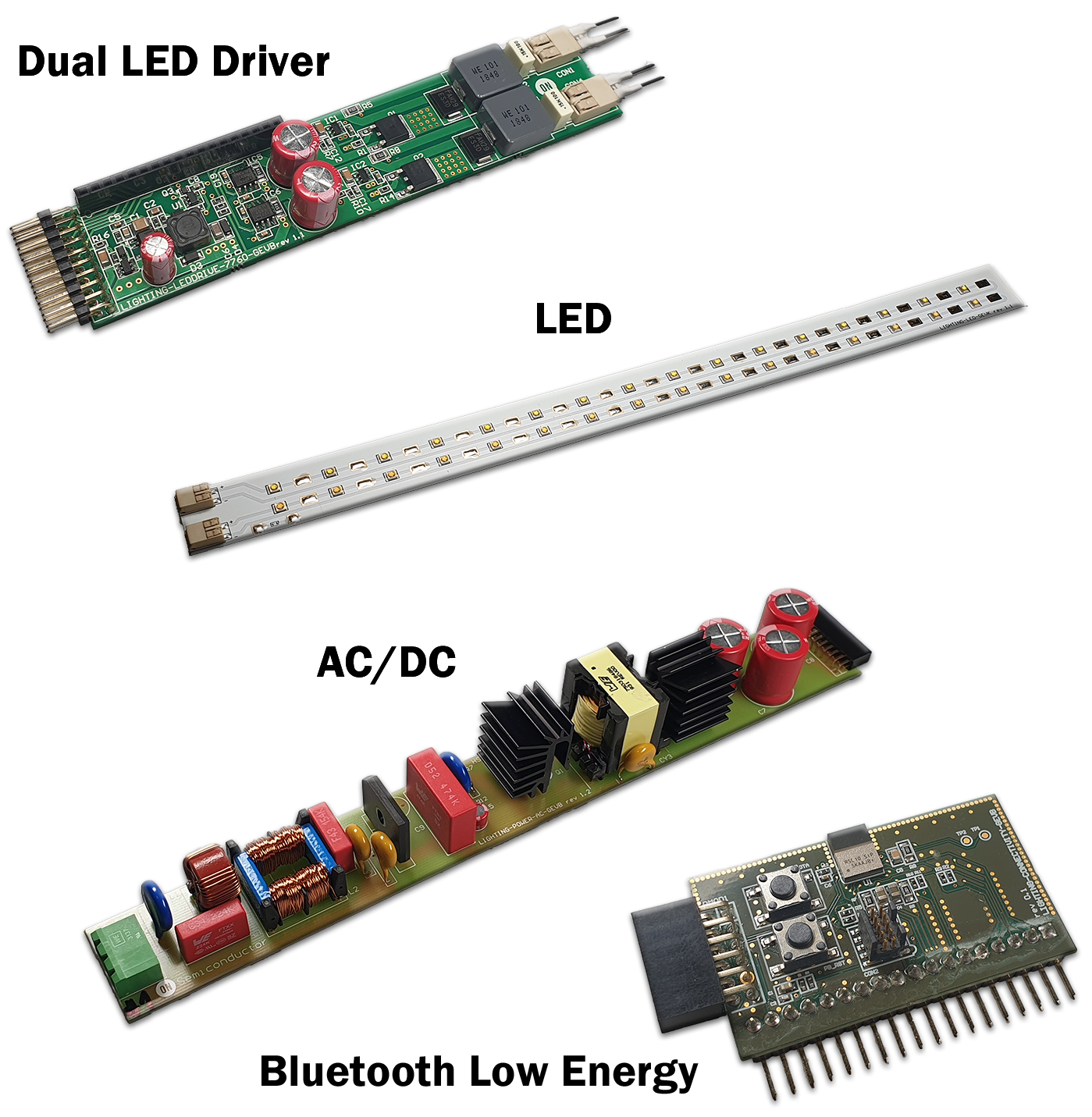 Connected Lighting Platform (LIGHTING-1-GEVK)
The Connected Lighting Platform from ON Semiconductor is a modular development kit for high-power industrial LED lighting solutions. The extremely energy-efficient platform provides up to 70 Watts of power and up to 7000 Lumens of light from an Ethernet or AC/DC power supply. The system supports up to four LED strings and each LED driver board has two FL7760 drivers for each LED string, delivering 27 W per string. Providing multiple connectivity options, the platform supports Bluetooth Low Energy and Power Over Ethernet (PoE).
Based on the RSL10 System in Package (RSL10 SIP), the connectivity module provides low-power LED wireless control options, including on/off, dimming and programming. Using the provided CMSIS-pack, developers can take advantage of a number of available use-cases to customize their lighting application with additional functionalities. The RSL10 FOTA mobile app (available on Google Play™ and IoS®) also adds support for wireless firmware upgrades, while the RSL10 Sense and Control app enables developers to control and monitor environmental sensors and actuators from a mobile device.
By helping industrial manufacturers reduce energy consumption and optimize environmental conditions using collected sensor data, connected lighting has significant potential within the Internet of Things (IoT). The Connected Lighting Platform is an optimized, cost-effective design that combines the best of all technologies needed for the most demanding LED lighting applications.
Learn more about our Connected Lighting Platform today!

reaction successful
Comment
Jim Spangler
2020-04-22 00:00

Comment rating:

0
I am trying to sign up for a webinar and the system does not accept me. Can you please contact on how to register? Jim Spangler@ieee.org jim.spangler@sbcglobal.net jim.spangler@spanglerprototype.com