USB-C Port – Displaces all Power Ports in Your Next Automobile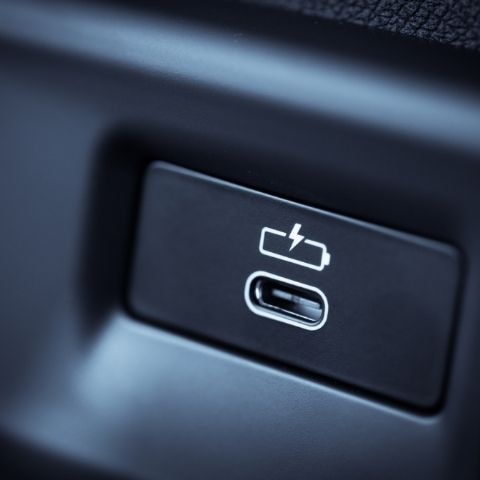 by
Oscar Freitas
- 2020-09-16


COVID-19 put a hold or canceled many of our travel plans. At one point, some wondered if airline travel would close down completely. For others, road trips became their preferred mode of travel as exposure to COVID-19 was easier to limit in comparison to airline travel. In the past, cars didn't offer to charge capabilities whatsoever making it a task to have all your devices completely charged before leaving. Currently, in select automobiles, you can have low-power USB Standard-A ports for phones or snake long USB medium-power adapter cables from the available 12V Adapter Power Outlets to your devices. But that still only addresses your phone and marginally tablet needs. What if your laptop needs charging as well?
USB-CTM (also known as USB Type C) comes to the rescue by providing the ability to charge your laptop as well as your 5G, power-hungry phones and tablets which could have GPS running for the entire trip. If your entertainment unit has Apple Carplay, then the same front USB-C port that charges your phone can carry Carplay data as well, or Android Auto. Or if you prefer Bluetooth data and USB-C charging, that is all within your control. Sitting in the backseat and need to charge a device? Single USB-C charging-only ports are sprinkled throughout the car and the power is converted directly from the vehicle battery to USB-C Power Delivery (PD) power ranging from 5V to 21V in tiny 20mV increments. The power available from each USB-C port can extend to 100W, enough to completely charge a laptop in less in an hour or so. Current fast-charging-capable smartphones can achieve 100% charge in 15 minutes, depending on the design and products used in the USB-C solution.
But for system designer, where do you start to design automotive USB charger modules? Sure you could start by reading the combined 1030 pages of the USB Type-C and USB PD specifications, but that' daunting and extremely time consuming plus, you might need to digress into any referenced specifications to understand the content. Joining USB standards bodies is too time-consuming. In addition, these specifications are also evolving and updating. While you might struggle to digest the specifications feeling overwhelmed by all the information, ON Semiconductor can come in to help as this is where we excel.
ON Semiconductor provides an easy solution by providing all the electronics and reference designs to help design high powered USB-C PD ports. Starting from the 12V battery, a buck-boost DC/DC regulator provides the 5V that starts the USB-C communication upon attach, and a USB PD controller manages the USB-C port to handle all the handshaking needed for connected phones, tablets and laptops to get their individual voltage and current for optimal battery charging. ON Semiconductor also provides all the MOSFETs, protection devices for reverse battery protection, over-voltage, over-current and over-temperature protection, short-to-battery protection and combines them into a reference design.
The FUSB3307 evaluation board is a good example of such 60 W reference design, shown below. The FUSB3307 is a USB PD 3.0 source controller that provides Programmable Power Supplies (PPS) that can enable the fast-charging algorithms mentioned above. Output charging current is sensed across a tiny 5 mΩ resistor and directly controls the feedback of the NCV81599 Buck-Boost controller Buck-Boost controller.
Figure 1. FUSB3307 Evaluation Board
It is a fully self-contained solution that is USB PD and USB-C compliant. All protections are designed in for an easy design. Input voltages of 4.5 V to 32 V can be converted to USB PD voltages ranging from 3.3 V to 21 V. If 5A current capability is required, there is no need for additional electronics since the existing system will interrogate a cable to ensure it is 5A capable before offering 5A Source capabilities.
ON Semiconductor is not only a major supplier for automotive electronics but also the author of the power chapter of the USB PD specification. We monitor the specifications closely and tailor our solutions to meet your design needs. Utilizing all the devices from ON Semiconductor, we make sure that everything works seamlessly together and provide you support for the system.
Check out the FUSB3307 evaluation board to learn more and how you can apply it into your designs with ease and speed. Continue learning about our USB-C solutions and how they can fulfill your next design and solution needs in automotive and other various applications.
For additional USB-C resources:
Be sure to subscribe to our blog and follow us on social media to receive the latest updates on our technologies, solutions and company news!
Twitter | Facebook | LinkedIn | Instagram | YouTube
**The names of actual companies and other products and marks mentioned herein may be the trademarks of their respective owners.**