Creating Ultra-Low-Power Tags for IoT Asset Management with High-Accuracy Positioning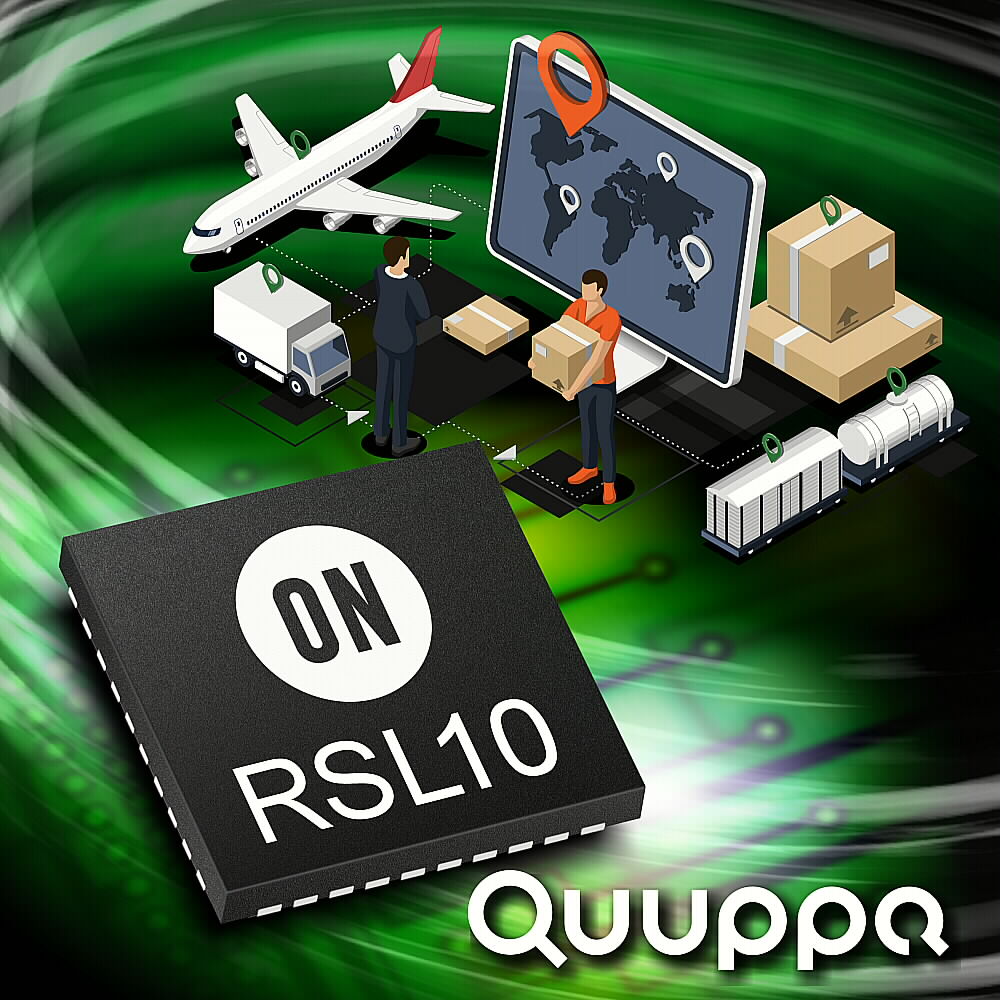 by
Santtu Pulli
- 02-22-2021


The past year will be remembered as the year of co…co-operation! We have been working closely with the solutions engineering & marketing teams at ON Semiconductor to add support for the Quuppa Intelligent Locating System™ to the RSL10, the industry's lowest power Flash-based Bluetooth® Low Energy radio System on Chip (SoC).
The ongoing collaboration stepped out of the shadows and into the daylight with the recent announcement, in which we discuss the new possibilities enabled by creating a high-performing Angle-of-Arrival (AoA) tag for IoT asset management that is compatible with Quuppa's field-tested technology.
Quuppa Intelligent Locating System™
The Quuppa Intelligent Locating System™ is a powerful technology platform for location-based services and applications. This enterprise-ready technology was developed over 15 years and 2000+ systems have already been delivered to more than 55 countries. Unlike many Real-Time Locating Systems (RTLS), the Quuppa System is truly real-time (sub 200 ms latency) and highly accurate (down to 10cm).
Thanks to Bluetooth® Low Energy technology, Quuppa-compatible tags are very affordable (down to a few dollars), have a long battery life (up to 10 years) and can be embedded with a variety of sensors. These benefits come alongside the added value of the ecosystem that comes with Bluetooth®.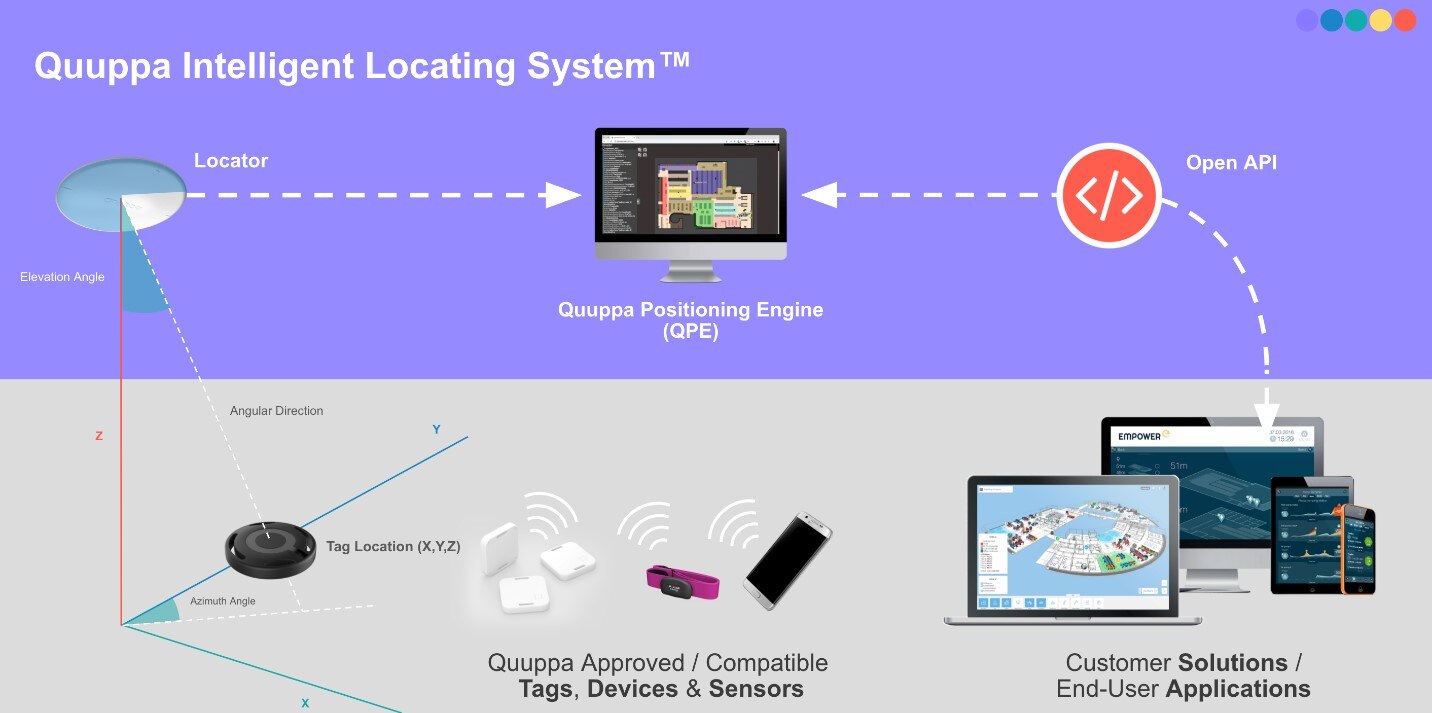 RSL10 Bluetooth 5 Radio
At Quuppa, we are excited about the collaboration with ON Semiconductor, not only due to their brand reputation but because the RSL10 really is a key enabler that the IoT needs. It was not all that long ago when all RTLS could offer was a "somewhere over there" level of accuracy and a "we're pretty sure that's right" level of reliability using tags that were both short-living and expensive. Now, we are excited to be facing a completely different landscape and proud to offer an accurate, reliable system combined with cost-effective and low power tags. This will allow for creating RTLS solutions that can truly scale. We see this collaboration as a game-changer for the market.
Bluetooth Tags
In addition to new market requirements for improved accuracy, reliability, latency and for them to be technically and financially feasible, many use-cases require tags that are small but have long battery lifetimes. Size requirements can cause limitations for onboard battery capacity but, if the increasing size is not an option, the limited capacity requires both power-efficient radios and intelligence on the firmware level.
To conserve the battery, tags must optimize their advertisement and other operation activities, so that the positioning engine can receive enough direction-finding packets to compute their position accurately when they are moving, sending fewer packets when they are static. This so-called Finite State Machine logic allows for optimal use of the air interface resources and minimizes battery consumption. This also ensures that the Bluetooth air interface remains uncongested even in use cases with tens of thousands of tags in the same physical space.
The functionality described above is one of the intelligent features that ON Semiconductor has implemented for the RSL10 with Quuppa. For device manufacturers, this collaboration not only means compatibility with Quuppa and highly competitive silicon but also a shorter time to market. The Quuppa stack is provided in a user-friendly CMSIS-Pack format, and offers advanced state machine logic and interference tolerant options, thanks to edge channels of the 2.4GHz ISM band.
Finally, one of the things that we keep repeating at Quuppa is that tags are not beacons. Quuppa positioning technology is all about measuring the angles, not triangulating multiple RSSI-values transmitted by a tag. This is why having a (preferably PCB) antenna with an omnidirectional radiation pattern is one of the most important tag design principles for those planning to make a Quuppa compatible tag.
Learn more about our best-in-class Bluetooth compatible RTLS technology by registering for our Technology Webinar, "Implementing Angle of Arrival Real-Time Localization Systems from Quuppa on an RSL10-based Sensor Node".
For inquiries related to developing Quuppa compatible tags with the RSL10, contact your local ON Semiconductor representative.
Be sure to subscribe to our blog and follow us on social media to receive the latest updates on our technologies, solutions and company news!