The Future of Audio Streaming: From Always Listening to Always Streaming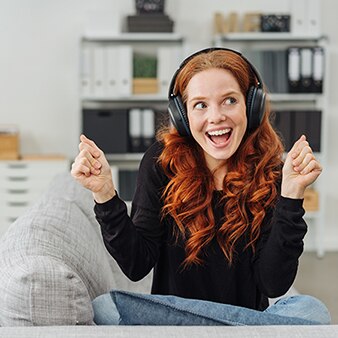 by
Satoshi Terada
- 12-18-2019


Thanks to the evolution of the Internet, the music industry has developed significantly over the past few years. We are overjoyed to see that the industry has regained traction, as the business model itself has developed from the selling of packaged media, through downloading sales of digital data, and now into streaming audio that can be enjoyed by anyone, anywhere. This can all be attributed to the smartphone and high-speed communication.
When packaged media was mainstream, the compact CD player was highly regarded for its portability despite some minor disadvantages. As this evolved from CD players to portable listening devices, we were all on our toes when we were able to download music digital data from our personal computers, or "Digital Hub". The phrase "1000 songs, in your pocket" was used to describe the huge leap in technology, and we were able to bring downloaded songs into HDD and Silicon Storage.
Today, with the help of the latest wireless communication technology, users can listen and enjoy music truly anywhere. This so called "streaming music supply" allows us to do what we were never able to imagine before, by using our smartphones and applications to listen to music using portable sound solutions that fit right in our ears.
A crucial element of implementing audio applications, like so many battery-powered IoT applications, is power consumption. The majority of these devices use a Bluetooth® wireless connection and, therefore, completely rely on smartphones as their "Digital Hub". In order to allow for direct audio streaming, manufacturers are looking for ways to stream audio directly to the device using a new type of connectivity like Wi-Fi, which is available almost anywhere. Although the demand for direct public connection to the devices will almost certainly be resolved in the "5G era", it will be some time until the infrastructure replacing the convenience of being able to use portable sound solutions "anywhere" if connected via Bluetooth, will spread.
ON Semiconductor's LC823455 is designed for this future, controlling power consumption and supporting Wi-Fi connectivity. The SoC contains an advanced audio DSP for high-resolution audio quality and features a 32-bit LPDSP32 processor. The device also provides built-in process algorithms specially designed for the handling of music data.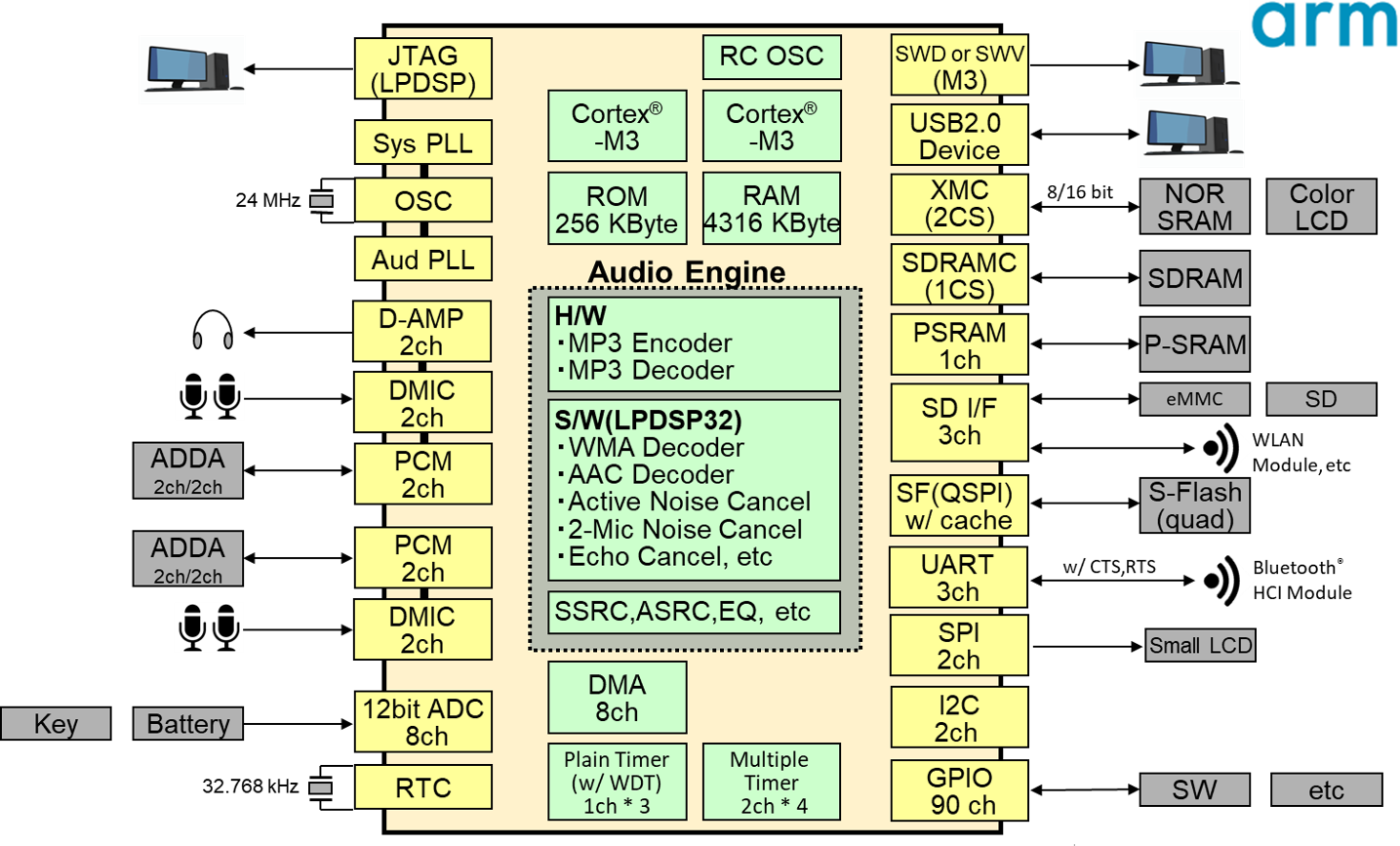 LC823455 Block Diagram
To accommodate the memory requirements of Wi-Fi, which are significantly larger than with Bluetooth, the LC823455 offers an impressive 4 MB of SRAM. Power consumption is minimized through a dual-core system based on the Arm® Cortex®-M3 processor as well as a Standalone Playback function which contributes to enhancing battery life. This feature also allows listeners to download and store their favorite songs in the outer memory.
Imagine the freedom of portable sound solutions. You will be able to listen to your desired audio streaming service and move around freely without constantly having to stay near your phone.
You will now be able to grab a magazine, chase your cat, and listen deeply to music, without your phone in your pocket. If you are worried about your batteries but want to keep listening to music, you can achieve both by switching off wireless mode and continue listening in music playback mode.
For all music lovers, doesn't this seem like a dream come true?
To learn more about LC823455 and the latest trends within audio, watch our Audio/Voice User Interface session from our 2019 Technology seminars.

reaction successful
Comment
tm stagetec systems
2020-02-12 00:00

Comment rating:

0
Thanks for sharing the amazing post. EDC Acoustics manufactures the world's first Plane Array™ loudspeaker system, with computer controlled 3-Dimensional wavefront adaptation and control. Feel free to contact us for more information: http://www.tm-systems.com.au/products/edcacoustics/