Latest Silicon Carbide Technology Showcasing at Smart Production Solutions (SPS)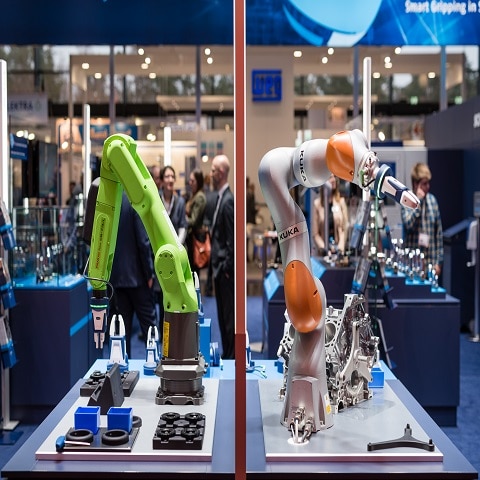 by
ON Semiconductor
- 2019-11-18

Today, electrical drive systems are a key component of industrial automation systems since they account for a large proportion of electrical energy consumption. Such drive systems have a central function in achieving energy savings.
With automation growing at a faster pace, the motor drive is the backbone of the future industrial facility. This challenges us to further focus on the efficiency of industrial drive systems while designing for higher currents, more accurate control and better system reliability.
ON Semiconductor will demonstrate it's industry drive solutions at Smart Production Solutions (SPS), Nuremberg, Germany from November 26th to 28th. This event will showcase the entire spectrum of smart and digital automation, from simple sensors to intelligent solutions, what is feasible today, to the vision of a fully digitalized industrial world. The focus is on practical solutions for your specific business area.
ON Semiconductor's latest Silicon Carbide (SiC) technology and drivers are enabling highly efficient motor control with Artificial Intelligence (AI) on the Xilinx SoCs like the Zynqâ-7000 family. It delivers 3-level inverter control with modulation at high switching frequencies for inverter efficiency above 99.25% with SiC. Edge Analytics using Python and Machine Learning capabilities like AI for diagnostics on the Xilinx Zynq platform take advantage of internal RAM and Programmable logic for acceleration, while integrated Central Processing Unit (CPU) cores provide performance for differentiating applications and services for the Industrial Internet of Things.
The industrial grade NTHL080N120SC1, 1200 V MOSFET brings the enabling, wide-ranging performance benefits of Wide Bandgap technology. Our 1200 volt (V), 80 milliohm (mΩ), SiC MOSFETs are rugged and align with the needs of modern high frequency designs. They combine high power density with highly efficient operation that can significantly reduce operating costs and overall system size due to smaller device footprints. These characteristics also mean less thermal management is required, further reducing bill of materials (BoM) costs, size and weight.
ON Semiconductor's complete portfolio of motor drive solutions provides industry leading MOSFETs, IGBTs, gate drivers, and power modules provide the building blocks for high power motor drive, while our motor driver family supports a variety of lower voltage motors including brushed, brushless, and steppers. Galvanic isolation and high performance op-amps allow for safety and control, completing the system solution.
Learn more about our Wide Bandgap advantages or visit us at the Xilinx booth #558 in Hall 4 where have a co-exhibit to learn about the latest solutions.