Home > Blog > Automotive >
Swimming Upstream! Considerations in Automotive Upstream Point-of-Load Conversion
Swimming Upstream! Considerations in Automotive Upstream Point-of-Load Conversion

by
Kieran McDonald
- 07-08-2015

Many automotive power supply architectures require upstream point-of-load (POL) conversion, particularly Advanced/Autonomous Driver Assistance Systems (ADAS) applications where the low core voltage of many System-On-Chips (SoC) and Digital Signal Processors (DSP) are beyond todays Switched Mode Power Supply's (SMPS) maximum conversion ratio or main switch minimum off-time capability. POL conversion typically involves down conversion from a primary, battery connected rail voltage to a lower secondary voltage rail required by a particular load. Other application and load dependent attributes may be required too, such as low noise, high PSRR or high levels of load transient response. However, adding secondary power supplies upstream of the battery connected primary converter can lead to issues.
Many secondary rails are provided by a linear regulator. This is often the case where power dissipation is not a concern and noise and Power Supply Rejection Ratio (PSRR) need to be optimized, perhaps where powering noise sensitive RF circuitry for instance. Even where power dissipation is initially of concern, very often an intermediate rail voltage can be created from the primary power supply to allow the use of a linear regulator as the secondary supply. In which case even very high load current levels can be supported by a low noise linear regulator, but one with a very low drop-out voltage. The NCP59300 and NCP59748 are examples of high current (3.0 A and 1.5 A respectively) linear regulators with a low noise characteristic yet very low drop-out voltages. The NCP59748 in particular achieves a drop-out voltage of just 165 mV max. at 1.5 A, largely by separating the power path from the internal circuit biasing, by the provision of separate inputs for both (Fig. 1). This allows the bias input to source from a higher voltage rail and the power path input to source from a lower voltage rail, such that the linear regulator is just held above its drop-out condition, minimizing power dissipation.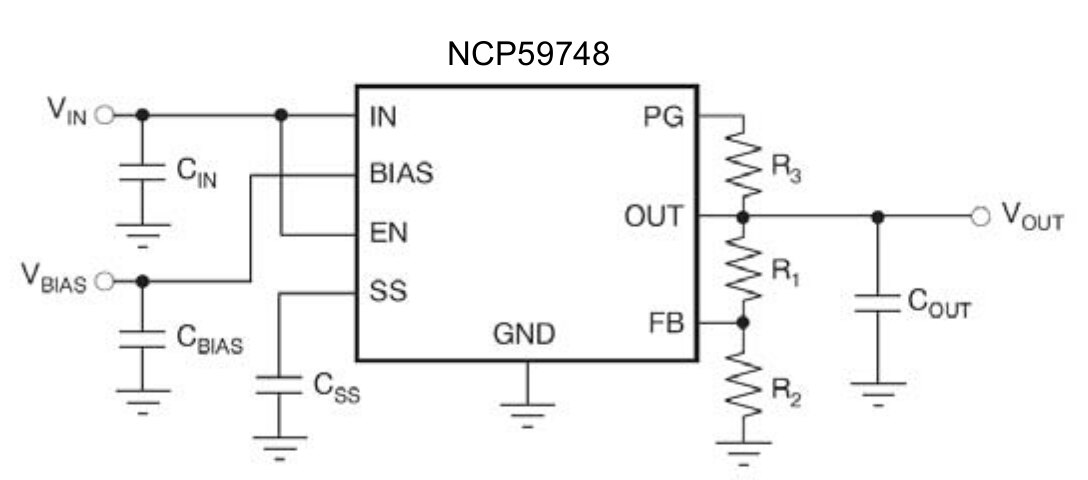 Fig. 1 – NCP59748 with separate Vin and Vbias sources
In many applications where efficiency and power dissipation are a major concern, secondary SMPSs are used, where the input current of the secondary SMPS loads the output of the primary SMPS. By implication the loads connected to the secondary should be less susceptible to the noise produced by the SMPSs, otherwise additional output filtering needs to be employed.
Where a secondary converter loads a primary converter's output, the interaction between the two, and any additional intermediate filtering, needs to be considered. If the secondary converter's bulk input capacitance is located physically close to the output of the primary converter then the primary converter's bulk output capacitance can be reduced pro rata, while still retaining the same ripple and loop response performance. However, typically long board traces, or even harnesses, interconnect the two converters, de-coupling the bulk capacitors and providing intermediate filtering. In this case there is no benefit of bulk capacitance reduction but the impedance loading effect of the intermediate filter, whether parasitic or otherwise, needs to be heeded - otherwise it can cause stability issues for the upstream converter. Failure to keep the input filter impedance below that of the input impedance of the SMPS can lead to oscillations.
A further issue can be caused by high capacitance levels, at the output of the secondary POL converter. Enabling an SMPS into a partially or fully charged output capacitor with some residual voltage can cause the SMPS to sink the current through the low side MOSFET. As a result a negative current limit, such as that employed in the NCV6323 synchronous buck converter or the NCV894630 switch-mode regulator is required to protect the low side MOSFET from failure.
Where multiple secondary converters load a primary converter, and the secondary converters have a synchronization input to allow oscillator synchronization, then phase positioning can be used to interleave the timing of the secondary converter's oscillators. This is particularly of benefit to buck converters which have discontinuous input current, due to their high-side switch, leading to high ripple currents and requiring a large bulk input capacitor to filter as a result. Phase shifting their switching eliminates the overlap of input currents and as a result input ripples, thereby reducing the size of the required input filter. Indeed some primary converters, such as the NCV890101, provide a slave synchronization output, phase shifted by 180 degrees, which can be used to synchronize either multiple primary converters, or the primary and its secondary converter, out of phase yet utilizing the same fundamental frequency. Synchronizing all converters to the same fundamental frequency, has electro-magnetic emissions benefits by keeping all switching locked to the same frequency without deviation.

Fig. 2 – Two primary converters with the Master synchronizing the Slave
So while linear regulators can be used for high current POL conversion, conferring some benefits for particular applications over and above an SMPS - where an SMPS is required then consideration should be given to protecting the converter from high output capacitances, input filter mismatch and interleaving.

reaction successful
Comment
Abhinava Shah
2018-10-09 00:10

Comment rating:

0
Excellent points,Interesting stuff to read. Keep it up. Here we are Manufacturer of Terminal Blocks Including Interface Modules & Power Supply. Connectwell is the leading manufacturer of Terminal Blocks in India. In addition to Din Rail and PCB Terminal Blocks, Connectwell now offers a large range of products including Interface Modules, Professional Tools and Switching Power Supplies. Visit our website – http://www.connectwell.com to know more about us!