Selected Energy Infrastructure Solution
Return to Energy Infrastructure solution
Energy Storage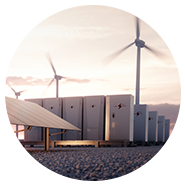 Energy storage systems (ESS) are being increasingly installed alongside renewable energy generation to smooth out the intermittent power and facilitate the modernization of the grid. ESS are a key distributed energy resource which can deliver active and reactive power to guarantee power quality and reliability.
Interactive Block Diagrams
Products




Advanced power modules, including IGBT, MOSFET, SiC, Si/SiC Hybrid, Diode, SiC Diode, and Intelligent Power Modules.