Home > Blog > iot >
Connecting Smart Homes and Buildings with the IoT
Connecting Smart Homes and Buildings with the IoT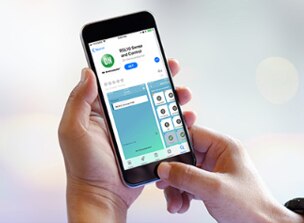 by
Pavan Mulabagal
- 06-04-2019


IoT continues to deliver on operational efficiency, cost savings and security across various segments. One of the areas that are experiencing tremendous growth with connected devices and systems are smart homes and building automation.
While the decision-making processes and industry participants are different, in many cases, the underlying technology within smart homes and buildings, except for scale, tends to be the same. Traditionally, technology adopted in homes makes it into commercial buildings with a lag of a few years. Consumer tech giants, as well as service providers and any company that currently has a stake in a home, are trying to expand rapidly. Companies such as Vivint, that don't make devices of their own, are also vying to be a complete smart home service provider.
Philips Hue lights that are controlled with a smartphone were one of the first connected devices to be featured in the home. Now, there is a proliferation of connected devices including appliances, CE devices and newer categories such as indoor air quality monitoring and IP connected security. With the advent of voice assistants that let you control any of the connected devices in the home, the pace of adoption is accelerating.
The total smart home and building market will be worth about $200 billion USD by 2024. With a steady rise in the number of households, driven both by population increase and reduction in average number of people per household, the total smart home market is projected to be about 70 percent of the total $200 billion.
In addition to improving convenience, a key goal of these technologies is saving energy, which is driving rapid adoption of solid state and connected lighting, occupancy monitoring, and addition of sensors for predictive maintenance.
We would be remiss not to mention the importance of cybersecurity within the smart home and building space. With that, the state of California has passed legislation mandating "reasonable" security measures for devices that connect to the internet (CA SB-327: 2020).
What's New
With state-of-the-art energy harvesting solutions generating energy in the 10–100s of micro Joules range, it's critical to have high energy efficient processing and connectivity SoC. Both the RSL10 (Bluetooth 5) and NCS36510 (Zigbee/802.15.4), with industry leading power numbers, are ideally suited to run on harvested energy. ON Semiconductor has launched several battery-free and maintenance free platforms.
Learn more here.
Integrated Multi-Sensor Platform
The RSL10 Sensor Kit is an ultra-long battery life-sensing node incorporating the latest sensors from Bosch and the RSL10 SIP. With RSL10 SiP, over a dozen sensors, a comprehensive software development environment and a mobile app, this integrated and compact platform significantly cuts down development costs and efforts and supports areas including worker safety, asset monitoring and elderly care.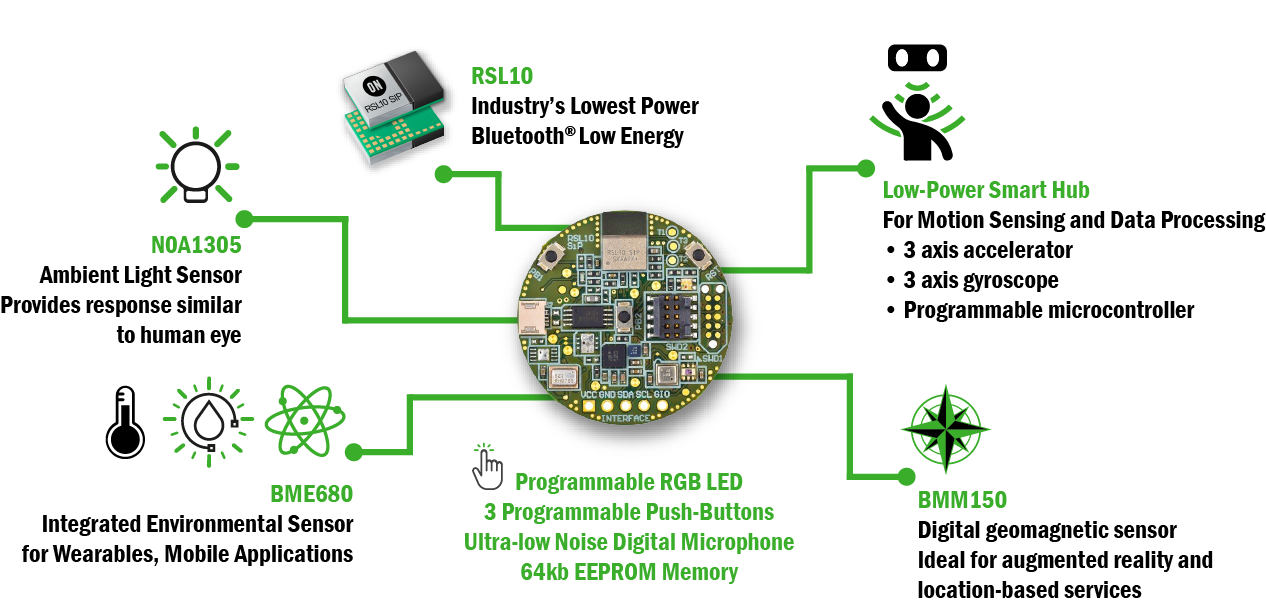 Learn more here.
IoT Development Kit Now Microsoft Azure Certified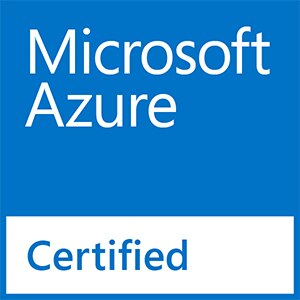 Providing easier and secure access to cloud connectivity, the IoT Development Kit (IDK) has added support for TLS, a protocol that is essential to connect to secure clouds. This has allowed us to get the IDK certified with Microsoft Azure and Amazon Web Services.
Learn more here.
RSL10 Sense and Control
A mobile app to control actuators and monitor sensors connected to the Bluetooth IoT Development Kit (B-IDK) is now available on Google Play and iOS App stores. The app enables users to publish and subscribe to data from sensors and actuators connected to platforms that feature RSL10. For easy cloud connectivity, the data from the sensors and actuators can be sent to any service that supports MQTT.
Learn more here.