Industrial Motor Control System Solution at Your Fingertips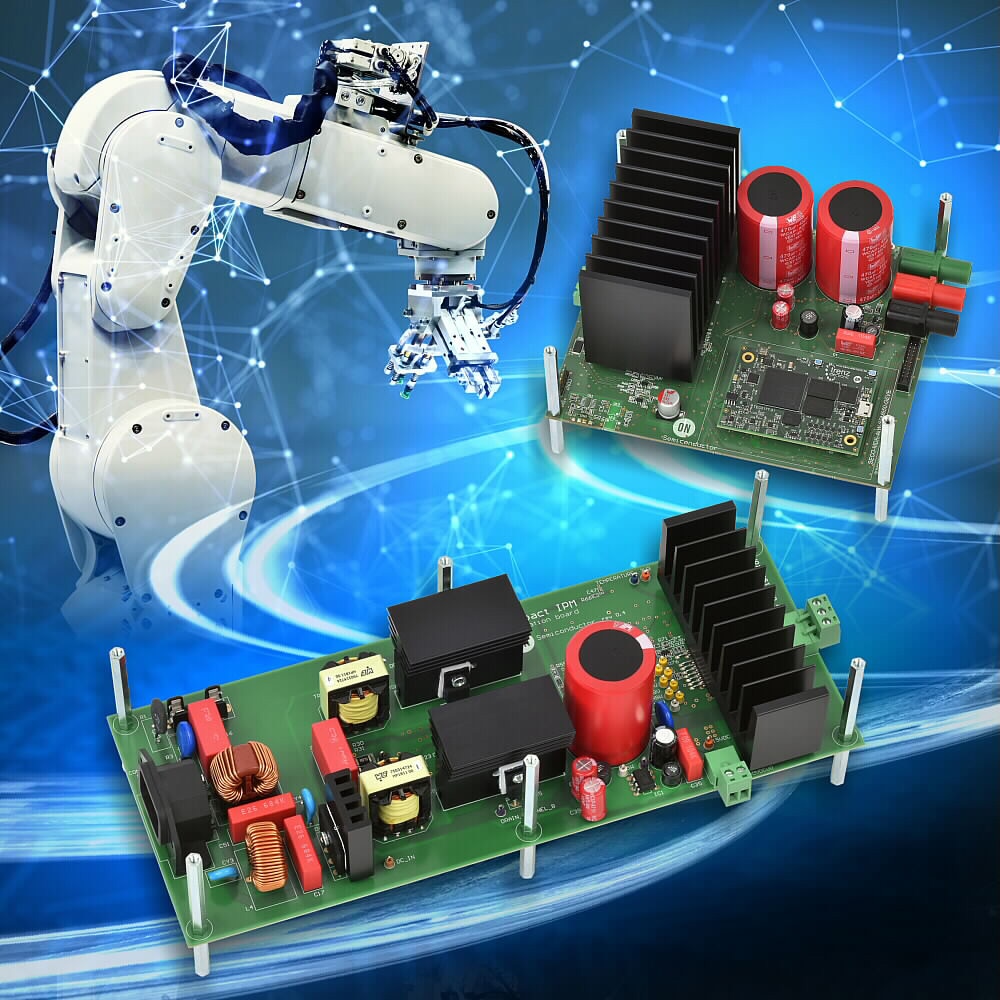 by
Ali Husain
- 11-09-2020


Motors are ubiquitous in modern life, from climate control, appliances, and commercial refrigeration, to automobiles, factories and basic infrastructure. Electric motors account for 45% of total global electric power consumption according to the International Energy Agency, and therefore the reliability and efficiency of the motor drive electronics have an impact on comfort, convenience and the environment in every region of the world and a variety of applications.
One way to improve the efficiency of motor driven systems is to replace a single-speed motor driven off the 50/60Hz AC line voltage with a variable speed drive, which allows for electronic speed control of the motor and higher drive efficiency. Variable speed control also can provide efficiency at the application level, in contrast with an on/off method of regulation.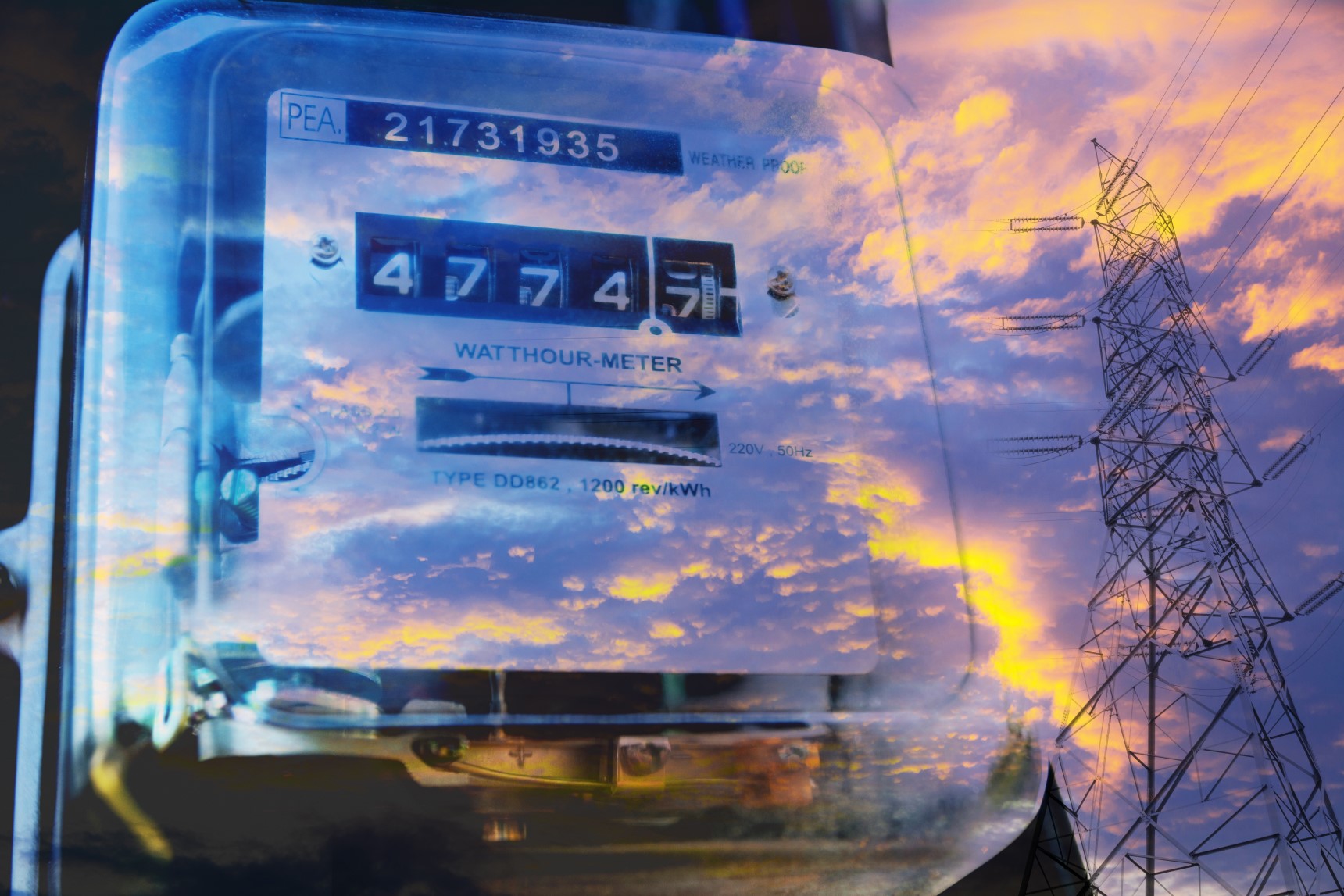 The heart of an advanced motor drive system is the inverter stage, which takes input DC electricity and converts it to an AC voltage at a frequency that drives the motor at the desired speed. The inverter is comprised of three half-bridges, as shown in Figure 2. Each half-bridge phase of the inverter has a high-side and low-side switch, which can be silicon power MOSFETs, IGBTs, silicon carbide (SiC) FETs or GaN HEMTs depending on the application requirements.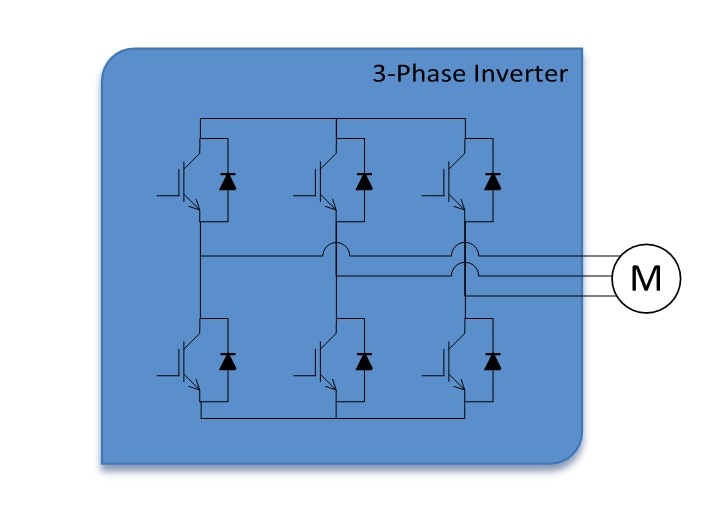 Figure 2 – 3 phase inverter
The requirements to turn a pump or a fan, a conveyor motor or a robot arm, for example, are different, and industrial applications will make use of different motor technologies to adapt to each case: AC motors, brushed or brushless DC, PMSM or switched reluctance as examples.
Regardless of the broad spectrum of applications and technologies, if we look into a factory environment, there are always essential common requirements that the drive systems need to fulfill:
High efficiency and reliability
Robustness and integration
Ruggedness and excellent thermal performance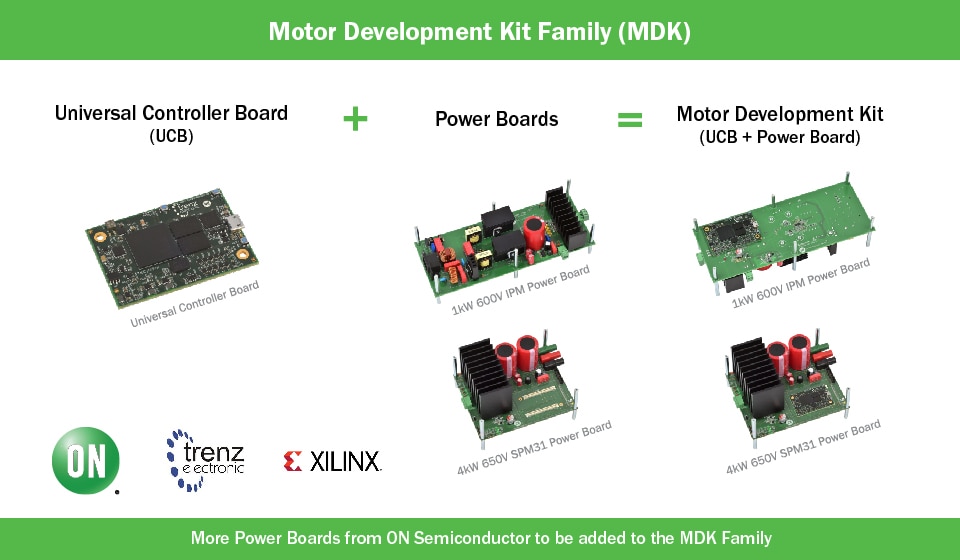 Efficient and reliable electric motor drives that meet all these requirements are complex and time-consuming to develop, but with our new Motor Development Kit (MDK), ON Semiconductor makes it easy. This comprehensive prototyping platform consists of the Universal Controller Board (UCB)which connects to an expanding selection of power boards to create a quick-start platform to run your motor, allowing rapid test, evaluation and optimization of your system before designing any hardware.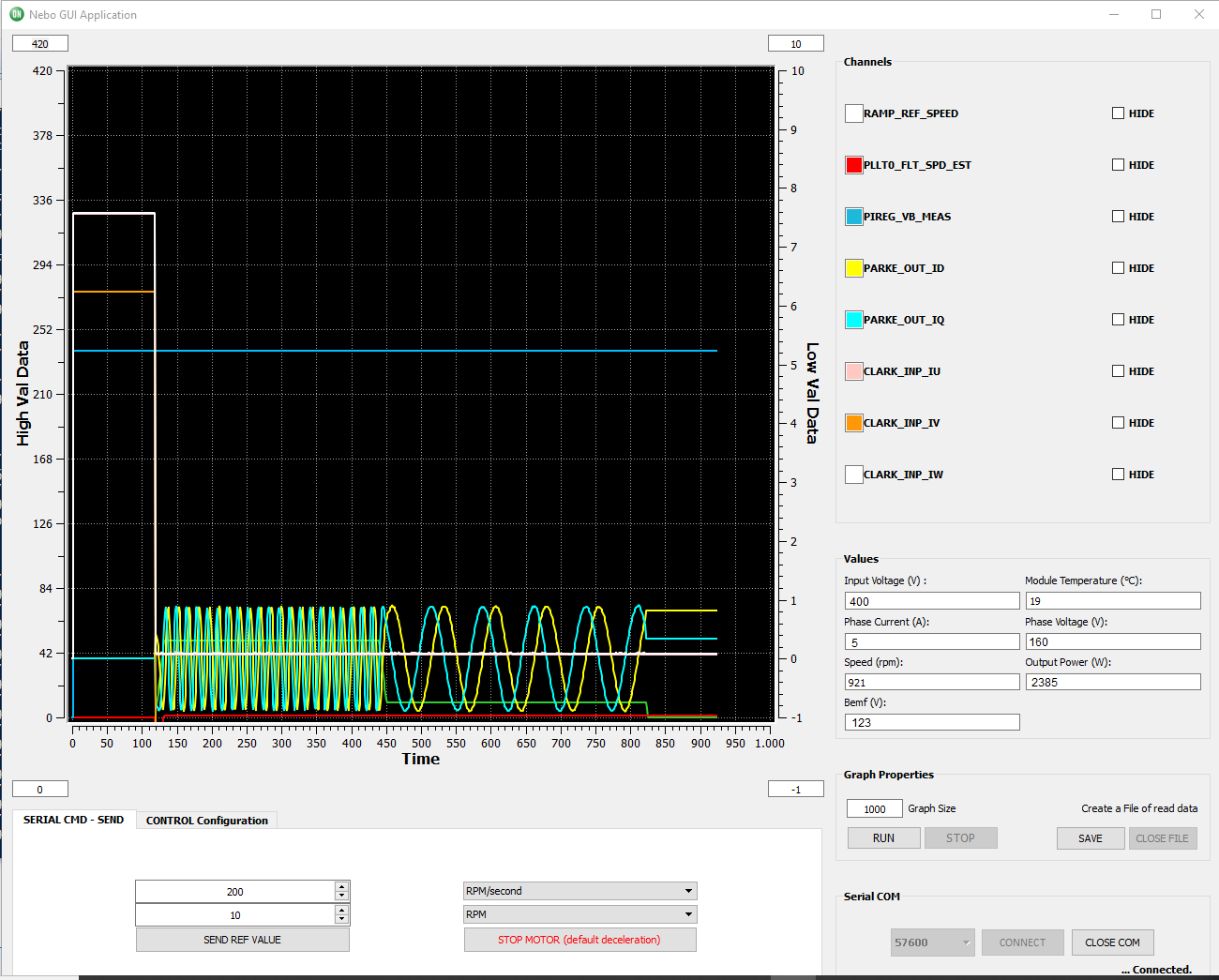 Figure 4 GUI
Sporting the powerful Xilinx Zynq®-7000 FPGA/ARM SoC, the UCB is suited for high-end control and AI-based applications. The UCB is fully compatible with Xilinx development tools and libraries and has been developed in partnership with Trenz Electronic.
The power boards feature ON Semiconductor's leading power devices and modules together with all the other necessary components and devices from our broad portfolio to develop a complete motor driver solution.
The first two power boards feature our Intelligent Power Modules (IPMs) for industrial and appliance motor drive applications. The IPM contains the six power switches for the inverter plus gate drivers and a thermocouple, with protection features including over/under voltage lockout, shoot through prevention and overcurrent trip.
The Compact IPM Power Board (SECO-1KW-MCTRL-GEVK) provides a complete solution from AC input from the mains to AC output to the motor. Rated for 230 Vac input, it includes an EMC filter and bridge rectifier, interleaved two-channel PFC and the NFAQ1060L36T IPM as the inverter stage, along with auxiliary power supplies, measurement and protection.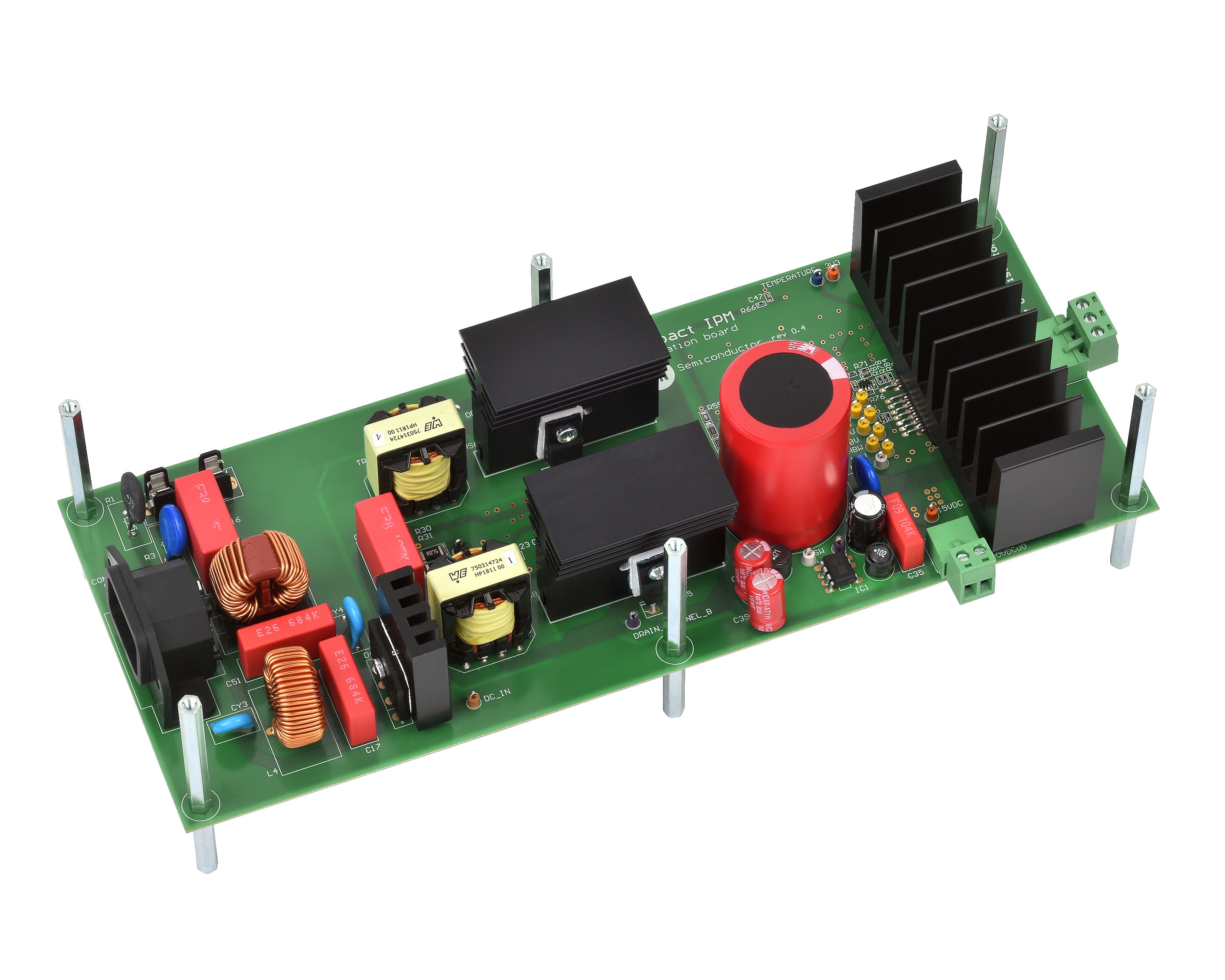 Figure 5 1kW board
For higher power levels the SECO-4KW-65SPM31-GEVB Power Board featuring the NFAM5065L4B 650 V Intelligent Power Module. It is rated for 400 VDC input and can deliver up to 1 kW continuous power, with the capability of delivering up to 4 kW power for a short period of time or by adding a heatsink. This offering is perfect for industrial drive and commercial HVACR applications.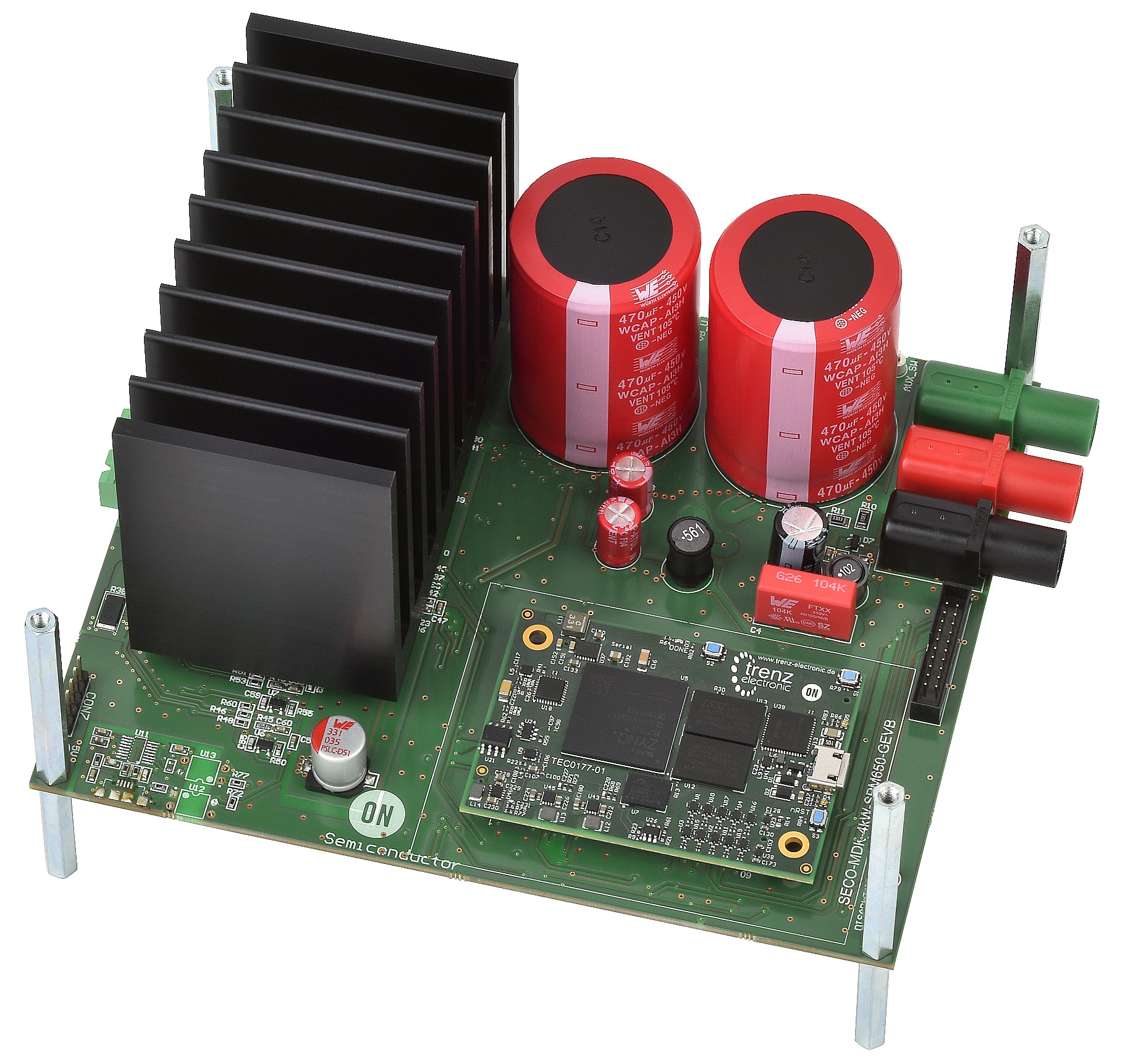 Figure 6 4kW board
Coming soon is a series of power boards featuring our best-in-class MOSFET portfolio. These motor drive boards will support an input voltage from 10V up to 100V, with power capability up to 1.2kW to address battery operated and low-to-mid voltage applications such as power tools, robots and autonomous robots and drones.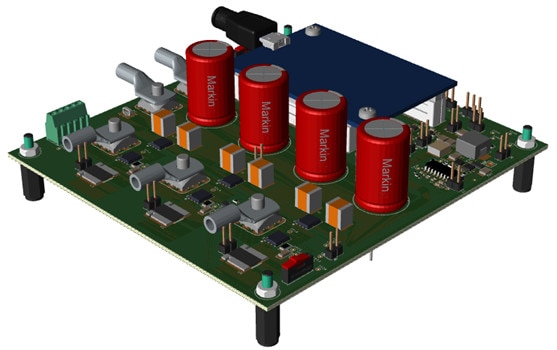 Figure 7 Render of MOSFET board
We also are developing more power boards highlighting more of our expansive IPM portfolio and new modules targeting even higher power motor drive applications. The modular design will allow us to feature a range of PFC solutions as well, which will give you the freedom to mix and match the power conversion stages to optimize for your requirements.
ON Semiconductor's new Motor Development Kit (MDK) features a common control platform in the Universal Controller Board (UCB) and an ever-expanding offering of power boards for rapid test and evaluation of comprehensive motor drive solutions.
Both the 1 kW 600 V based on Compact IPM and the 4 kW 650 V based on SPM31 will be available in Q4, 2020. An additional motor power board will be released in Q1, 2021 based on ON Semiconductor's TMPIM technology, designed to drive motors up to 10 kW. Expect further power boards and expanded design support to be added to the MDK ecosystem.
Visit our Motor Development Kit page for more information.
Check out the Xilinx blog "New Universal Control Board (UCB) with Xilinx Zynq-7000 enables optimal motor control with the advanced power stages from ON Semiconductor" to learn the advantages of the Zynq®-7000 SoC.
Be sure to subscribe to our blog and follow us on social media to receive the latest updates on our technologies, solutions and company news!
Twitter | Facebook | LinkedIn | Instagram | YouTube

reaction successful
Comment
juzer gandhi
2020-12-17 00:00

Comment rating:

1
please share application note for low power up to 2hp 230 v ac vfd