LiDAR Partners Program: Bringing the Ecosystem Together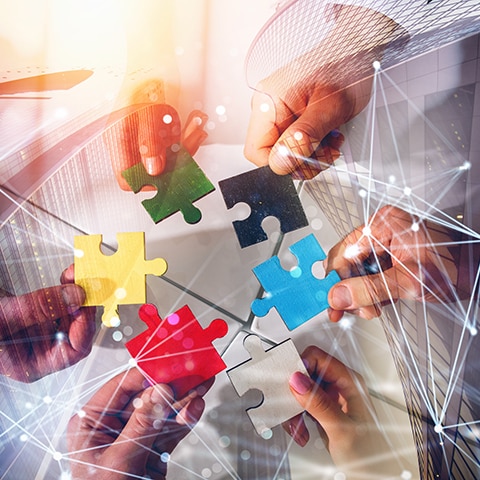 by
Bahman Hadji
- 2020-01-29


The need for automation in factory and industrial settings will continually increase in the coming years, at the same time as the autonomous driving revolution. These applications all require autonomous perception systems, which use a combination of sensors. LiDAR is the only sensor technology capable of providing a high-resolution, accurate 3D point cloud representing a depth map of the system's surroundings. With an increased interest in these sensors, the amount of funding, research, and development that has gone into commercializing LiDAR with better performance and lower cost has been immense, exceeding a billion dollars to date. Although well intentioned, this has led to a fragmented ecosystem with dozens of suppliers and fundamentally different architectures. This can be overwhelming for original equipment manufacturers (OEMs) - the end users of LiDAR sensors - trying to select the best system for their product's autonomous sensor suite.
ON Semiconductor's SensL Division has been a pioneer in the evangelization of silicon-based detectors called silicon photomultipliers (SiPMs) to be at the center of a LiDAR sensor, allowing for higher performance and lower cost systems. These detectors are built on single photon avalanche diodes (SPADs) and provide a very high internal gain, allowing the system to detect faint reflections off objects far away without the use of complex readout circuits. This high gain and sensitivity also leads to being able to use SiPMs with smaller form factor optics to build a LiDAR sensor, permitting a more pleasing industrial design and aesthetic integration. In addition to being based on a low-cost, high-volume CMOS process, SiPMs also offer uniformity and manufacturability advantages, contributing to lowering the overall system cost by eliminating the need for calibration or "binning" of components often required with legacy detectors. These numerous advantages provided by SiPMs are just some of the reasons that have led to a displacement of detectors like avalanche photodiodes (APDs) in newer LiDAR designs.
With detectors having such direct implications on the performance and cost of LiDAR sensors, we can serve as the bridge between our partners and the OEMs requiring LiDAR sensors to accelerate end product time-to-market. But we also offer other key LiDAR components including power management chips, readout ICs, and laser drivers, and have built LiDAR reference designs and demonstration systems based on in-house expertise and work with other component suppliers, which can be leveraged to help LiDAR manufacturers develop their solutions more quickly. As a result, ON Semiconductor has launched the LiDAR Partners Program to facilitate engagements across the industry to benefit the entire ecosystem while further proliferating the use of SiPM and SPAD-based detectors in LiDAR sensors.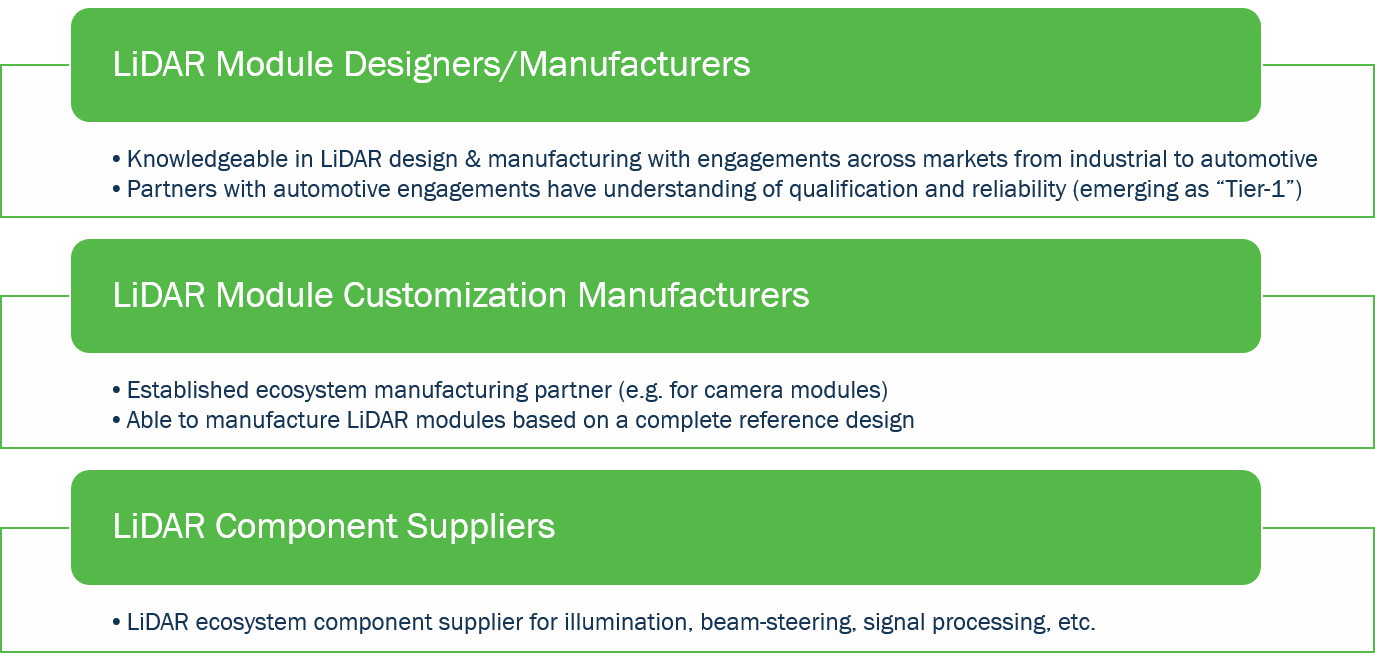 Three Categories of Partners in LiDAR Ecosystem
The LiDAR Partners Program is an ecosystem consisting of module manufacturers, module customization partners, and component suppliers. It offers opportunities for LiDAR module manufacturers to benefit from our expertise, reference designs, and component partner ecosystem when designing LiDAR solutions. This program also allows OEMs to be better connected to these module suppliers by leveraging our worldwide sales force to promote the publicly available partner solutions more widely to the industry. If an OEM has specific design requirements, the ability to connect with a customization partner specialized in manufacturing based on reference designs makes turning custom specifications into a product easier for OEMs that do not want to design or manufacture their own LiDAR sensor.
Over the past month, we announced collaborations with a number of LiDAR module manufacturers using ON Semiconductor SiPMs in their sensors. We are pleased to introduce this first wave of partners, listed below, in the LiDAR Partners Program, and look forward to announcing many more in the coming months.
RoboSense
Blickfeld
SOS Lab
Find out more about our LiDAR Ecosystem Partners and their products today! For live demos of our LiDAR technology, visit us on February 4-6th at the SPIE Photonics West Exhibition in San Francisco, California.