Strategic Alignments = Successful Relationships
by
David Somo
- 2020-05-26


Benefits of Strategic Business Relationships
The economy is global and so is the business world, meaning strategic relationships are essential for an organization's growth, innovation, profits, technology, resource sharing and information sharing. At ON Semiconductor, I've introduced specific operations and grown our team by leveraging various strategic alliances that support the company's goals and values. Entering into an agreed upon relationship between two or more parties is meant to gain greater exposure to a new audience and accelerate innovation, benefitting all involved companies.
ON Semiconductor's Strategic Partnerships with Formula 1 and Formula E
During my time at ON Semiconductor, I've supported the development and alignment of multiple strategic coalitions for the company. As the Official Supplier to the Mercedes-AMG Petronas Formula One Team in 2018, ON Semiconductor provided technology that helped control the Mercedes-AMG F1 W09 EQ Power+ ignition and injection. The Mercedes-AMG Petronas Formula One Team ended the season by becoming only the second team in the history of Formula One to achieve the feat of winning the World Drivers' Championship and the World Constructors' Championship five times in a row. We were happy to have had the opportunity to partner with the Team on this project.
Further, as the Mercedes-Benz EQ Formula E Team enters its first debut into the ABB FIA Formula E Championship, ON Semiconductor is proud to partner with the Mercedes-Benz EQ Formula E Team to provide the electric powertrain technology for the Mercedes-Benz EQ Silver Arrow 01. Our innovative solutions for vehicle electrification provide leading performance and efficiency capabilities, positioning us as an industry leader in the space when it comes to innovative power management solutions. Formula E Generation 2 vehicles demand extensive innovation as they experience a tremendous amount of power transfers. The powertrain systems within both Formula One and Formula E vehicles not only possess an increased number of power semiconductors, but these semiconductors also meet demanding performance and efficiency requirements, while withstanding the harshest of automotive environments. Racing conditions demonstrate the capabilities and advancements of the technology on the market, giving engineers challenges that can be solved and then utilized on another scale within the consumer mass market for electric vehicles (EVs), such as providing longer driving range between charges, faster battery charging times and better thermal management needed for everyday use. Our relationship as Official Supplier to the Mercedes-Benz EQ Formula E Team provides us the ability to contribute to innovating next-generation powertrain, but also towards a more sustainable environment as we can showcase what we can accomplish for the entire EV market.
We're excited about our work with the Mercedes-Benz EQ Formula E Team, as this union showcases our full range of power semiconductors and modules in supporting their continued success. Moving forward and as we seek new strategic collaborations, we hope to capitalize on this experience to challenge ourselves towards the development of technological advancements within the EV market and in power.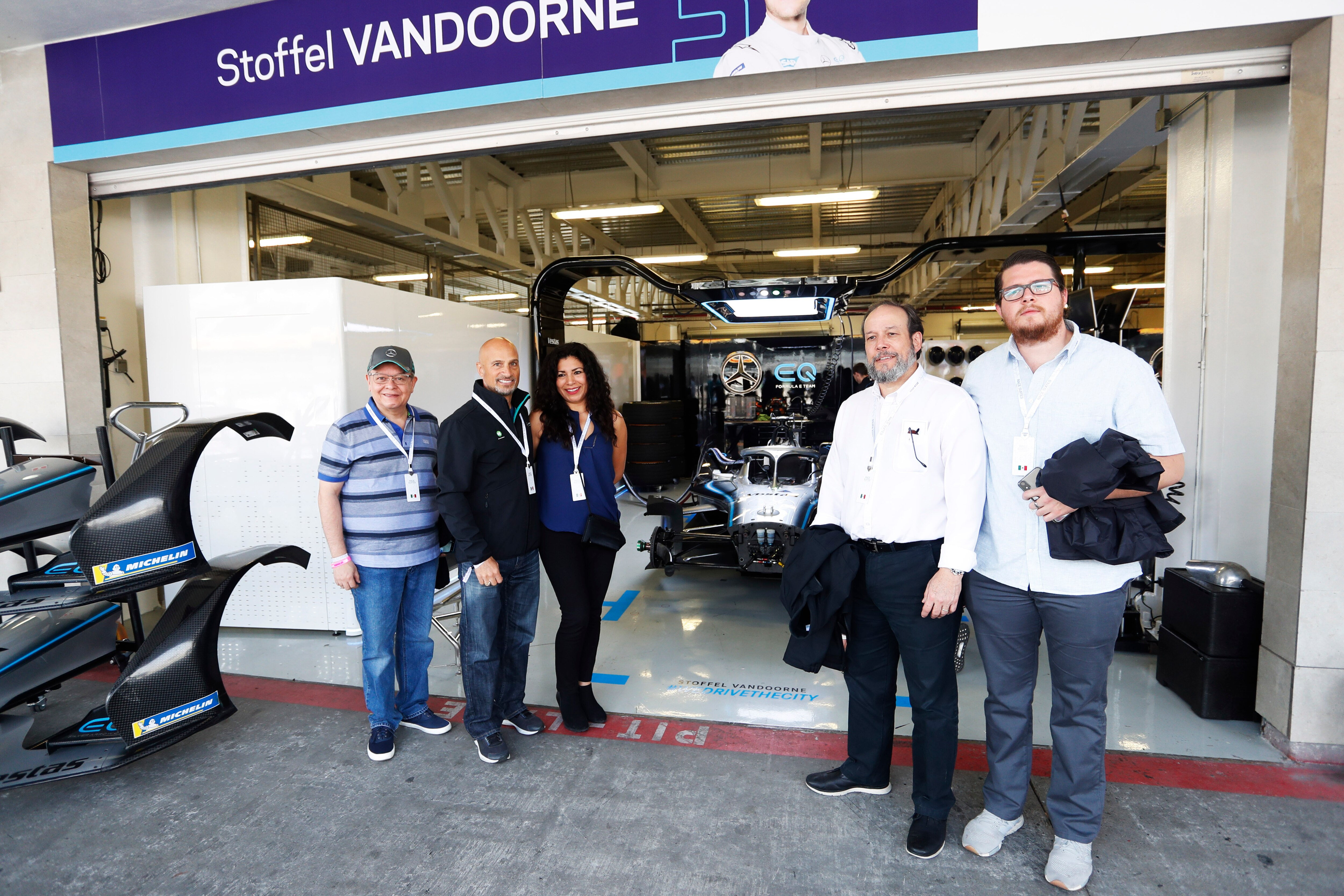 Attending the Mexico City Formula E Race in February 2020
Merging Company Goals and Vision – an Electric Future
The leadership team at ON Semiconductor places high importance on operating as an ethical company by putting sustainability at the forefront of our operations. In fact, we've been recognized in Ethisphere's World's Most Ethical Companies list for five years and in Dow Jones' Sustainability Index for two consecutive years, both providing further testament on the work we're doing when it comes to sustainability and corporate social responsibility. As innovators and drivers of the technological world of tomorrow, we take it upon ourselves to provide leading-edge solutions that can empower a better, more sustainable environment and world. When engaging with another business for a potential partnership, it's key that the potential collaboration will not only make a difference for the betterment of both parties involved but for the world we live in.
EVs are known to be more responsive, digitally connected, more cost-effective, and reduce emissions and ecological damage than leading conventional vehicles. Today, we're officially in an era were EV's have arrived and deployment is higher than ever anticipated. I look forward to how ON Semiconductor's next-generation electric powertrain technology will serve the engineering community as we continue the push towards a more sustainable and EV focused society.
Read more about ON Semiconductor's role as an Official Team Supplier to the Mercedes-Benz EQ Formula E Team and a recent blog about our electric powertrain innovations within Formula E.
Be sure to subscribe to our blog and follow us on social media to receive the latest updates on our technologies, solutions and company news!
Twitter | Facebook | LinkedIn | Instagram | YouTube