China RoHS
People's Republic of China Electronic Industry Standard "Management Methods for the Control of Pollution from Electronic Information Products" (also know as China RoHS) (Ministry of Information Industry, Order No. 39).
---
ON Semiconductor is an environmentally responsible supplier. In addition to meeting European RoHS requirements, we are pleased to announce our compliance to China RoHS reporting requirements. Effective March 2007, our bar code shipping labels will contain additional information regarding hazardous material content in order to comply with the China RoHS directive. Additional information will be displayed on our shipping labels. ON's packaging labels will be modified to include the newly required China RoHS symbols. The

symbol with an

symbol will mean truly Pb free throughout the entire component. The

symbol will be added to the labels of components that contain lead, either in the termination finish or in the die attach. Parts may have the

symbol with RoHS=Y, and the

symbol, meaning termination finish is lead (Pb) free, but the die attach contains lead (Pb).
The number 50 is an industry agreed upon number that refers to the number of years a semiconductor unit can exist before it potentially releases hazardous substances into the environment. The implementation date for China RoHS is March 2007. The new shipping labels will be applied starting March 1, 2007.


Label Example of Pb free, RoHS = Y, and China RoHS = Y (meaning Pb free leads, and Pb free die attach):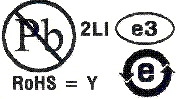 Label Example of Pb free, RoHS = Y, and China RoHS = N (meaning Pb free leads, but Leaded die attach):
---
In order to comply with the current China RoHS legislation to promote the control of pollution that may be created by electronic information products in the People's Republic of China, ON Semiconductor is providing the material content table as specified.

Marking Form for Names and Contents of Toxic or Hazardous Substances or Elements Contained in ON Products





Materials Disclosure Disclaimer

Note: Even though all possible efforts have been made to provide you with the most accurate information, we can not guarantee to its completeness and accuracy due to the fact that the data has been compiled based on the ranges provided and some information that may not have been provided by the subcontractors and raw material suppliers to protect their business proprietary information.

There is no intentional use of Mercury, Hexavalent Chromium, Cadmium, PBB or PBDE (5 of the 6 RoHS banned substances) in this or any of our other products.

For further explanation, please view our Product Chemical Content Brochure.