Power modules are important building blocks in power conversion and motor control applications having power ratings of 100 W to 100 kW.
Power-Module sind wichtige Bausteine für Leistungsumwandlungs- und Motorsteuerungs-Anwendungen mit Leistungen von 100W bis 100kW. Sie wandeln in Solar- und USV-Systemen die von den PV-Panels und Batterien bereitgestellte Spannung in eine geeignete Gleichspannung um. Diese Spannung wiederum treibt eine ausgangsseitige Wechselrichterstufe an, die die benötigte Wechselspannung erzeugt. Dreistufige Wechselrichter-Topologien, wie etwa am Sternpunkt geklemmte Wechselrichter der Typen I und T oder Split-T, erlauben den Einsatz kleinerer und kostengünstigerer Induktivitäten und Kondensatoren am Ausgang. Dadurch lassen sich Systeme kompakter und kosteneffektiver gestalten. Motorsteuerungs-Systeme in Industrie- und Automotive-Anwendungen nutzen Module mit integrierten Dreiphasen-Wechselrichtern.
ON Semiconductor offers a complete Wide Bandgap portfolio of SiC & GaN discretes, modules, and drivers.
Bei ON Semiconductor erhalten Sie ein komplettes Portfolio an Wide Band Gap-Halbleitern in Form von diskreten Bausteinen, Modulen und Treibern in SiC- und GaN-Technologie.
Electrical drive systems are a key component of automation systems in the industrial context since they account for a large proportion of electrical energy consumption.
As our systems get smarter and more aware, the applications for robotics continue to grow. These robots and assistants will transform many aspects of our lives, from industry to medical care to transportation. At the heart of the robot are the motors and actuators which allow it to move and interact with us and our world.
There is an increasing focus on achieving higher and consistent power conversion efficiencies at any load in high-voltage applications such as industrial/factory automation and other adjacent markets. As such applications are seeking high level of performance in addition to equal emphasis on carbon footprint reductions, future ready power conversion topologies are fundamental to make such applications commercially viable and sustainable.
BelaSigna® 300
24 bit Audio Processor for Portable Communication Devices
Ultra-low Power
Superior Performance Without Sacrificing Battery Life
Audio clarity in portable communication devices requires advanced algorithms—which demand greater computing power. BelaSigna 300 offers more computing capability while requiring less battery power, giving portable communication device developers the ability to implement sophisticated next-generation audio processing techniques without sacrificing battery life.
To portable communication device users it means longer battery life on their cutting edge devices.
24-bit Processing
High Precision Computing Capability
The ability to represent and analyze different sound frequencies with greater precision enables a much more accurate reproduction of the sound environment and enables finer filtering, somewhat comparable to the superior detail captured with a high megapixel digital camera.
Increased computational power and higher audio fidelity enables a new generation of more sophisticated algorithms to tackle noise and echo, producing a richer and clearer communication experience.

Design Flexibility
Optimized Open Platform for Design Flexibility
BelaSigna 300's CFX/HEAR dual-core architecture has unmatched flexibility with a 24-bit open-programmable DSP core and a highly configurable accelerator signal processing engine. BelaSigna 300 delivers the flexibility of a generic DSP with the power consumption and size of a fixed-function ASIC.
The dual-core architecture facilitates an evenly balanced workload, optimizing processing efficiency and minimizing processor clock speed and power consumption.
HEAR Configurable Accelerator Engine
The highly flexible accelerator engine operates in parallel with the CFX to efficiently perform common signal processing tasks, including low-delay, high-fidelity analysis and synthesis filterbanks in uniform or non-uniform bands.
CFX DSP Core
The fully programmable 24-bit dual-MAC digital signal processor (DSP) core is optimized to master the BelaSigna 300 system as it simultaneously runs advanced, computationally intensive algorithms such as echo cancellation, adaptive noise reduction and speech enhancement.
Inputs
BelaSigna 300's four independent audio inputs allow for more advanced audio processing algorithms to be deployed in applications such as hands-free car kits. The four input sources can be used simultaneously for multiple microphones or direct analog audio inputs. Multiple interfaces give the flexibility to seamlessly connect to other systems and typical HMI devices.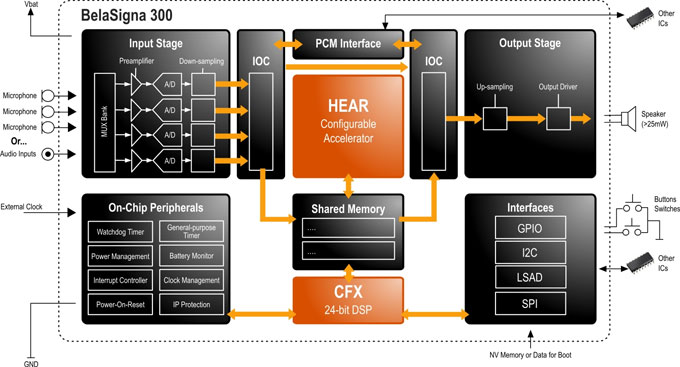 Miniature Package
Superior Audio Clarity That Proves Less Can Be More
One of the smallest audio processing systems available, the BelaSigna 300 WLCSP package can be designed into new or existing PCB layouts with little or no impact on the size of the end product.
Measuring only 3.63mm x 2.68mm x 0.92mm (0.14" x 0.10" x 0.03"), including solder balls, BelaSigna 300 is roughly the same size as a grain of rice.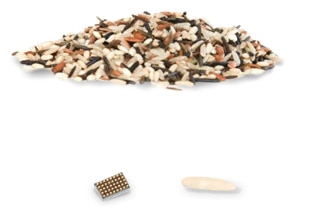 Range of ultra-low power, fully programmable audio Digital Signal Processor (DSP) systems.
AfterMaster HD
Enhanced Sound Experience
AfterMaster HD is a revolutionary technology designed to process audio in real-time for a louder, fuller, and deeper sound.
Developed by AfterMaster HD Audio Labs, an audio technology and recording studio based in Hollywood, California; the algorithm offers the power and flexibility of a digital audio workstation that has been designed by the music industry's most accredited engineers and producers.
AfterMaster HD is designed specifically to overcome the limitations of small or rear/downward facing speakers that are now commonplace in applications, including headphones or flat-screen televisions.
It processes input audio signals based on their tonal qualities, frequencies, sample rate, and volume level; producing an enhanced sound experience never before heard in consumer electronics.
Flexible Implementation
Available on the ultra-miniature BelaSigna 300 AM digital signal processor, AfterMaster HD can be easily integrated within any audio application.
Features
We've created specific design resources to help you make power conversion and motor control solutions like renewable energy products, cloud-enabled data centers, variable speed motor drives, and lighting products last longer, use less energy, and run more reliably.
Unsere spezifischen Designressourcen unterstützen Sie dabei, Ihre Lösungen zur Leistungsumwandlung und Motorsteuerung langlebiger, energiesparender und zuverlässiger zu gestalten – etwa Produkte im Bereich der erneuerbaren Energien, Cloud-fähige Rechenzentren, drehzahlvariable Antriebe und Beleuchtungen.
Media
Power Conversion & Motor Control videos
More Videos ...
Utilizing Wide Bandgap in Server and Industrial Power Applications
Silicon Carbide (SiC) and Gallium Nitride (GaN) are the next generation materials for high performance power conversion and motor control. These Wide Band Gap (WBG) materials will power future applications for high performance.