Custom Foundry Mixed-Signal Offering
ON Semiconductor has a broad portfolio of custom and standard foundry offerings, including mixed-signal processes.
Other offerings include front-end services, such as probe, silicon ingots and custom short flow wafer processing, and back-end services, such as backgrind, backmetal, packaging, test and logistics.


| | | | | | | | | | | | | |
| --- | --- | --- | --- | --- | --- | --- | --- | --- | --- | --- | --- | --- |
| ONC18G/R/MS | 0.18 | 4-6 | 8 | 3.3 | 0.46 | Y | MIM | Y | Y | Y | Salicide | Resistors |
| ONC25 | 0.25 | 2-5 | 8 | 5 | 0.64 | Y | MIM | | | Y | Salicide | Misc. |
| ONBCD25 | 0.25 | 2-5 | 8 | 40 | 0.64 | Y | MIM | Y | | Y | Salicide | Misc. |
| C3/D3 | 0.35 | 3-5 | 8 | 5 | 1.10 | Y | PIP | | | | Salicide | Resistors |
| I3T25 | 0.35 | 3-5 | 8 | 18 | 1.00 | Y | MIM | Y | Y | Y | Salicide | Resistors |
| I3T50 | 0.35 | 3-5 | 6 | 40 | 1.00 | Y | MIM | Y | Y | Y | Salicide | Misc. |
| I3T80 | 0.35 | 3-5 | 6 | 80 | 1.00 | Y | MIM | Y | Y | Y | Salicide | Misc. |
| C5 | 0.6 | 2,3 | 8 | 20 | 1.50 | Y | PIP | Y | Y | | Poly | Misc. |
| I2T30 (E) | 0.7 | 2,3 | 6 | 30 | 2.80 | | PIP | Y | Y | Y | Poly | |
| I2T100 | 0.7 | 2,3 | 6 | 100 | 2.80 | | PIP | Y | Y | Y | Poly | Misc. |
Custom Foundry Mixed-Signal Platforms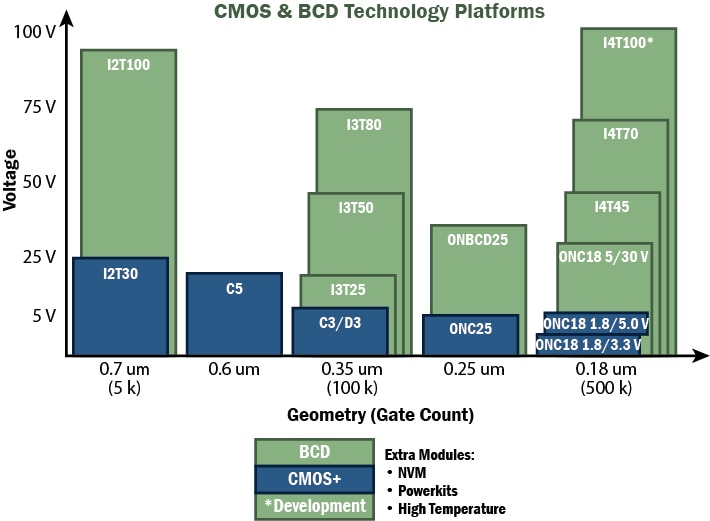 Custom Foundry Services
#1 in customer service
Shortest span from start of project to production
Process longevity provides production lifetimes to match the requirements of the markets we serve
High-voltage capability based on a wide selection of mixed-signal processes with up to 100 V capability
Process modification flexibility
Web based information system
Over 34 years of experience
Global fab operations
World's Most Experienced Mixed-Signal Foundry
Customer service and satisfaction are paramount. An experienced development customer service representative (CSR) drives your design through the engineering and prototype stages to ensure the best prototype cycle time in the industry. If you need an expedited turn time, your development CSR will develop a special program for you. Superior service continues in production. A knowledgeable factory-based CSR and product marketing manager are available to quickly respond to your inquiries and service your immediate needs.
The MyON website enables customers to access our available intellectual property (IP) libraries, review and request legal agreements, monitor product activity, and view associated trend charts.
Global presence ensures accurate and responsive communications with factories in the USA (Pocatello, Idaho and Gresham, Oregon) and Europe (Oudenaarde, Belgium).
Choose us for:
Servicing the needs of the Military, Aerospace, Automotive, Industrial, Medical and Consumer marketplaces
Teams of experts in US and Europe
Long-term process support
A philosophy of building long-term partnerships
Technical Support
We provide direct factory technical communications to ensure successful reticle generation, process integration, test development, yield enhancement, and prototype delivery. An experienced group of professionals will quickly turn your geometric data into prototypes in the finished product form you require. Whether your need is for wafers, die or tested package units, we have the streamlined prototype flow needed to keep your development project on schedule.



Foundry Customer Service
Customer service and satisfaction are key. It's refreshing to do business with us and experience the value of working with our full service foundry for worldwide support, extraordinary cost savings, fast time-to-market, and excellent customer service.
Technical Information
To determine the right process for a design, visit the foundry process technologies section, then go to the MyON Web site for the appropriate design kit(s). For additional assistance, contact your local foundry sales manager.
Request a Quote
Your local sales representative will help to determine and document the necessary information for your project including name, end product, expected volumes, target price, and technology. The project needs will then be forwarded to our marketing group for generation of a formal quote.
Customer Setup
With our worldwide sales presence, it's easy to work with us. Contact the sales office nearest you to complete the customer set-up sheet, credit application and brief company profile. Once established as a customer, the project will move forward quickly and easily.
Project Kick-off
Needed prior to starting the project:
Geometric database (GDSII)
A foundry start package is intended as an aid to both the foundry customer and us in preparing for receipt of design and test data. The information provided by the foundry customer gives us the basic instructions to begin the development task in foundry.
Purchase order
Once we receive these items, the project is assigned to a development customer service representative (CSR)/project manager who reviews the information and creates a work statement to begin the project. The information is then sent to the data prep/reticle generation group for design rule checks and device layout. After confirming the design rules are correct, reticles will be ordered. Project kick-off typically requires 1-2 weeks.
Data Format
Data formats accepted include GDSII, GDSIII, GDSIV, CIF, and MEBES. Currently, most data transfers are done electronically through FTP but we also accept physical input on 4mm tape, 8mm tape and 3 1/2 inch floppy media as well as graphical data files attached to an email.
We supply GDSIV stream format data for cell graphical data representation.
Transferring Your Product to Production
Once the project evaluation is complete, the foundry development CSR will work with the customer to complete the prototype approval form and officially transfer the product from engineering to production.



Foundry Process Longevity
ON Semiconductor's philosophy for process longevity means we keep needed processes around to accommodate your long-term needs. We are committed to supporting long-life products and are dedicated to building long-term relationships. Supporting this is the company's financial strength and commitment to effective use of resources. As a result, our customers have the confidence to make long-term product decisions without the concern of process obsolescence.
Flexible manufacturing
Wide variety of standard CMOS, BCD and high voltage process offerings
Flexible manufacturing available (process modifications, lot splits, etc.)
Multiple fab strategy with dual sourcing possible
Specialty services such as advanced die stitching, shuttle services for prototyping in 0.25 μm and 0.18 μm technologies
Low volume strategic engagements
Partial fab processing, and assembly and test services
Our commitment to long-term technology support and a wide range of process offerings enable our customers to provide the highest quality end products at the most cost effective rate.



Multi-Project Support
We are affiliated with two "multi-project houses" - MOSIS and Europractice. Both provide low-cost prototyping and small-volume production services for VLSI circuit development. Mask generation, wafer fabrication and device packaging can be contracted through MOSIS and Europractice to us.
MOSIS and Europractice keep the cost of fabricating prototype quantities low by aggregating multiple designs onto one mask set. This option provides yet another cost-effective tool for our customers. MOSIS and Europractice have certified us as a qualified foundry supplier. A variety of both foundry-specific and vendor-independent CAD tools, design kits and libraries may be used to prepare your design. Reticles with multi-chip designs are sent to us, processed on a routine schedule and the device's function and performance results are provided to the customer.
Fab process performance is reviewed routinely by the multi-project houses. Special test chips are included on every reticle to monitor wafer fab performance.
This multi-project approach is a cost-effective and efficient technique for the new project developer and the low volume user. When project volumes increase, GDSII data can be forwarded to our foundries for a cost effective production run.