STR-SENSORS-GEVK: Strata Enabled Multi-Sensor Board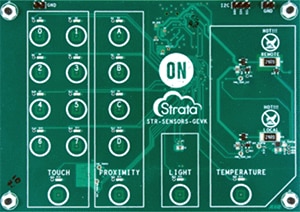 The STR-SENSORS-GEVK provides an evaluation board for LC717A10AR 16 input touch and proximity sensor, LV0104CS ambient light sensor, and NCT72 local and remote temperature sensor. This evaluation board is used with Strata to control different sensors and monitor telemetry such as gain and threshold settings. See the Strata webpage at www.onsemi.com/strata for more details!
Features and Applications
Features

Touch and Proximity:
- Detection system: Differential capacitance detection (Mutual capacitance type)
- Input capacitance resolution: Can detect capacitance changes in the femto Farad order
- Measurement interval (16 differential inputs): 30ms (Typ) (at initial configuration), 6ms (Typ) (at minimum interval configuration)
- External components for measurement: Not required
- Interface: I2C compatible bus or SPI selectable
- Current consumption: 570 μA (Typ) (VDD = 2.8 V), 1.3 mA (Typ) (VDD = 5.5 V)
- Supply voltage: 2.6 V to 5.5 V
- Detection operations: Switch
Light:
- Smallest OD-CSP package in the world (1.08mm x 1.08mm thickness: 0.6mm)
- Superior spectrum sensitivity characteristics
- 16-bit digital output for CODEC by I2C serial bus
Temperature:
- On-Chip and Remote Temperature Sensor
- 0.25°C Resolution/1°C Accuracy on Remote Channel
- 1°C Resolution/1°C Accuracy on Local Channel
- Series Resistance Cancellation up to 1.5 kΩ
- Extended, Switchable Temperature Measurement Range 0°C to +127°C (Default) or -64°C to +191°C
- Pin and Register Compatible with NCT1008
- Remote /THERM limit of 108°C
- 2-Wire SMBus/I2C Serial Interface with SMBus Alert Support
- Programmable Over/Under temperature Limits
- Offset Registers for System Calibration
- Up to Two Over temperature Fail-Safe /THERM Outputs
- 240 μA Operating Current, 5 μA Standby Current
- Compatible with 1.8 V Logic

Applications

Touch and Proximity:
- White goods
- Black goods
- PC peripherals
- Office Automation
Light:
- Ambient Light Sensor
Temperature:
- Thermal Management
Evaluation/Development Tool Information
Your request has been submitted for approval.
Please allow 2-5 business days for a response.
You will receive an email when your request is approved.
Request for this document already exists and is waiting for approval.