STR-RSL10-MESH-KIT-GEVK: Strata Enabled RSL10 Bluetooth® Low Energy Mesh Platform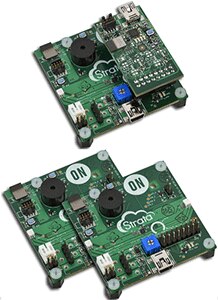 The RSL10 Mesh Platform is a versatile and easily configurable development kit that enables users to develop Bluetooth® Low Energy mesh networking applications based on RSL10, the industry's lowest power Bluetooth 5 radio. The platform includes two RSL10 Mesh Nodes, with a variety of available smart sensors and indicators, and a Strata Gateway Node, which enables connectivity to the Strata Developer Studio™ and provisions the network.  Within Strata, users can monitor telemetry such as nodes voltage, temperature and control LED lighting, while following along as Bluetooth Low Energy mesh commands are send out and received. This provides a reference for software development using the ON Semiconductor RSL10 Mesh Networking Package and IDE tools. See the Strata webpage at www.onsemi.com/strata for more details!
Features and Applications
Features

RSL10 SIP

Industry leading power consumption for maximum battery life
Wide Bluetooth Low Energy range

Multiple environmental sensors:

Low Voltage Temperature Sensor (N34TS108)
Ambient Light Sensor (LV0104CS)
Magnetic Sensors
Dual RGB LEDs with 5-bit current-controlled for dimming and color mixing through LED Driver (NCP5623B)
Optional vibration buzzer connector that can also be used to control low voltage and solid-state relays
Battery Charger (FAN54120) for Li-Ion or Li-Poly batteries to power node with rechargeable battery

Wheatstone bridge for angular magnetic field measurement amplified by NCS333 Chopper-stabilized Op-Amps
Hall-effect switch for simple magnet detection
Light Dimming and Alarm Capabilities
2.3 kHz tone indicator
RSL10 Software Development Kit

Eclipse-based IDE with support for FreeRTOS™

RSL10 Mesh Package

Compliant with Bluetooth SIG mesh specification

Applications

Home/ Building Automation

Connected lighting
Smart thermostats/ HVAC control and monitoring
Motion and light sensing
Security

Smart Retail and Autonomous Factories

Asset Monitoring
Environmental monitoring
Preventative maintenance
Industrial emergency lighting services

Smart Agriculture

Crop monitoring
Irrigation control

Smart Healthcare

Patient monitoring
Supply chain monitoring
Evaluation/Development Tool Information
Your request has been submitted for approval.
Please allow 2-5 business days for a response.
You will receive an email when your request is approved.
Request for this document already exists and is waiting for approval.