STR-PWRNCP6922C-R0-GEVK: Strata Series NCP6922C LDO Regulator, Dual, 4-Channel PMIC, Dual DC-DC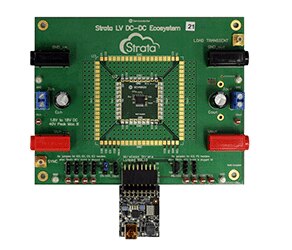 The Strata low voltage DC-DC evaluation boards series is an evaluation environment for low voltage DC-DC conversion controllers, converters and regulators. The platforms are compatible with the Strata Developer Studio™, providing a Graphical User Interface for a hasslefree and fast device evaluation out of the box. Essential system variables values, such as input and output voltages, currents, power dissipation, temperatures and efficiencies are displayed and plotted on dynamic charts in real time, and can be exported as well. Load transients can be simulated with a signal generator. These Strata platforms can be used for Automotive and Industrial developments.

This evaluation kit evaluates the NCP6922C, LDO Regulator, Dual, 4-Channel PMIC, Dual DC-DC Converters.

See the Strata webpage at www.onsemi.com/strata for more details!


Features and Applications
Features

Monitoring and setting of system variables via Strata GUI:

Input and output voltages
Input and output currents
Power dissipation
Switching frequency
PWM adjustment

Load transient generation from GUI
Fast evaluation with Strata Developer Studio
Hardware

Spacious layout with multiple test points for measurement
Operating temperature -40°C or +125°C

Benefits

Out of the box and fast evaluation and characterization of DC-DC ICs
Speeds up development cycles and reduces time-to-market.
All related collateral available at Strata Developer StudioTM
AEC-Q qualified parts

Applications

Audio
Infotainment
Vision System
Instrumentation
Automotive low voltage DC-DC converters
ADAS, Infotainment power management.
Industrial imaging power management
Industrial low voltage DC-DC conversion
Evaluation/Development Tool Information
Product
Status
Compliance
Short Description
Parts Used
Action
STR-PWRNCP6922C-R0-GEVK
Active
Strata Series NCP6922C LDO Regulator, Dual, 4-Channel PMIC, Dual DC-DC
ATP108-TL-H , BC546BTF ,
CAT24C512WI-GT3 , MMSZ5225BT1G ,
NCP6922CDMTTXG , NCS213RSQT2G ,
NCT375DR2G , NCV8664CDT50RKG ,
NTMFS4C302NT1G , SZ1SMB5938BT3G
Your request has been submitted for approval.
Please allow 2-5 business days for a response.
You will receive an email when your request is approved.
Request for this document already exists and is waiting for approval.