STR-NCV8164A-TSOP5-GEVB: Strata Enabled NCV8164A Adjustable LDO, TSOP5 Package Evaluation Board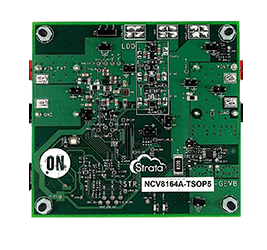 The Strata Enabled NCV8164A Adjustable LDO EVB in TSOP5 package, provides an easy to use evaluation board within the Strata Developer Studio for the NCV8164A Adjustable LDO. Within Strata User Interface, the developer can measure and control LDO input/output voltage, onboard load current, test the LDO's current limit protection, TSD protection, dropout voltage, system efficiency, and much more. Datasheets, BOMs, schematics, and other collateral available in Strata. See the Strata webpage at www.onsemi.com/strata for more details!
Features and Applications
Features

Operating Input Voltage Range: 1.6 V to 5.5 V
Adjustable Output Voltage Range: 1.2 V to 5 V
Reference Voltage: 1.2 V ±2% Accuracy Over Load and Temperature
Ultra Low Quiescent Current Typ. 30 μA
Standby Current: Typ. 0.1 μA
Very Low Dropout
Ultra High PSRR: Typ. 85 dB at 10 mA, f = 1 kHz
Ultra Low Noise
Stable with a 1 μF Small Case Size Ceramic Capacitors
Package: TSOP−5 3 mm x 1.5 mm x 1 mm CASE 483
Pb−Free, Halogen Free/BFR Free and RoHS Compliant

Applications

Communication Systems
In−Vehicle Networking
Telematics, Infotainment and Clusters
General Purpose Automotive
Evaluation/Development Tool Information
Product
Status
Compliance
Short Description
Parts Used
Action
STR-NCV8164A-TSOP5-GEVB
Active
Strata Enabled NCV8164A Adjustable LDO, TSOP5 Package Evaluation Board
2N7002W , FAN5602MP5X ,
FDMS0312AS , FDV304P ,
FPF1048BUCX , FPF2193 ,
NCP308MTADJTBG , NCP705MT33TCG ,
NCP81074ADR2G , NCS2002SN1T1G ,
NCS20062DMR2G , NCS214RSQT2G ,
NCS325SN2T1G , NCT375MNR2G ,
NCV6324CMTAATBG , NCV8164ASNADJT1G ,
NVMFS5C680NLT1G
Your request has been submitted for approval.
Please allow 2-5 business days for a response.
You will receive an email when your request is approved.
Request for this document already exists and is waiting for approval.