STR-NCV48220-LDO-CP-GEVB: Strata Enabled NCV48220 LDO Charge Pump Evaluation Board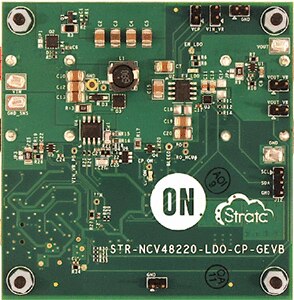 The STR-NCV48220-LDO-CP-GEVB provides an evaluation board for the NCV48220 LDO charge pump using Strata Developer Studio. The NCV48220 is a very low quiescent current 150 mA LDO regulator with an integrated battery voltage charge pump boost converter for automotive applications, enable signal functionality, current limit, thermal shutdown, and reverse bias current protection. This evaluation board is used with Strata to control the NCV48220 and monitor telemetry such as input/output voltage, input/output current, power loss, and temperature. See the Strata webpage at www.onsemi.com/strata for more details!
Features and Applications
Features

Output Voltage: 5 V
LDO Output Current: up to 150 mA
Very Wide Input Voltage Operation Range: from 3 V to 40 V
Very Low Quiescent Current: typ 35 uA
Enable Function (1.0 uA max quiescent current when disabled)
Microprocessor Compatible Control Functions: Reset Output
AEC-Q100 Grade 1 Qualified and PPAP Capable
Protection Features: Current Limitation, Thermal Shutdown, and Reverse Bias Output Current

Applications

Stop-Start Applications
Instruments and Clusters
Infotainment
Evaluation/Development Tool Information
Your request has been submitted for approval.
Please allow 2-5 business days for a response.
You will receive an email when your request is approved.
Request for this document already exists and is waiting for approval.