STR-NCP45560-ECOSWITCH-GEVB: Strata Enabled NCP45560 ecoSWITCH Load Switch EVB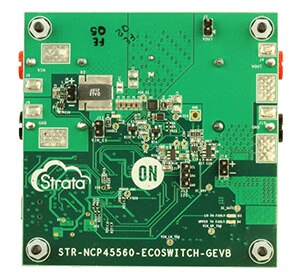 The STR-NCP45560-ECOSWITCH-GEVB provides an evaluation board for the NCP45560 ecoSWITCH load switch using Strata Developer Studio. The NCP45560 offers a component and area-reducing solution for power domain switching with ultra-low on resistance, in-rush current limiting via soft-start, short-circuit protection, thermal protection, and power good signaling. This evaluation board is used with Strata to control the ecoSWITCH and monitor telemetry such as input/output voltage, current, and temperature. See the Strata webpage at www.onsemi.com/strata for more details!
Features and Applications
Features

Advanced Controller with Charge Pump
Integrated N-Channel MOSFET with Ultra LowRON
Input Voltage Range 0.5 V to 13.5 V
Soft-Start via Controlled Slew Rate
Adjustable Slew Rate Control
Power Good Signal
Thermal Shutdown
Undervoltage Lockout
Short-Circuit Protection
Extremely Low Standby Current
Load Bleed (Quick Discharge)

Applications

Portable Electronics and Systems
Notebook and Tablet Computers
Telecom, Networking, Medical, and Industrial Equipment
Set−Top Boxes, Servers, and Gateways
Hot−Swap Devices and Peripheral Ports Hot−Swap Devices and Peripheral Ports Hot−Swap Devices and Peripheral Ports
Evaluation/Development Tool Information
Your request has been submitted for approval.
Please allow 2-5 business days for a response.
You will receive an email when your request is approved.
Request for this document already exists and is waiting for approval.