STR-NCD98010-GEVK: Strata Enabled NCD98010 12-bit SAR ADC Evaluation Board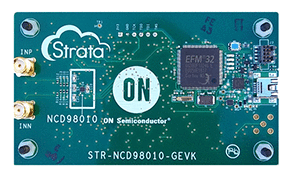 The STR-NCD98010-GEVB provides an evaluation board for the NCD98010 driver using Strata Developer Studio. The NCD98010 is a ultra low power 12-bit SAR ADC that can run at up to 2MSPS. The NCD98010 comes in a small 1.5mm x 1.5mm DFN package. This evaluation board is used with Strata to control the NCD98010 and to provide dynamic performance metrics for different clock speeds and supply voltages. See the Strata webpage at www.onsemi.com/strata for more details!
Features and Applications
Features

12-bit Analog to Digital Conversion
- Fully Differential Input
- Low 2pF Input Capacitance
Digital SPI Interface
- Available in Signed and Unsigned Output Formats
Split Analog / Digital Supplies
- Digital and Analog Supplies can be Supplied Separately from 1.65V to 3.6V
Low Power Consumption
- 7uA at 100 kSPS
- Analog Current Consumption CAN to go down to nano-amps with Slower Clock Rates
Small Package Size
- 1.5 x 1.5 mm 8-pin X2QFN
Pre-Calibrated

Applications

Low-Power Data Acquisition
- Battery-Powered Equipment
- Level Sensors
- Ultrasonic Flow Meters
- Motor Controls
- Wearable Fitness Devices
- Portable Medical Equipment
- Glucose Meters
Evaluation/Development Tool Information
Your request has been submitted for approval.
Please allow 2-5 business days for a response.
You will receive an email when your request is approved.
Request for this document already exists and is waiting for approval.