STR-FUSB3307MPX-PPS-GEVK: Strata Enabled FUSB3307 Single Port USB-PD with PPS Board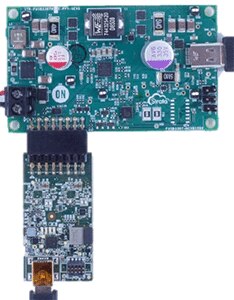 The Strata enabled FUSB3307 USB Power Delivery 3.0 adaptive source charging controller board offers an easy to use User Interface (UI) within the Strata Developer Studio. Through the Strata UI, the developer can control the parts features as well as access the most up to date datasheets, BOMs, schematics and other collateral. See the Strata webpage at www.onsemi.com/strata for more details!
Features and Applications
Features

PD 3.0 v1.2 and Type-C r1.4 Compliant
Constant Voltage (CV) and Constant Current Limit (CL) Regulation
Small Current Sensing Resistor (5 m) for High Efficiency
Gate Driver for N-Channel MOSFET as a Load Switch
CC1/CC2 Pin Protection up to 26 V
Built-in Cable-Drop Compensation
Selectable Resistor Divider or Battery Charging (BC1.2) Modes
Built-in Output Capacitor Bleeding Function for Fast Discharge
Adaptive UVP, Adaptive OVP, OTP and VBUS Fault Detection

Applications

Battery Wall Chargers for Tablet PC's and Laptops
AC-DC PD 3.0 Compliant Adapters
DC-DC Car Chargers for Individual Port Power Control
Evaluation/Development Tool Information
Your request has been submitted for approval.
Please allow 2-5 business days for a response.
You will receive an email when your request is approved.
Request for this document already exists and is waiting for approval.