STR-ADAS-PREREGULATOR-GEVK: Strata Enabled Flexible ADAS Power Solution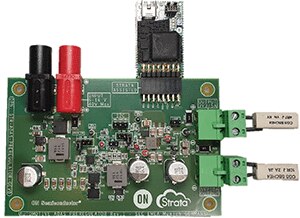 The STR-ADAS-PREREGULATOR-GEVK is an optimized power management solution for automotive systems such as Infotainment or ADAS with an I2C programmable output voltage between 0.6V-3.3V and a fixed 5V output. The system boasts a high efficiency up to 98% and its adaptability allows for implementation in several high performance applications. The key featured components are the NCV6357 Adapative-On-Time and programmable buck converter, the NCV881930 low quiescent buck synchronous controller and the 40V, high thermal performance and compact NVMFS5C460NL MOSFETs. Thanks to the Strata visual interface, users can not only monitor telemetry data, such as, voltage, current, efficiency or temperature; but also adjust the output voltage. Strata ready-to-use laboratory environment enables a fast system and component evaluation. The development kit include the STR-ADAS-PREREGULATOR-GEVB, the Strata plug-in board, USB cable and load resistors. See the Strata webpage at www.onsemi.com/strata for more details!
Features and Applications
Features

Vin 6.0 - 16.0 V, 40.0 V peak
Vo1 5.0 V @ 10.0 A peak
Vo2 0.6V - 3.3 V @ 5.0 A peak I2C programmable in 12.5mV steps
Telemetry monitoring: Temperature, voltage, current, INT
Adaptive-On-Time (AOT) and spread spectrum hardware functionalities
NCV881930: Low Quiescent Current 410 kHz A Synchronous Buck Controller
NCV6357: Synchronous Buck Converter, Processor Supply, I2C Programming, 5.0 A
NCT375MNR2G: Digital temperature sensing SMBus
Low Voltage rail switching frequency up to 2.4Mhz
PFM and PPWM with automatic transition
AEC-Q101 qualified
STR-ADAS-PREREGULATOR-GEVB,Strata plug-in board, USB cable and load resistors included in the kit.

Applications

Automotive DC-DC sub system
Advanced driver-assistance systems (ADAS)
Automotive POL
Instrumentation
Evaluation/Development Tool Information
Product
Status
Compliance
Short Description
Parts Used
Action
STR-ADAS-PREREGULATOR-GEVK
Active
Strata Enabled Flexible ADAS Power Solution
2V7002WT1G , CAT24C512C8UTR ,
NCS214RSQT2G , NCT375MNR2G ,
NCV6357MTWDTXG , NCV881930MW00R2G ,
NRVBAF360T3G , NVATS5A108PLZT4G ,
NVMFS5C460NLAFT1G , SZ1SMB5937BT3G ,
SZBZX84C15LT1G
Your request has been submitted for approval.
Please allow 2-5 business days for a response.
You will receive an email when your request is approved.
Request for this document already exists and is waiting for approval.