RSL10-SENSE-DB-GEVK: RSL10 Sensor Development Kit with Debugger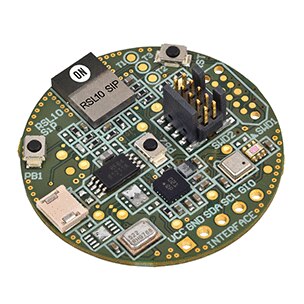 There are two variants of the RSL10 Sensor Kit:
RSL10-SENSE-DB-GEVK (debug version)

Both variants ship with a CR2032 coin cell battery and a flexible NFC Antenna. On the debug (-DB) variant, the 10-pin debug header is populated and a Segger J-Link LITE CortexM debugger that connects to this header is also shipped.

A needle connector (E.g.:TC2050 ) is required on the base variant for debugging.

Bluetooth IoT Development Kit CMSIS-Pack

The Bluetooth IoT Development Kit CMSIS-Pack includes several example application projects. These projects allow for rapid development of various Bluetooth Low Energy use-cases such as asset monitoring, asset tracking, wireless sensor networks, worker safety wearables, energy harvesting, etc. The application code can be used as-is on supported hardware or can be used as a building block in creating a more complex use case. Each of the projects is accompanied by detailed documentation.
Veridify Security's Public Key Tools* Implement device-to-device security including authentication and data protection software for the RSL10 using Veridify's ISO 26262 ASIL D certified security tools. *Note: An RSL10 Sensor Development Kit is required for evaluation.
Evaluation/Development Tool Information
| | | |
| --- | --- | --- |
| FutureElectronics (2020-08-19) | : | 1 |
| Avnet (2020-08-19) | : | 1 |
Your request has been submitted for approval.
Please allow 2-5 business days for a response.
You will receive an email when your request is approved.
Request for this document already exists and is waiting for approval.