RSL10-COIN-GEVB: RSL10 Temperature Sensor Beacon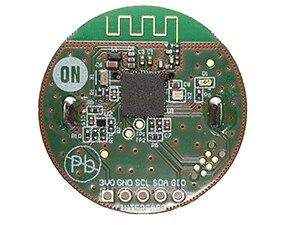 The RSL10 Temperature Sensor Beacon is an ultra-low-power Bluetooth® Low Energy beacon which can be used to send ambient temperature data and web URLs and ambient temperature data wirelessly. The board features the N34TS108 temperature sensor and RSL10, the industry's lowest power Bluetooth 5 radio SoC. With the included coin-cell battery and an advertising packet being sent every 10 seconds, the device lasts over 6 years. The beacon followsEddystone open beacon format . The device also supports Firmware Over The Air (FOTA) updates. A web URL and ambient temperature data embedded in the advertising packet can be read using RSL10 Sensor Beacon for Google Play? and other freely-available beacon scanning apps such as BLE Scanner. The firmware is CMSIS-Pack compliant, and can be easily configured with the visual CMSIS Configuration Wizard without the need for an extra cable to update the code.

For RSL10-COIN-GEVB (version 1) product support and documentation, contact your local sales representative or authorized distributor.
Features and Applications
Features

Ultra-low power Eddystone open beacon format device for sensing advertising packets (web URLs, tempature data)
Lasts up to 6 years off of a coin-cell battery
Features the RSL10 radio SoC and N34TS108 digital temperature sensor
Supports Firmware Over The Air (FOTA) updates
Compatible with the RSL10 Sensor Beacon mobile app (Google Play) and other BLE scanner apps
Evaluation/Development Tool Information
Your request has been submitted for approval.
Please allow 2-5 business days for a response.
You will receive an email when your request is approved.
Request for this document already exists and is waiting for approval.