NV890231MWTXGEVB: High Frequency Buck Converter Evaluation Board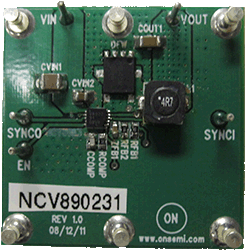 The NCV890231 evaluation board provides a convenient way to evaluate a high-frequency buck converter design. No additional components are required, other than dc supplies for the input and enable voltages. An external clock can be used to synchronize the switching frequency; and the board also provides a synchronization output, enabling it to be used as a master. It is configured for a 3.3 V output with a 2 MHz switching frequency and a 2.0 A maximum output current, over the typical 4.5 V to 18 V automotive input voltage range. In addition, the board regulates up to 30 V thanks to switching frequency foldback.
Evaluation/Development Tool Information
Your request has been submitted for approval.
Please allow 2-5 business days for a response.
You will receive an email when your request is approved.
Request for this document already exists and is waiting for approval.