NIS5420MT6GEVB: NIS5420MT6GEVB: 12 V eFuse Evaluation Board, Auto-Retry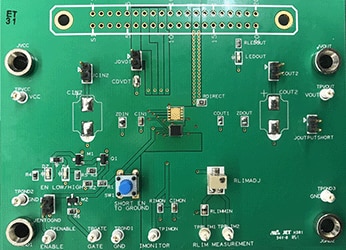 The NIS5420MT6 Evaluation Board allows testing and experimentation in a lab environment with the NIS5420MT6, an auto-retry eFuse for 12 V power rails. The user applies a DC voltage to the input and may connect a load of up to 4.6 A to the output. The boards have test points for all pins, an output voltage slew rate adjustment capacitor selectable with a jumper, indicator LEDs for the output voltage and enable/fault status, and a potentiometer to set the current limit.
Evaluation/Development Tool Information
Your request has been submitted for approval.
Please allow 2-5 business days for a response.
You will receive an email when your request is approved.
Request for this document already exists and is waiting for approval.