NCV8730BMTWADJTBGEVB: LDO Regulator (38V, 150mA, 1uA, Adjustable, WDFNW-6) Evaluation Board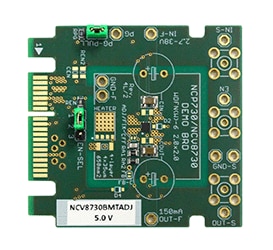 NCV8730BMTWADJTBGEVB evaluation board serves for quick evaluation of NCV8730 (and NCP730) part in WDFNW-6 package. Board is assembled by adjustable PG device version and it is compatible with all fixed device versions as well as non-PG and PG versions. The output voltage of the adjustable LDO is set by output resistor divider (R1, R2). Board configuration for each device version is described at the schematic document. For proper device operation the input and output 1uF capacitors are connected, additional capacitors could be assembled to spare places. All power and control signals leads to soldering pads for easy connection. Input, output and ground signals are doubled, one of each is for power connection (force) and one for measure connection (sense). For enable pin control there is a jumper component which can set it high, low or connected to external source. From thermal point view, the board is composed of 4 Cu layers, 1oz thick and all layers contain 650mm2 ground cooling areas (top layer has slightly less area because of SMD components). These cooling areas are surrounded by non-Cu ring which isolates the heat at the cooling areas from the other board parts. There are also three rectifying diodes spare places which could behave as on-board temperature sensors. Next to this, there is spare place for on-board heating element (MOS transistor and current sense resistor).
Evaluation/Development Tool Information
Your request has been submitted for approval.
Please allow 2-5 business days for a response.
You will receive an email when your request is approved.
Request for this document already exists and is waiting for approval.