NCV7691GEVK: Current Controller for Automotive LED Lamps Evaluation Kit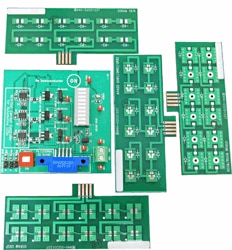 Automotive turn signals are sometimes designed to display an indicator in a fashion such that lights are activated in a sequencing manner to show directional intent.

This evaluation note highlights the use of standard logic integrated circuits with the NCV7691 devices to provide a solution for a sequencing design. The system consists of the LED current controllers (NCV7691 x 3), a voltage regulator (NCV8664), a timer IC (NCV1455B), a shift register (MC74HC164A), and a NAND gate (MC74HC20A).

The evaluation board has an on−board LED array to highlight a sequencing solution for automotive indicators. An additional 10−pin edge connector allows for connection to external LEDs (often at higher current by modifying the current programming resistors).
Evaluation/Development Tool Information
| Product | Status | Compliance | Short Description | Parts Used | Action |
| --- | --- | --- | --- | --- | --- |
| NCV7691GEVK | Active | | Current Controller for Automotive LED Lamps Evaluation Kit | NCV7691D10R2G | |
Your request has been submitted for approval.
Please allow 2-5 business days for a response.
You will receive an email when your request is approved.
Request for this document already exists and is waiting for approval.