NCV7520GEVB: FLEXMOS Hex Low-Side MOSFET Pre-Driver Demonstration Board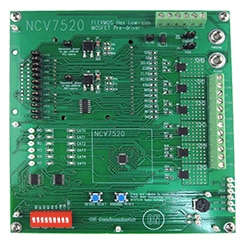 The NCV7520 is a six-channel MOSFET pre-driver for automotive applications. It features smart controls and diagnostics communicated through a SPI bus or with parallel inputs. For each of the devices channels, the drain voltage is monitored for fault conditions. The device features fully programmable shorted load fault detection thresholds, fault recovery mode, and blanking timers. All aspects of the device are able to be accessed in a visual way when connected to a PC running the NCV7520 Demo Software. The board is connected through USB via the on-board Arduino UNO that is used as an interface to communicate with the device. LEDs on the board show which channels are on and by which means (SPI or parallel input) as well as confirm the status of the on-board LDOs and the status of the RSTB and ENB pins. The board has several ways to provide power to it for ease of use through banana jacks, screw terminals, or the DC adapter jack mounted beneath the board. Brief demo modes can be accessed through the GUI.
Evaluation/Development Tool Information
Your request has been submitted for approval.
Please allow 2-5 business days for a response.
You will receive an email when your request is approved.
Request for this document already exists and is waiting for approval.