NCV6324BGEVB: NCV6324B EVAL BOARD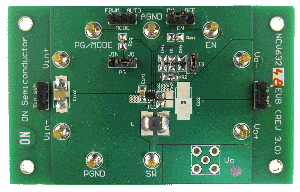 The NCV6324B/C, a family of synchronous buck converters, which is optimized to supply different sub systems of portable applications powered by one cell Li-ion or three cell Alkaline/NiCd/NiMH batteries. The devices are able to deliver up to 2 A on an external adjustable voltage range from 0.6 V to 3.3 V. Operation with 3 MHz switching frequency allows employing small size inductor and capacitors. Input supply voltage feed-forward control is employed to deal with wide input voltage range. Synchronous rectification and automatic PWM/PFM power save mode offer improved system efficiency. The NCV6324B is in a space saving, low profile 2.0 × 2.0 × 0.75 mm WDFN−8 package.
Evaluation/Development Tool Information
Your request has been submitted for approval.
Please allow 2-5 business days for a response.
You will receive an email when your request is approved.
Request for this document already exists and is waiting for approval.