NCP59152DSADGEVB: 1.5 A Adjustable VLDO Regulator Evaluation Board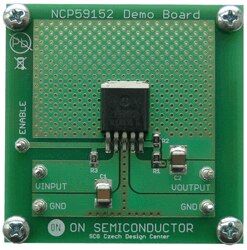 The NCP59152 is a high precision, very low dropout, low ground current voltage regulator. The device is capable of providing an output of 1.5 A with a typical dropout voltage lower than 300 mV at full load. The NCP59152 features internal protections of output current limiting, built-in thermal shutdown and reverse output current while withstanding up to 18 V max input voltage. This device is available in D2PAK-5 and DFN8 packages.
Evaluation/Development Tool Information
Your request has been submitted for approval.
Please allow 2-5 business days for a response.
You will receive an email when your request is approved.
Request for this document already exists and is waiting for approval.