NCP508SQ15T1GEVB: 1.5 V WDFN Evaluation Board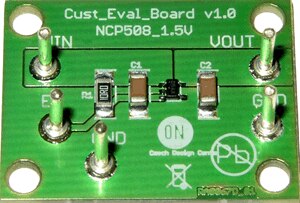 The NCP508 is a 50 mA low noise voltage regulator, designed to exhibit fast turn on time and high ripple rejection. Each device contains a voltage reference unit, an error amplifier, a PMOS power transistor, resistors for setting output voltage, current limit, and temperature limit protection circuits.
Features and Applications
Features

Very Low Noise at 39 Vrms without a Bypass Capacitor
High Ripple Rejection of 70 dB at 1 kHz
High Ripple Rejection of 70 dB at 1 kHz
Evaluation/Development Tool Information
Your request has been submitted for approval.
Please allow 2-5 business days for a response.
You will receive an email when your request is approved.
Request for this document already exists and is waiting for approval.