NCP508MT18TBGEVB: 1.8 V WDFN Evaluation Board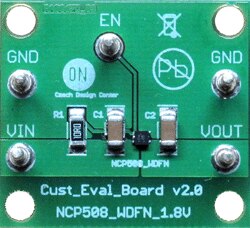 The NCP508 is a 50mA low noise voltage regulator, designed to exhibit fast turn on time and high ripple rejection. Each device contains a voltage reference unit, an erro amplifier, a PMOS power transistor, resistors for setting output voltage, current limit, and temperature limit protection circuits. The NCP508 has been designed for use with ceramic capacitors. The device is housed in SC-88A and WDFN6 1.5x1.5 packages. Standard voltage versions are 1.5, 1.8, 2.5, 2.8, 3.0 and 3.3. Other voltages are available in 100mV steps.
Features and Applications
Applications

RF Subsystems in Handsets
Noise sensitive circuits; VCOs, PLL
Evaluation/Development Tool Information
Your request has been submitted for approval.
Please allow 2-5 business days for a response.
You will receive an email when your request is approved.
Request for this document already exists and is waiting for approval.