NCP382LMN15AGEVB: 1.5 A DFN Evaluation Board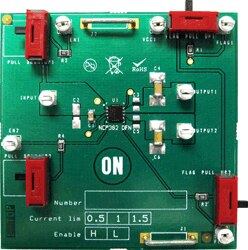 The NCP382 is a single input dual outputs high side power distribution switch designed for applications where heavy capacitive loads and short circuits are likely to be encountered, incorporating two 80 mΩ, P-channel MOSFETs in a single package.
The device limits the output current to a desired level by switching into a constant current mode when the output load exceeds the current limit threshold or a short is present.
The current limit threshold is internally fixed. The power switches rise and fall times are controlled to minimize current ringing during switching. The FLAG logic output asserts low during overcurrent and over temperature conditions. The switch is controlled by a logic enable input active high or low.
Evaluation/Development Tool Information
Your request has been submitted for approval.
Please allow 2-5 business days for a response.
You will receive an email when your request is approved.
Request for this document already exists and is waiting for approval.